Crypto
Seesaw Protocol Crypto: Is There Reason to Be Wary?
The marketing team behind the Seesaw Protocol crypto token has been busy this past month. Since launching in January of this year, the operation's Twitter feed has quickly amassed a couple thousand followers. It's got a very active Telegram page with more than 21,000 members. And there's even a subreddit, Discord server and TikTok pages offering support. All of which you can access from Seesaw's homepage.
That's not completely abnormal for a new crypto token. But this does amount to a whole lot of interest for a token that hasn't actually launched yet… Even in a world that's always looking for the next ride "to the moon."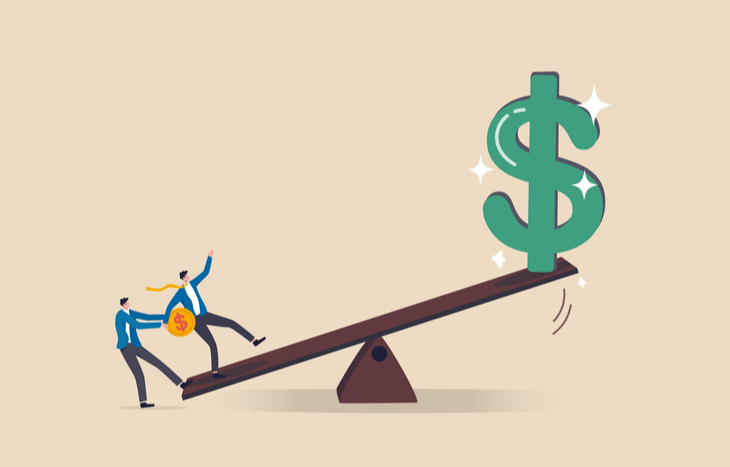 But the team behind the token does have some lofty goals. The plan, according to the whitepaper, is to launch a multi-chain fully decentralized finance platform. One that grants the ability to swap, leverage and farm crypto on. The claim here is that it will launch on PancakeSwap on the Binance Smart Chain. And it will create a bridge between the Ethereum and Polygon Networks.
The goal with this is to allow users to swap cross-chain. And in the process, allow folks to find the best speeds and lowest fees to carry out transactions. Considering the high gas fees, slow speeds and security issues of some networks, this project has a lot of upside potential. But potential is the name of the game here.
Seesaw Protocol Crypto: What It's Actually Powering
So far, we have yet to see anything in place that suggests Seesaw Protocol crypto and the project it aims to fuel will actually take place. That's not to say it won't. A project like this will take some time to implement and perfect. And the presale is scheduled to go on until April 8, 2022. So there is still lots of time for this project to come to light before it raises some eyebrows.
But that doesn't mean there isn't reason to be somewhat skeptical. We'd love to build a decentralized exchange where it would be possible to buy any crypto we want with a credit or debit card. One where we could yield farm, stake and swap to our heart's content. But that's probably not going to happen. In other words, mere plans do not necessarily equal real world results.
Another aspect of Seesaw Protocol crypto that is a bit of a red flag is the bonus referral program. If you buy some of this token, then rope some friends or family into buying some, you can get up to a 5% bonus. That sounds pretty scheme-y for a token still in the presale stage. However, it seems to be working. Investors have obviously been taking advantage of the program.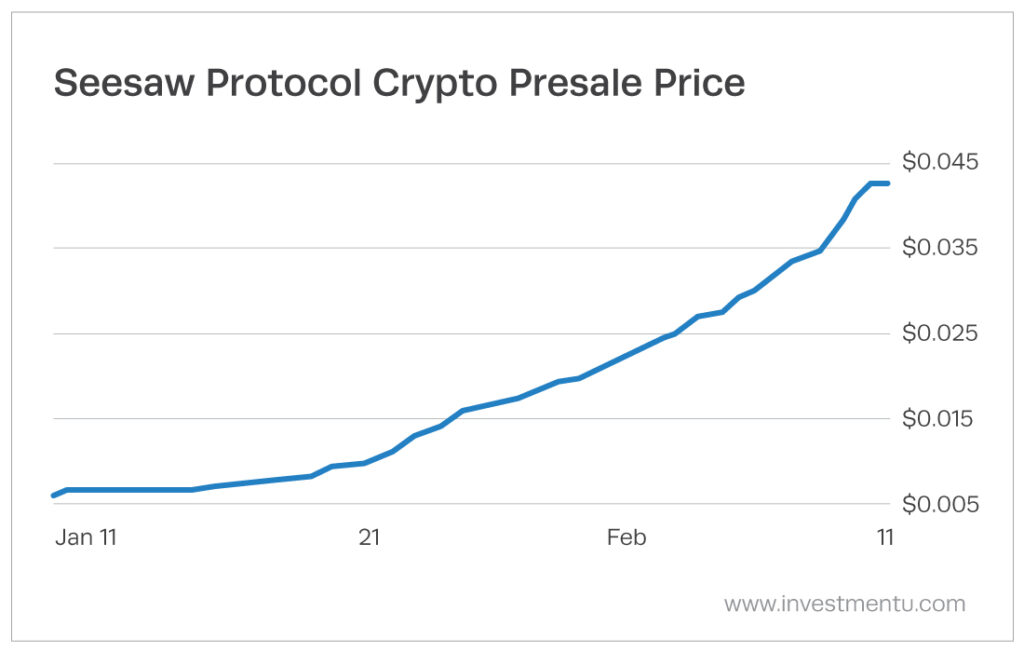 As you can see from the presale price chart, Seesaw Protocol crypto has been heading skyward. And fast. At the last time we checked, its value is up more than 578% since the presale first launched. Any way you slice it, that's impressive growth. But since this is still in the presale stage, it doesn't appear there's any way to exit a position yet. All those gains from the first folks in are nothing more than a hope at this point.
When 500% Gains Mean Nothing
Let's say just the promise of a multi-chain fully decentralized finance platform were enough to pique your interest. So you head to the registration form and trade some of your hard earned Ethereum, Bitcoin, Litecoin, Polkadot or whatever for the hope of some Seesaw Protocol crypto tokens in the future.
The idea isn't without its merits. This is essentially investing in a startup. Some startups turn into Amazons (Nasdaq: AMZN) and Airbnbs (Nasdaq: ABNB). But keep in mind, the failure rate for small businesses with less than 500 employees was 90% in 2019.
But that doesn't mean there's only a 10% chance that Seesaw Protocol will succeed. It's merely a warning. But if it does fail, there's no guarantee any of the money raised will be recouped by investors. The distribution of Seesaw Protocol crypto tokens will take place at the end of the presale. Then, investors will be able to withdraw their tokens onto a BEP-20 compatible wallet.
Until that happens, 500%, 1,000% or 50,000% gains in value equal diddly squat. Once distribution of tokens happens though, this could be a big sign that this isn't a crypto scam. But there is indeed still more reason for apprehension.
The Bottom Line on Seesaw Protocol Crypto
The marketing efforts still serve as a warning sign. However, the marketing team behind Seesaw Protocol crypto might just be really good at their job. But therein lies another big question. Who is the marketing team? Who is on the dev team? Who are the big brains behind this project?
The team behind this token has opted to maintain anonymity. While not unheard of – who is Satoshi Nakamoto? – in this day and age, keeping the creators of a project secret is less common.
Furthermore, there is zero mention on the Seesaw Protocol crypto token's website about burned tokens. Typically, these are tokens sent to a burn address. And this helps ensure that the developers won't redeem liquidity pool tokens. Again, that's pretty suspicious.
We're trying to remain open minded about the Seesaw Protocol crypto token project. But as it stands right now, we're gonna sit this out out. That being said, we're rooting for this project. We really hope it pans out and some of those early investors are rewarded for their trust. And we're looking forward to how all of this pans out come April 8. That is if Seesaw Protocol crypto still exists when the presale comes to a close.
---