Small cap biotech stocks are giving investors new ways to make big money. Last year was a great opportunity for the biopharmaceutical industry. Recent innovations have generated headlines as biotech companies rush to develop COVID-19 vaccines.
There's an opportunity for big gains in the biotechnology sector. But the industry comes with some risks. If you can stomach high-risk investments with potential for high returns, small cap biotech stocks might be your cup of tea.
Biotech companies are the future of modern medicine. Science advancements are opening doors for treatment and prevention of diseases. These advancements present a unique opportunity for investors.
Chief Income Strategist Marc Lichtenfeld is a veteran in the biotech industry. Marc has three recommendations for investing in biotech in 2021…
It's not all about COVID-19. Amazing drugs for rare diseases, cancer and cardiac conditions are in development and could move their corresponding stocks sharply depending on the news.
Spread your bets. When investing in biotech, you want to have lots of shots on goal. Don't invest in just one or two companies no matter how exciting their drugs or technology sound. Diversify your biotech holdings among large, medium and small companies that are working to treat a variety of medical conditions, not just one disease.
Manage your risk. Biotechs, particularly small caps, can move 50% or more in a day when news breaks. You don't want to have too much money in any one stock where a big drop could harm your portfolio. You also want to be clear about why you're investing in a stock and stick to that thesis. If you buy a stock because you expect the company's cancer drug to be safe and effective and the clinical trial data is inconclusive, don't justify holding the position hoping that something good will happen. Your thesis was wrong. Sell the stock.
It's important to judge biotech stocks as more companies enter the market. To make things easier, we've put together a list of small cap biotech stocks worth watching. Let's take a look…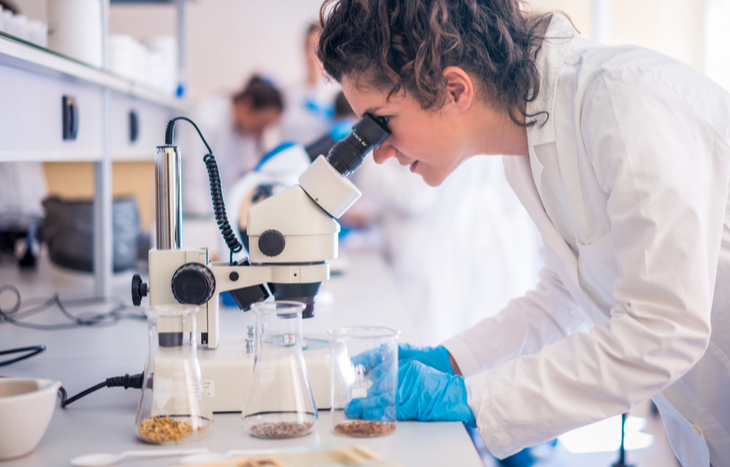 Top 3 Small Cap Biotech Stocks to Watch
Dynavax Technologies (Nasdaq: DVAX)
ImmunoGen (Nasdaq: IMGN)
G1 Therapeutics (Nasdaq: GTHX)
Dynavax Technologies
Dynavax is a biopharmaceutical company that uses Toll-like receptor biology for the development of vaccines. The company has developed HEPLISAV-B, a vaccine to help prevent subtypes of the Hepatitis B virus in adults 18 years and older.
Dynavax focuses on discovery, development and commercialization of novel vaccines. Last year, the company announced a collaboration with Coalition for Epidemic Preparedness Innovations (CEPI). Together, Dynavax and CEPI are working to develop a vaccine for COVID-19.
In a February press release, Dynavax and CEPI announced $99 million in funding to support the supply of Dynavax's CpG 1018 adjuvant. The added supply of CpG 1018 is to be used in approved COVID-19 vaccines developed by CEPI grantees. This progress helps make Dynavax one of the top small cap biotech stocks to watch.
ImmunoGen
ImmunoGen is a clinical-stage biotechnology company based in Waltham, Massachusetts. Its focus is cancer treatment with the use of antibody-drug conjugates (ADCs).
The company is trying to eliminate cancer cells by increasing the targeting ability of antibodies. An ImmunoGen ADC has an antibody that binds to a target found on cancer cells. A cell-killing agent is attached as a "payload." The antibody serves to deliver the payload to the target. And the payload serves to kill these cells.
The company uses a technology called ado-trastuzumab emtansine. It's a monoclonal antibody that targets the surface of tumors directly. ImmunoGen's lead program includes Mirvetuximab Soravtansine, a first-in-class ADC in Phase 3 development for platinum-resistant ovarian cancer. ImmunoGen also has IMGN632, IMGC936 and IMGN151 in development.
The company has partnered with Roche to develop the first approved ADC HER2-positive breast cancer treatment. ImmunoGen also has ADC technology deals with Amgen, Bayer and Sanofi.
G1 Therapeutics
G1 Therapeutics is a clinical-stage biopharmaceutical company based in North Carolina. The company focuses on discovering, developing and commercializing small molecular therapies. The goal is to treat patients with cancer.
G1 has a deep clinical pipeline with targeted cancer therapies. The company is making therapies to try to target colorectal, breast, lung and bladder cancers.
Product candidates include Trilaciclib, a small molecule CDK4/6 inhibitor. It is a first-in-class breakthrough therapy to improve the outcome for cancer patients in chemotherapy. It is in its Phase 1b/2 clinical trial for patients with extensive-stage small cell lung cancer. And it is in a Phase 2 clinical trial for patients with first-line metastatic triple-negative breast cancer.
G1 is also developing an oral CDK4/6 inhibitor named Lerociclib. The product candidate is in its Phase 1b/2a clinical trials to treat breast cancer. It is also in a Phase 1b clinical trial for non-small-cell lung cancer.
The Bottom Line
Every investor is looking for a good deal. The small cap biotech stocks above have great growth potential. Investor interest is returning as biotech leads the charge to find treatments for diseases, cancers and viruses.
However, not every investor can handle the risk. If you want to invest in small cap biotech stocks, you're going to need some risk tolerance. If you can stomach it, your investment may have potential to outpace the market.
To find even more investing opportunities, consider signing up for Wealthy Retirement. It's a free e-letter that's packed with investing tips and tricks. Whether you're a beginner or already an experienced investor, there's something for everyone.
Read Next: How to Invest in Biotech Stocks
---
Aimee Bohn graduated from the College of Business and Economics at Towson University. Her background in marketing research helps her uncover valuable trends. Researching IPOs and other trends has been her primary focus over the past year. When Aimee isn't writing for Investment U, you can usually find her doing graphic design or traveling with friends.