Space stocks are some of the most interesting companies listed on the stock market. And many investors are looking for the best space stocks to buy. This is mainly because there are so few companies that can really be considered pure-play space stocks. Companies like Boeing, Lockheed Martin and Northrop Grumman definitely send things into space. However, these companies earn tens of billions of dollars each year. Any revenue from space activities is going to be a tiny slice of the overall pie. Companies like SpaceX and Blue Origin would definitely be considered space stocks. The problem is that they're private. After that, it's actually fairly difficult to find space stocks to buy.
Humanity has always had a collective obsession with space. Ever since the dawn of time, humans have gazed up wondrously at the stars. Unfortunately, for all of human history, the cosmos have been totally out of reach. Even the wealthiest King, Emperor or Pharoah would never even dream of getting to space.
Things are completely different today. At any given point, the International Space Station has about 7 astronauts on board. Humans have been in space consistently since 2000. Additionally, anyone with $250,000 can buy a quick Virgin Galactic flight to outer space. It's truly incredible that humanity has pushed the world's limits to this extent.
But more importantly, how do we make money off this?
Let's take a look at the three best space stocks to buy.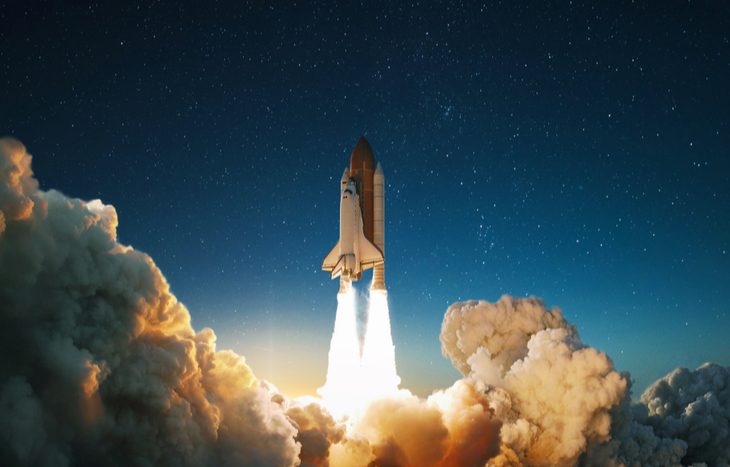 Best Space Stocks to Buy Now
Rocket Lab (Nasdaq: RKLB)
Note: I own a small position in Rocket Lab
When looking at pure-play space stocks to buy, Rocket Lab is most likely the best option. This is mainly because Rocket Lab is one of the few companies that is capable of consistently putting satellites into space. As I write this, Rocket Lab has launched 107 satellites. It also just recently secured a contract with Earth-imaging company, Synspective to launch three more.
Rocket Lab's main rocket, known as "Electron", is the second most frequently-launched rocket in the U.S. It has 22 total launches to date. Another thing that sets Rocket Lab apart from its competitors is that it reuses Electron. After the rocket completes its mission, it falls back to Earth. Before it hits the ground, a helicopter catches it.
Being able to reuse rockets gives Rocket Lab a major advantage. Other than SpaceX, no other company is capable of doing this. Instead, all other rocket companies build a new rocket from scratch after each launch. Being able to reuse Electron means that Rocket Lab can launch much more frequently than its competitors.
In Q3 2021, Rocket Lab announced revenue of $5.29 million. However, it also has a backlog worth about $237 million. If you're not familiar, a "backlog" consists of orders that need to be fulfilled. Rocket Lab's client base consists of 9 repeat customers.
Rocket Lab's Moat
When it comes to space stocks to buy, Rocket Lab has two distinct advantages. First, it has a history of successfully launching rockets. Even in 2021, getting a rocket into space is not a given. This has allowed Rocket Lab to build a lot of credibility within the industry. Second, Rocket Lab is able to reuse Electron. This allows it to save time/money/resources, launch more frequently, and land more contracts.
Rocket Lab went public via SPAC in early 2021. Since then, the stock is up about 30%.
Virgin Galactic (NYSE: SPCE)
To the best of my knowledge, Virgin Galactic is the only consumer-based space stock to buy. If you haven't heard of them, Virgin Galactic provides suborbital spaceflights for tourists. For a cool $450,000 per ticket, you can fly into space. Just like SpaceX and Blue Origin, Virgin Galactic is funded by a billionaire (Richard Branson).
Virgin Galactic only recently started releasing tickets to the public again. In 2020, it reported just $238,000 in annual revenue. It also posted a net loss of $644.89 million. However, in Q3 2020, sales have actually started to take off (sorry, couldn't resist). Q3 2021 revenue was $2.58 million, which was its highest quarter by far.
So far, Virgin Galactic has reportedly sold about 700 tickets. These reservations were booked at a price of either $250,000 per ticket or $450,000. This means that Virgin Galactic will earn anywhere from $175 million to $315 million if these flights are completed. Keep in mind that, when you are pioneering a new industry, this is a big if.
Consumer spaceflight tourism is such a new industry that it's hard to not be skeptical. However, Branson has already completed one successful flight. He's also secured 700 reservations. If this business eventually takes off then Virgin Galactic's stock will surely follow.
Consumer flights are expected to start in late 2022.
Virgin Galactic went public via SPAC in late 2019. Its stock is up roughly 60% since then.
Keep reading for more on the best space stocks to buy. 
Maxar Technologies (NYSE: MAXR)
Maxar Technologies claims to "unlock the promise of space to help governments and businesses solve problems on Earth and beyond". As you might imagine, there are quite a few applications for Maxar's technology. In fact, there's a good chance you've used Maxar tech without realizing it. For example, your internet, TV, or preferred ridesharing app probably all use one of Maxar's satellites.
Just to name a few, Maxar works with the following industries: automotive, government, consumer mapping, defense and intelligence, Earth observation, energy, satellites, telecommunications, and more.
In total, Maxar has 80 satellites up in space. It has also helped with 285 spacecraft launches. One of the most shocking statistics about Maxar is that 3.8 billion people interact with its technology every month. For reference, this is just about half of all the people in the world. This is mainly what makes Maxar Technologies one of the most interesting space stocks to buy.
Maxar Technologies reported a 2020 annual revenue of $1.72 billion. This was up 3.42% from $1.67 billion in 2019. It also reported a 2020 annual revenue of $303 million. This was up 177.98% from $109 million in 2019.
Maxar Technologies stock is down approximately 20% so far in 2021. It is also down 40% over the past five years.
Best Space Stocks to Buy: ARK Space Exploration and Innovation ETF (BATS: ARKX)
If you want to get exposure to other spaces to buy, consider buying the Ark Space Exploration and Innovation ETF. This is an Exchange-Traded Fund that tracks tons of different companies. All of the companies in this ETF have exposure to the space industry in some capacity. This includes companies that fly to space as well as tech companies that sell to space companies.
In total, it has 37 different holdings. Its biggest holdings are Trimble Inc, The 3D Printing ETF, Kratos Defense and Iridium Communications.
By buying the ARK Space Exploration ETF, you're essentially buying all of the best space stocks to buy.
To stay up-to-date on the latest trends and market news, sign up for the Profit Trends e-letter below. It's chock full of beneficial information that will help you become a better investor and trader. Sign up now!
I hope that you've found this article valuable when it comes to learning a few of the best space stocks to buy. As usual, please base all investment decisions on your own due diligence and risk tolerance.
---
A University of Miami grad, Teddy studied marketing and finance while also playing four years on the football team. He's always had a passion for business and used his experience from a few personal projects to become one of the top-rated business writers on Fiverr.com. When he's not hammering words onto paper, you can find him hammering notes on the piano or traveling to some place random.