The current Spirit Airlines stock forecast is set for a major boost after the company's announcement of a $3.8 billion takeover by JetBlue (Nasdaq: JBLU). In fact, this comes after a potential merger with discount airline Frontier (Nasdaq: ULCC) was terminated by shareholders in a vote on July 27, 2022.
Now, Spirit Airlines (NYSE: SAVE) and JetBlue will look to compete at a higher level with the "Big Four." This includes Delta Air Lines (NYSE: DAL), American Airlines (Nasdaq: AAL), United Airlines (Nasdaq: UAL) and Southwest Airlines (NYSE: LUV).
Is this takeover a sign of things to come for the airline industry? Or will the Big four continue to dominate the market? Let's take a look at the Spirit Airlines stock forecast moving forward after the takeover.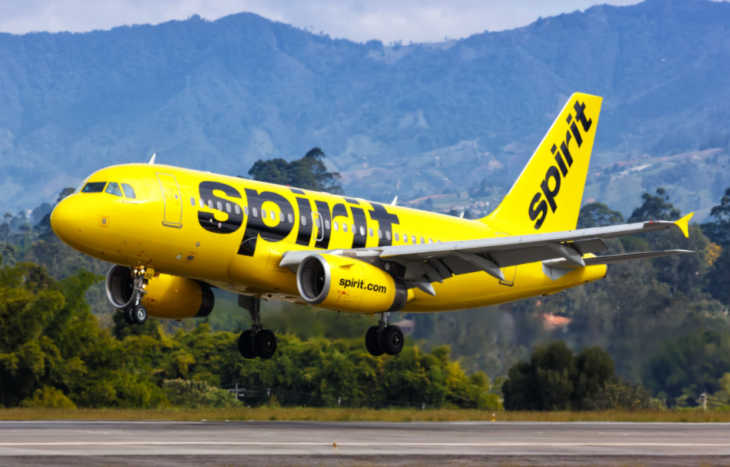 Spirit Airlines Stock Forecast History
Spirit Airlines is "committed to delivering the best value in the sky." And for the most part, it does that via cheap alternatives to more expensive airlines providing the same destinations.
However, there is always a caveat. Spirit doesn't necessarily have the best reputation for its amenities. For example, the flights are cheap, but its baggage fees are not. And its in-flight services can be costly as well. Lastly, space, comfort and cleanliness are more issues that Spirit flights often face criticism for.
But if you're traveling with light luggage for a short distance, such as a carry-on bag only, then you can't beat the value Spirit provides. And every airline has its pro's and con's to consider. Even the Big four struggle with staff shortages, more severe delays, cancellations and in-flight issues.
This is why the Spirit Airlines stock forecast has always been competitive. It's clear that Spirit does a great job of bringing in customers due to is low-cost flight options. And this is only going to grow as the Big Four continue to ramp up prices. As a result, most forecast models have Spirit stock within a range of $20 to $40 over the next 12 months. And it would be much higher if it wasn't for the current market downturn.
Traveling can be a stressful experience no matter which airline you choose. But this takeover by JetBlue will only help Spirit improve its services and expand its reach in the process.
JetBlue Takeover Breakdown
Specifically, JetBlue is set to pay $33.50 per share in its $3.8 billion takeover of Spirit Airlines. This is much higher than Frontier's $19.99 per share merger bid.
Yet, Spirit will pay close to $100 million in merger-related termination costs to Frontier once the JetBlue deal is approved by regulators. And JetBlue will pay $2.50 per share of the takeover deal in cash to Spirit shareholders. There's also a $0.10 ticking fee to be paid out to shareholders per month starting in January of 2023 through closing. This will cover compensation for the extra time that is needed to clear regulatory hurdles.
Since the news broke, both Spirit stock and JetBlue stock are up. Spirit is trading around $25 while JetBlue is pushing $9 per share.
"We are excited to deliver this compelling combination that turbocharges our strategic growth, enabling JetBlue to bring our unique blend of low fares and exceptional service to more customers, on more routes," said JetBlue CEO Robin Hayes in the press release. "We look forward to welcoming Spirit's outstanding Team Members to JetBlue and together creating a customer-centric, fifth-largest carrier in the United States. Spirit and JetBlue will continue to advance our shared goal of disrupting the industry to bring down fares from the Big Four airlines. This combination is an exciting opportunity to diversify and expand our network, add jobs and new possibilities for crew members, and expand our platform for profitable growth."
JetBlue also plans to refurbish Spirit's notable yellow planes. For example, this includes more sparse interiors in a JetBlue style and more leg room for customers.
Investing in Airline Stocks
Airline stocks become a popular pick for investors during the summer months. This is because travel demands ramp up when the weather gets warmer. However, 2022 has been a disaster for much of the stock market. The American economy is struggling with recession fears, shortages and high inflation. As a result, stocks are down in almost every sector as uncertainty continues to grow.
Nevertheless, this JetBlue takeover is a power move that will make a huge impact on the Spirit Airlines stock forecast. And you may want to consider this stock for your portfolio.
For more stock insights, sign up for one of the best investment newsletters on the market. These e-letters provide stock tips, trends and analysis by some of the most prominent Wall Street experts you can find. And these insights may help you discover better investment opportunities for your portfolio. They even do the research for you!
---
Corey Mann is the Content Manager of Investment U. He has more than 10 years of experience as a journalist and content creator. Since 2012, Corey's work has been featured in major publications such as The Virginian-Pilot, The Washington Post, CNN, MSNBC and more. When Corey isn't focusing on Investment U, he enjoys traveling with his wife, going to Yankees games and spending time with his family.