There's a potential $150 billion industry no one's talking about…sports betting stocks. Of course, that's for good reason. But that doesn't mean investors should ignore the opportunity or wave it away, because things are changing. As they say, if you don't play, you can't win.
Invest in Sports Betting Stocks – Watch the Video
Hi, I'm Matthew Carr, Chief Trends Strategist for The Oxford Club. And welcome to this week's episode of Market Trends.
Investing has long been viewed as a kind of legalized gambling. Even though it couldn't be further from the truth. Sure, you can take a grubstake, and you can put it into Amazon, Apple and Monster Beverage at the right time. And if your time horizon is long enough and if your risk tolerance is high enough, that can turn into a fortune, as we've seen today.
Gambling itself has nothing to do with luck. It's bound by probability and statistics. Even the greatest gamblers in the world don't rely on luck. They're not just innately lucky people. And it isn't luck that investors were recently given the opportunity to score big on sports betting stocks. In May 2018, the U.S. Supreme Court deemed the Professional and Amateur Sports Protection Act (PASPA) was unconstitutional. This sent shockwaves across the country and created all these new frontiers and these new markets.
A New Era For Sports Betting
For the past two decades, PASPA has largely made sports gambling in the United States illegal. But that time is over. And now we're seeing one of the greatest gaming expansions in the U.S. in more than 20 years.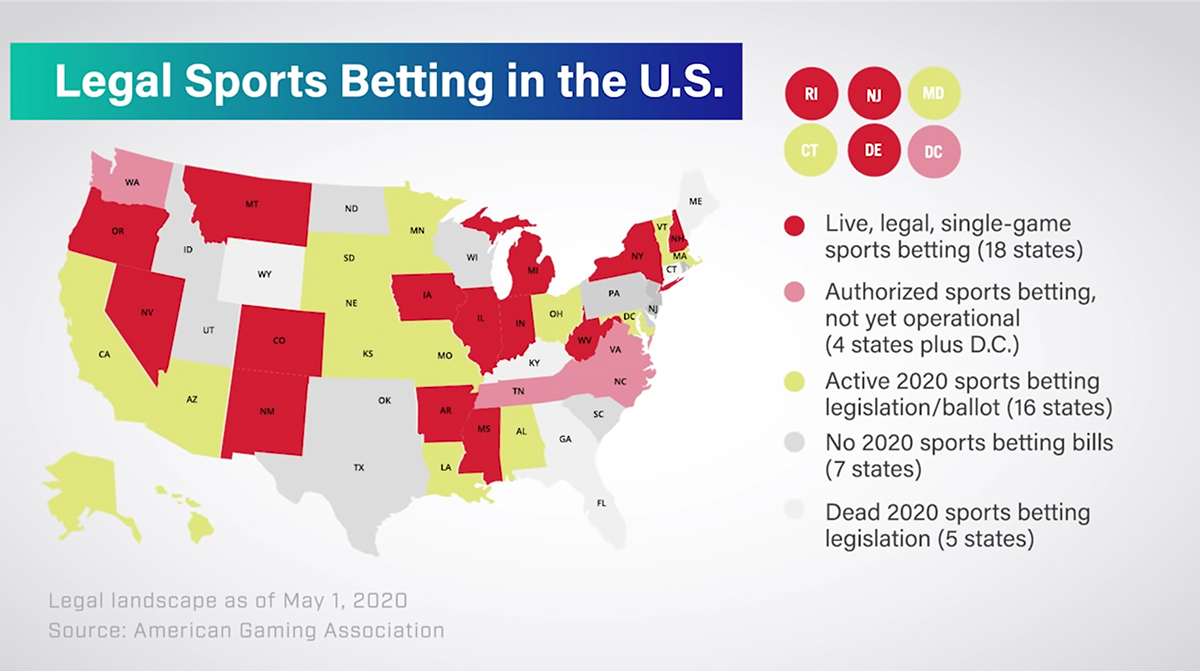 In fact, currently 18 states offer legal single–game, live sports betting. Another four states, and the District of Columbia have given the green light to betting, but they're not yet operational.
And even better… a total of 16 states have either legislation or ballot measures on deck for this year's 2020 election. It's estimated by 2025 that 36 states will have legalized gambling. That number isn't overly optimistic, considering all the numbers that we just looked at. But it does mean that the boom that we've seen is about to go supersonic.
In the year following the pass was overturned. 7.9 billion dollars was wagered legally in the United States. More importantly, 3 billion dollars of that came from new markets. In the first eight months, most legal sports betting was done outside of Nevada.
And since 2018, nearly 22 billion dollars has been wagered legally here in the United States, bringing in more than a billion dollars in tax revenue for states.
And the betting boon isn't isolated to casinos like Boyd Gaming (NYSE: BYD), El Dorado (Nasdaq: ERI), MGM Resorts (NYSE: MGM), Penn National (Nasdaq: PENN) or Wynn Resorts (Nasdaq: WYNN).
Sports Betting Tech Stocks
There's significant upside for gaming technology companies like International Game Technologies (NYSE: IGT), Scientific Games (Nasdaq: SGMS) and Flutter Entertainment – which trades OTC here in the U.S. – merged with The Stars Group (Nasdaq: TSG) early in May.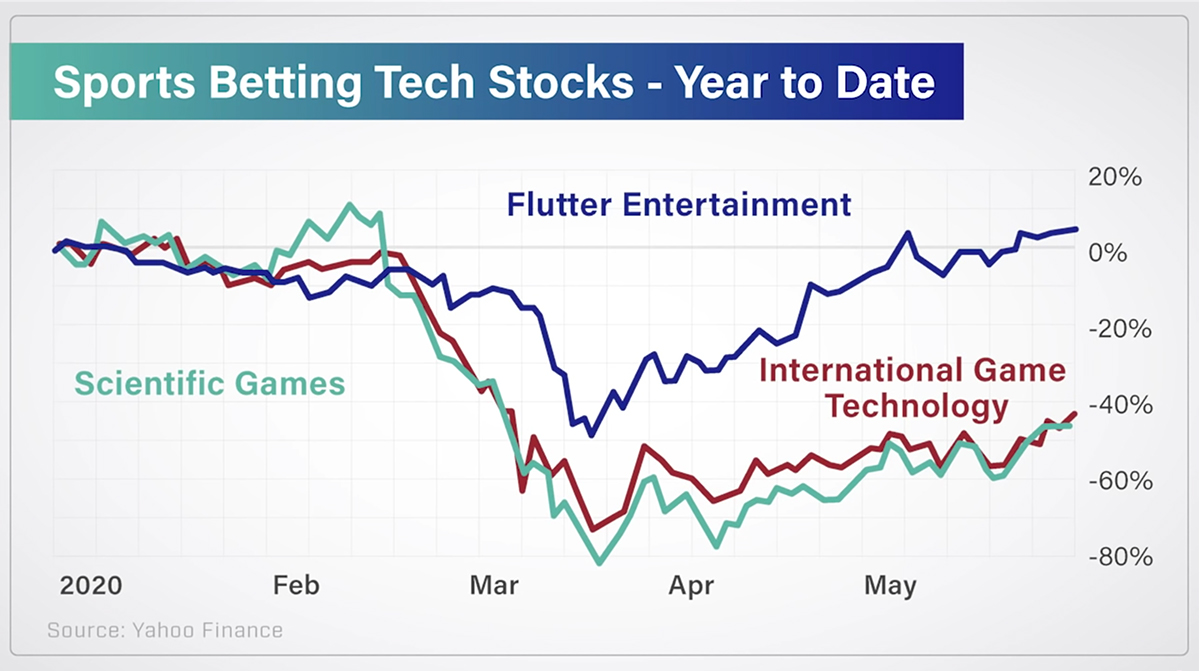 Plus, media monoliths, like The Walt Disney Company (NYSE: DIS), have their fingers in this multi-billion-dollar pie. But one of my favorite opportunities here is the fantasy sports and sports betting website DraftKings, which just recently went public.
And the company's CEO Jason Robins believes an increase in in-game betting will drive U.S. growth. In the U.K., 75% of its revenue comes from in-game betting because you can bet on anything in English Premier League Soccer. Who hits the ball first, where it hits, all that kind of stuff.
The Downside of Sports Betting Stocks
Of course casino stocks have suffered severely in 2020 because of the global pandemic. Penn National is the only one of those that are up. They have had a very strong last couple of weeks. Meanwhile, International Game Technology, Scientific Games and Flutter Entertainment have all doubled from their March lows. But they're still down significantly year-to-date, meaning that there's still a lot of potential upside.
The biggest issue for sports betting stocks is there are no sports. The only thing that we've had recently was "The Match". The golf charity event which drew six million viewers. I believe that was a record for a live golfing event, but that does show that there is this pent-up demand. So as we get later into the year, the NFL will be great for fantasy sports as well as gaming apps like DraftKings.
And as the NBA and MLB return, this is the time where investors should really start rotating out of those high flyers that have won the lottery because of the pandemic. I'm talking about Papa John's, Domino's…companies like that. Those companies are not going to have those same opportunities going forward as the economy's open up.
Lean Into The Laggards
This is a time where investors really want to start paying attention to those laggards. Casino and sports betting stocks. Continue to look for opportunities there because they have brighter days ahead.
For all of the latest trending information, subscribe to my Free Profit Trends e-letter below. Until next time, here's to high returns!
---
Matthew Carr is the Chief Trends Strategist of The Oxford Club. His unique take on investing – which involves using a strategic system that chooses companies based on pre-momentum, high growth and discounted prices – has led to countless outsized gains.
Matthew cut his teeth in the industry as a writer for the energy trade publications Natural Gas Week, Gas Market Reconnaissance and Oil Daily. He also dug into exports and international trade finance for Business Credit magazine.
With two decades of financial experience under his belt, Matthew's expertise ranges from classic industries such as retail and oil and gas to cutting-edge markets like 5G, emerging tech, cybersecurity and cannabis. If it's moving the markets, you can bet Matthew is there.