With so much uncertainty leading up to election night, investors need to be prepared no matter the outcome. Now we're not going to make any predictions today, but there are definitely markets that will either see a boost or a decline depending on the outcome. So, with that in mind, we're going to look at some stocks to buy if Joe Biden wins the election.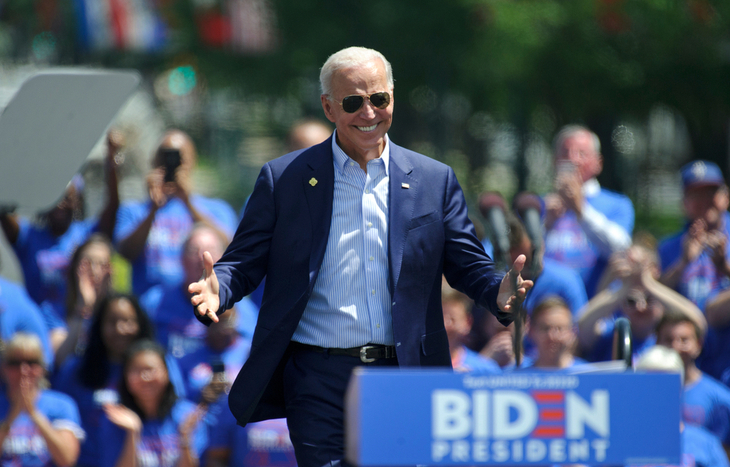 This is without question the most important Trade Talk Tuesdays I've ever published. And here's why…Nearly 75% of U.S. Investors say they're more worried about the November election than COVID-19! 75%!!!
Financial markets hate uncertainly, and this is by far the most uncertain election we've ever faced in our lifetimes. So right now, we have to think extra tactically. With that in mind, I have three new picks for you today. I call them my "blue wave" picks.
3 Blue Wave Stocks to Buy if Biden Wins the Election

1. First Solar, Inc (NASDAQ: FSLR)
If Biden wins, alternative energy stocks are immediately in play. And the dominant solar player is First Solar. In fact, the Democratic Party's focus on renewable energy would add an additional 500 million solar panels nationwide over the next five years.
In addition to solar, investors should keep an eye on cannabis stocks to buy if Biden wins the election.
Cannabis shares jumped last week when vice presidential candidate Kamala Harris said she and presidential nominee Joe Biden would look to decriminalize cannabis if they won. This news may be exciting for many marijuana advocates, but what does it mean for investors?
It's time we decriminalize marijuana use. #BidenTownHall

— Team Joe (Text JOE to 30330) (@TeamJoe) October 16, 2020
Now, most investors will automatically think of Canopy Growth and Aurora Cannabis. But there's a better way to play it….I have 2 top cannabis "Pick and Shovel" plays:

2. Innovative Industrial Properties Inc (NYSE: IIPR)

The "cannabis landlord." They acquire, own and manage specialized properties that are leased medical cannabis facilities. Even better, Innovative Industrial pays out a healthy 4.1% dividend yield and has increased its dividend more than 600% since going public!
3. GrowGeneration Corp (NASDAQ: GRWG)

The country's largest hydroponics and organic gardening retailer has had a fantastic year leading up to the 2020 election. With a focus on growing specialty crops, GrowGeneration's earnings may be in store for a huge increase in the months ahead. That's why it makes our list of stocks to buy if Biden wins the election.
Add them up – and FSLR, IIPR, and GRWG are my three top Blue Wave picks.
When Should Investors Buy?
Now for the biggest question of all…Do You Buy These 3 Blue Wave Stocks – Right Now? A perfectly logical question. After all, you know that our past TTT picks have been HUGE winners.
The answer: No…at least not yet. And here's why….This Election is just too volatile. Too uncertain. In order to give you the BUY signal, I need to know exactly how the market is reacting the day after the election.
What I will say is stay tuned and sign up for my Free Trade of the Day Newsletter, so you never miss an update! Until next time, we hope you enjoyed this article on stocks to buy if Biden wins the election.
---
Whether it was selling the Star Wars figures he collected as a little boy for 50 times their value or using the $125 he made cutting grass to buy a Michael Jordan rookie card that he later sold for $1,500, it was always clear that Bryan Bottarelli was a born trader – possessing the unique ability to identify opportunities and leverage his investments.
Graduating with a business degree from the highly rated Indiana University Kelley School of Business, Bryan got his first job out of college trading stock options on the floor of the Chicago Board Options Exchange (CBOE). There, he was mentored by one of the country's top floor traders during the heart of the technology boom from 1999 to 2000 – trading in the crowded and lively Apple computer pit. Executing his trades in real time, Bryan learned to identify and implement some of his most powerful trading secrets… secrets that rarely find their way outside the CBOE to be used by individual traders.
Recognizing the true value of these methods, Bryan tapped into his entrepreneurial spirit and took a risk. He walked off the CBOE floor and launched his own independent trading research service called Bottarelli Research. From February 2006 to December 2018, Bryan gave his precise trading instructions to a small, elite group – most of whom have been followers ever since.
As a "play tactician," Bryan uses his hands-on knowledge of floor trading to shape opportunities and chart formations into elegant, powerful and profitable recommendations. And by using the same hedging techniques taught by professional floor traders, Bryan is able to deliver his readers remarkable gain opportunities while strictly limiting their total risk.
Along the way, Bryan has developed a cumulative track record that could impress even the most successful hedge fund manager.
He now spends his days moderating one of the most elite trading research forums ever created: The War Room.