In 2016, Boston Beer Company (NYSE: SAM) introduced Truly Hard Seltzer alongside its vast portfolio of beer. By 2020, Truly made up 40% of Boston Beer's revenue and the stock soared. Every company in the industry assumed that hard seltzer was the ticket to more profit. Fast forward a year or so later. Now, there are dozens of hard seltzer brands, and supply far outweighs demand. The demand for hard seltzers has slowed so much that Boston Beer even had to toss millions of cases of Truly. You might think that you're reading the wrong article but you're not! It's just that this same scenario is happening today with streaming stocks.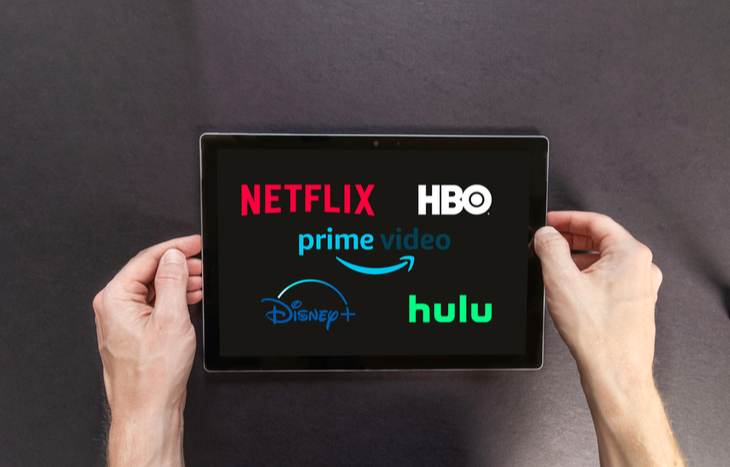 Streaming Stocks Explained
Streaming stocks were the darling of the past decade. Netflix pioneered the trend in 2007 and just about every single media company followed along. The industry just recently reached its peak with CNN+, which lasted only one month. Now, investors are reexamining the future of the streaming industry.
This is a good time to mention that I'm not a financial advisor. I just offer my own thoughts and commentary for you to use. With that said, investing in streaming stocks is still a good idea.
After all, people still need content and streaming is the easiest way to watch. But, moving forward, investors will probably put streaming companies under a lot more scrutiny. The industry is maturing. This means that companies can't just announce a new streaming service and expect their stock to soar.
In fact, there are really only three companies that should make streaming a priority. Let's take a closer look.
No. 3 Netflix (Nasdaq: NFLX)
Netflix is still the undisputed leader of the streaming industry with 221 million subscribers. But, it also recently reported a declining user base for the first time ever. Netflix lost 200,000 subscribers in In Q1 2022 and the stock is down nearly 70% over the past six months.
At first glance, it is easy to smash the "sell" button if you own Netflix. However, when you take a step back, things really aren't as bad as they seem.
Sometimes, the market gets carried away. This can happen in both directions. For example, telecommunications company Zoom's stock grew from $70 per share to $560 per share during the pandemic. Sure, more people were on Zoom calls during the pandemic… but a 730% increase just seems a little excessive. Now, the opposite is happening.
Many companies that were profitable during the pandemic feel like they are "over-correcting" in the other way. Highly profitable companies are getting bashed on the tiniest bit of bad news. Netflix could be in this position.
The full analysis is too much for me to fit in here. To read more on this streaming stock, check out my article on Netflix stock.
No. 2 Disney (NYSE: DIS)
Disney+ is the 800 lb. gorilla in the room. Unlike Netflix, it reported a strong Q1 2002 and added 11.8 million subscribers. Disney+ now has approximately 129.8 million subscribers. This is still only around 60% of Netflix's total. However, keep in mind that Netflix has a 12-year head start on Disney+. It just feels like Disney will inevitably catch up.
There are two reasons that Disney is one of the top streaming stocks to buy:
Its portfolio of quality content: Disney probably owns most of your favorite movies and shows. Disney's own content portfolio is already huge and stretches back nearly 100 years. In addition to all of its own content, Disney now owns Pixar, Marvel, Lucasfilm (Star Wars) and 20th Century Fox. It doesn't really need to focus on creating new content because it already owns so much of what viewers love.
Its capacity to create new content: On that note, Disney still creates top-quality movies and shows each year.
In the streaming game, content is king. This is why Disney is still one of the top streaming stocks, despite the industry slowdown. Since Disney owns so much quality content, people still have a huge incentive to sign up.
On top of that, Disney owns Hulu and ESPN. This gives the power to bundle its services. It can offer consumers access to Disney+, Hulu and ESPN at a reduced price.
Keep reading to learn more on streaming stocks.
Best Streaming Stocks No. 1 Warner Bros Discovery (Nasdaq: WBD)
Warner Bros Discovery is another potential pick as one of the best streaming stocks. It's a little tough to keep track of this company because there has been so much restructuring lately. However, Warner Bros Discovery is the newly formed child of WarnerMedia and Discovery. Moving forward, this new company is focusing on merging HBO Max and Discovery into one platform.
The two platforms combined have close to 100 million subscribers (77 million for HBO Max and 22 million for Discovery). This gives it a viewer base that's in a competitive range with Disney. Industry veteran JB Perrette will be in charge of leading this merger. He is the man behind the launch of Hulu and was also instrumental at Discovery. He has already stated that he wants to compete directly with Disney and Netflix.
As I mentioned, the streaming battle ultimately comes down to good content. Clever marketing tactics or steep promotions might get people to sign up. But, good content is the only reason that people will keep their subscriptions long-term.
Despite being so new, Warner Bros Discovery might actually have a bigger range of content than Netflix.
Not Just Content… Range of Content
Between its two platforms, Warner Bros Discovery has access to plenty of popular shows. For example, it owns Game of Thrones, The Sopranos and The Wire. It also owns the DC Superhero universe as well as thousands of hours of content from brands like TLC, TBS, TNT, CNN and HBO.
One thing to note is that most of Warner Bros Discovery's shows are already fairly well-known. Owning familiar shows puts it under less pressure to constantly produce new hit shows. On the other hand, Netflix is under immense pressure to create new hits. So is Disney, but Disney has been releasing hit movies and shows long before it started streaming.
However, the biggest game changer for Warner Bros Discovery could be its sports access. Discovery currently owns Turner Sports. This gives it the right to stream the NBA, MLB and NHL. However, now that this behemoth of a merger is finally complete, Warner Bros Discovery will likely aggressively start pursuing TV contracts to stream live sports.
I hope that you've found this article on streaming stocks to be valuable! Please remember that I'm not a financial advisor and am just offering my own research and commentary. As usual, please base all investment decisions on your own due diligence.
---