A StubHub IPO is on the way. The leading ticket resale platform plans to make its public debut in 2022.
Should you invest in StubHub stock? Here's what we know…
StubHub IPO: About the Business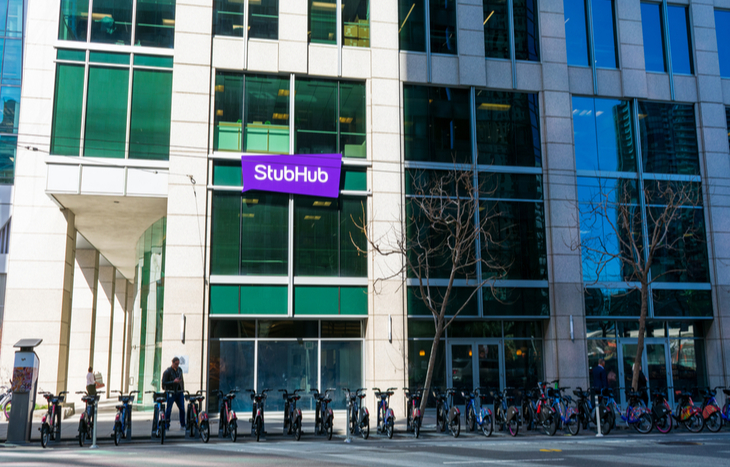 StubHub is the leading ticket exchange and resale company. Erik Baker founded the company in 2000 to simplify the process of buying and selling tickets to major sporting and entertainment events.
Across more than 90 countries, the platform allows people to buy and sell…
Sports tickets
Concert tickets
Theater tickets
Broadway tickets
StubHub is a leading platform due to the guaranteed safety. Its FanProtect Guarantee protects customers by promising…
You will get your tickets in time for the event.
Your order guarantees a ticket valid for entry into the event.
If there is an issue with your order, we'll make it right with comparable or better tickets or your money back.
If your event gets canceled and is not rescheduled, you'll receive 120% credit or a full refund.
Furthermore, the company is an official partner of several major sports organizations around the world. StubHub also has over 130 trust partners to offer a huge selection of verified tickets. Moreover, Stubhub has merged with Viagogo, the leading international ticketing marketplace. Here are the details…
StubHub Merges with Viagogo for $4 Billion
In addition to StubHub, Eric Baker also founded Viagogo, a London-based ticket exchange resale company, in 2006. Viagogo is the leading ticket resale platform across Europe, Asia, Australia and Latin America. The platform operates in over 70 countries.
Baker left StubHub before it sold to eBay for $310 million in 2007. However, In 2019, Viagogo acquired StubHub from eBay for $4.05 billion. In joining the two companies under one banner, Eric Baker fulfilled his ambition to unite companies he founded…
It has long been my wish to unite the two companies. I am so proud of how StubHub has grown over the years and excited about the possibilities for our shared future. Buyers will have a wider choice of tickets, and sellers will have a wider network of buyers. Bringing these two companies together creates a win-win for fans – more choice and better pricing.
At the time of the merger, Sukhinder Singh Cassidy, president of StubHub, said…
Bringing StubHub and viagogo together will allow us to drive further expansion and innovation, and create a more competitive offering for live event fans globally. This provides a great opportunity to expand our business, pursue new partnerships and execute our strategy. We expect a seamless transition for all our employees, partners and customers, and we are excited for what the future holds.
The companies now operate under StubHub Holdings. The merger of North America's and Europe's leading ticket resale platforms seems like a win-win for both companies. And this has investors asking about the StubHub IPO. However, there's a catch. The combined company has about $2.5 billion in outstanding debt.
StubHub IPO: The Finances
According to data compiled by Bloomberg and Moody's Investors Service, StubHub Holdings has $2.5 billion in debt after the merger. However, in July, Moody's changed its outlook on the company's debt from negative to positive. The company cited a faster-than-expected rise in scheduled live events as the reason for the change.
At the time, the rating firm said it expects StubHub's revenue to reach pre-pandemic levels in 2022 due to an increase in live events. In addition, Moody's claimed StubHub has leading market positions in most regions including North America.
However, Moody's projections warned that a new variant could delay the company's full recovery. Furthermore, positive projections occurred before the emergence of the Omicron and Delta variants.
At this time, it's unknown how long the company could take to fully recover. However, the global live events industry is worth a projected $126 billion this year. And this presents a huge opportunity for the StubHub IPO.
StubHub IPO Coming in 2022
According to a January Bloomberg article, StubHub announced plans to go public through a direct listing instead of a traditional IPO. The company has reportedly filed the necessary paperwork for a direct listing with the Securities and Exchange Commission (SEC). Furthermore, the StubHub IPO could come as soon as later this year.
The direct listing could value the ticket exchange and resale company at more than $13 billion, according to Bloomberg.
As a direct listing, the company will not raise new money or issue new shares through this offering. But investors will be able to sell their existing shares on the open market. Shareholders will receive proceeds if they choose to sell their shares.
There are no underwriters involved. Instead, JP Morgan and Goldman Sachs will be serving as financial advisors. There's no official date for the StubHub IPO, but you can check back here to find the latest updates.
As always, make sure to research before you invest. IPOs can be volatile for the first few months. And share prices can change quickly. But if IPO investing interests you, check out our top recent IPOs and our IPO calendar. We update it daily to give you the latest news on upcoming and filed IPOs.
---