Yesterday's article from IU Einstein Karim Rahemtulla explains how SoFi Technologies (Nasdaq: SOFI) can profit from the latest student loan forgiveness news.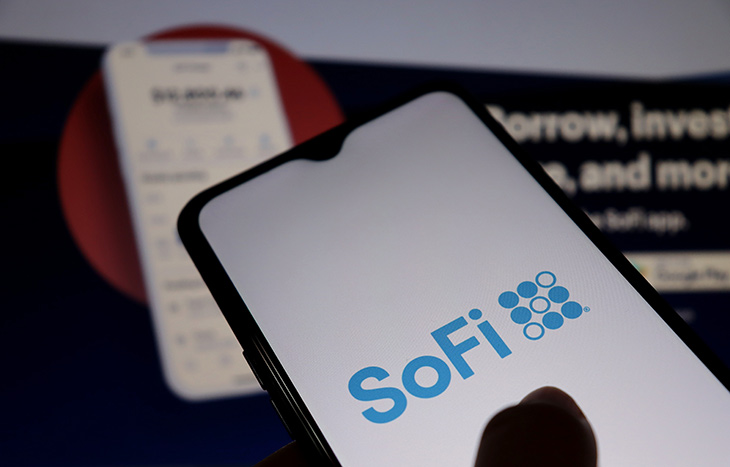 It looks like there is finally an end in sight for the student loan debt relief plan!
You'll recall the plan began during the Trump administration. It will end, hopefully, during the Biden administration.
When it comes to handing out cash, neither party is shy!
The general plan here is to offer debt relief based on income and to end the moratorium on loan payments by January of 2023.
That's very good news for providers of student loans, which have seen their share prices rocked by the uncertainty of the situation.
With investors still trying to figure out which way is up, it's time to move on one company in particular.
SoFi's Lending Segment Could See Growth From the Latest Student Loan Forgiveness News
SoFi Technologies is a modern, member-centric one-stop shop for financial services.
The company operates through three segments: lending, financial services and a technology platform.
The lending segment includes its personal loan, student loan and home loan products and the related servicing activities.
The technology platform segment maintains its platform-as-a-service through Galileo, which provides the infrastructure behind its consumer-friendly user interface.
The financial services segment focuses on checking and savings accounts, cash management, investments and credit cards.
You've probably seen SoFi's ads on TV. Or maybe you've seen the company's name plastered across SoFi Stadium, where the Rams won the most recent Super Bowl.
What you might not know (if you're not a shareholder) is that SoFi also has a chunk of its lending portfolio in student loans.
Despite the toll those loans have taken on the company's portfolio due to the moratorium on payments, SoFi has managed to grow and to beat expectations.
Imagine what will happen once the money from student loans starts flowing in!
The company's backer, SoftBank, had been selling SoFi shares to raise cash to cover losses from other ventures. That's another overhang that has been lifted.
Most telling, though, is the millions of dollars that SoFi insiders have been plowing into shares this year, despite all the "bad" news.
Action Plan: While everyone is trying to figure out how to benefit from the student loan forgiveness news, this is the perfect time to put your money to work in SoFi, before the masses figure it out. In The War Room, we don't wait around. You will get real-time trades with perfect timing – every day. Stop messing around and join us now!
Monday Market Minutes:
Weak Retail Christmas? After weaker results from a rash of retailers ranging from Nordstrom (NYSE: JWN) to dollar stores, retail consultants are predicting the slowest sales growth for the sector between November and January in years. Travel and experiences might be where people put their money as COVID-19 restrictions are lifted. Tracking.
September Slog? Many traders don't know this, but September is historically the stock market's worst month. The S&P 500 has averaged a 1% loss in the month dating back to 1928. Given how volatile the markets have been in 2022, this is a time to be as cautious as ever.
Hedging Still Necessary. As much as we don't like hedging, there's a very real threat that more downside moves lie ahead. This is especially true after last Friday's announcement from Federal Reserve Chairman Jerome Powell regarding interest rate hikes.
Getting Our Feet in the Water! I'm sure you've seen the news about rising global temperatures and widespread drought. Well, we may be at the point when water scarcity – which could soon disrupt businesses, profits and growth – makes water stocks some of the very best investments.
To learn more about student loan forgiveness news, SoFi stock and other great investment opportunities, sign up for one of our free e-letters today. Just visit our best investment newsletters page and select a free mailing that fits your investing style. If you'd like to follow more of Karim's work, sign up for Trade of the Day below.
---
Karim began his trading career early… very early. While attending boarding school in England, he recognized the value of the homemade snacks his mom sent him every semester and sold them for a profit to his fellow classmates, who were trying to avoid the horrendous British food they were served.
He then graduated to stocks and options, becoming one of the youngest chief financial officers of a brokerage and trading firm that cleared through Bear Stearns in the late 1980s. There, he learned trading skills from veterans of the business. They had already made their mistakes, and he recognized the value of the strategies they were using late in their careers.
As co-founder and chief options strategist for the groundbreaking publication Wall Street Daily, Karim turned to long-term equity anticipation securities (LEAPS) and put-selling strategies to help members capture gains. After that, he honed his strategies for readers of Automatic Trading Millionaire, where he didn't record a single realized loss on 37 recommendations over an 18-month period.
While even he admits that record is not the norm, it showcases the effectiveness of a sound trading strategy.
His focus is on "smart" trading. Using volatility and proprietary probability modeling as his guideposts, he makes investments where risk and reward are defined ahead of time.
Today, Karim is all about lowering risk while enhancing returns using strategies such as LEAPS trading, spread trading, put selling and, of course, small cap investing. His background as the head of The Supper Club gives him unique insight into low-market-cap companies, and he brings that experience into the daily chats of The War Room.
Karim has more than 30 years of experience in options trading and international markets, and he is the author of the bestselling book Where in the World Should I Invest?