A Sweetgreen IPO is coming to the market. The quick-serve salad chain announced it has confidentially filed to go public.
So will Sweetgreen be a good investment? Let's take a look…
Sweetgreen IPO: The Business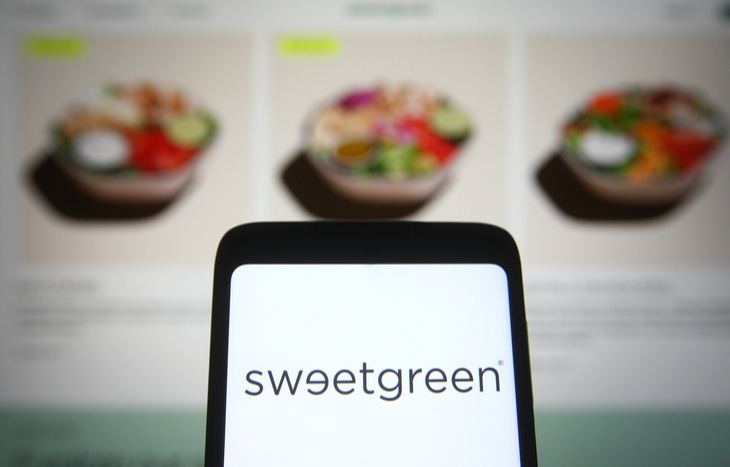 Sweetgreen was founded in 2007 by Jonathan Neman, Nicolas Jammet and Nathaniel Ru. The three recent Georgetown University graduates set out to fill the void in healthy, farm-to-table fast food. Sweetgreen launched with just one location, a 560-square-foot shack in Washington D.C.
As Sweetgreen's founders put it…
When we were in school, there were two choices: food that was slow, expensive and fresh – or fast, cheap and unhealthy. We saw an opportunity to create a business where quality was never sacrificed for convenience.
In the years since, Sweetgreen has grown to become the first unicorn salad startup. It has 122 locations across the country and shows no signs of slowing down. In Ru's view, Sweetgreen is becoming "the Starbucks of salads."
Despite its growth, the company is committed to its farm-to-table ethos. Each restaurant offers locally sourced food, displaying the names of its local suppliers right on the menu. Sweetgreen dishes vary from location to location based on what's available. And menus are updated depending on what's in season regionally.
Sweetgreen is continuing in its mission to "connect people to real food." But it's a long way from being on par with giants like Starbucks, which has more than 28,000 locations. However, Sweetgreen has the benefit of huge inflows of cash from its investors. Let's take a look at the company's funding…
Sweetgreen Valued at More Than $1 Billion After Funding
Leading up to the Sweetgreen IPO, the company has gone through multiple rounds of funding. The company raised its initial $375,000 seed funding from investors including friends and family. In 2013, Sweetgreen accepted a $22 million investment from venture capital fund Revolution Growth. And a year later, the company received an additional $18.5 million from the fund.
In 2015, Sweetgreen raised $35 million in funding from T. Rowe Price. The company told The New York Times last year that its 2019 revenue was more than $300 million and hinted that would go public "eventually, probably, at some point."
Sweetgreen made headlines when the company raised $200 million in funding led by Fidelity. But that wasn't the kicker. After raising more than $150 million from Durable Capital Partners in its latest funding round, the company was valued at nearly $1.8 billion, according to media reports.
Coronavirus Impact in the Industry
The COVID-19 environment has been rocky for the restaurant industry. If you're considering investing in the Sweetgreen IPO, here are some details on that end…
When COVID-19 hit, Sweetgreen applied for a Paycheck Protection Program (PPP) loan to cover "dramatically affected" revenues and rehire furloughed workers. But in light of how many small businesses in the industry needed funding but were unable to receive it, the company didn't accept the loan it was offered. The salad chain returned the $10 million it received from the PPP in April 2020.
In October 2020, Sweetgreen co-founder and CEO Jonathan Neman announced the company would be cutting 20% of its workforce. Neman said…
We have moved forward with reorganizing and restructuring our team so we can put our company on a stronger and more focused path to profitable growth. This will mean different things for different people – some roles will evolve, some departments will remain the same, and, unfortunately, some roles will be eliminated. We are reducing 20% of the Sweetgreen corporate workforce, and, this morning, we met with each employee whose role has been eliminated. No roles in the field were impacted.
Sweetgreen isn't alone in this struggle. The restaurant industry was severely impacted by the pandemic. Many businesses had to make tough decisions to try to keep the doors open.
But announcements of Sweetgreen going public signal that the company's worst days might be over. The world is starting to open back up, and restaurants are serving more customers. If you're looking to invest in this trend, consider checking out these top fast-food stocks to buy in 2021.
Let's take a look at the details for the highly anticipated Sweetgreen IPO…
When Will Sweetgreen IPO?
Sweetgreen made announcements to go public, but the IPO filing is confidential. In other words, there is no announced IPO date, share number or price offer. Additionally, the company didn't announce a market or ticker symbol.
The company announced that we can expect a Sweetgreen IPO to begin after the SEC completes its review process, "subject to market and other conditions." Potential investors should start preparing for the company to make further announcements.
Sweetgreen stock could be a good investment opportunity. But you should always do your own research before investing. If you're interested in IPO investing, check out the IPO calendar. It's updated daily to give you the latest news on upcoming and filed IPOs.
To stay up to date on the latest investment opportunities, consider signing up for Liberty Through Wealth. It's a free e-letter that's packed with investing insight from market experts.
---
Aimee Bohn graduated from the College of Business and Economics at Towson University. Her background in marketing research helps her uncover valuable trends. Over the past year, her primary focus has been researching IPOs and other trends.