New investment terms are showing up every day. Some of them fade but the one we're about to review is becoming more common. As the market continues to grow, so will the number of investment unicorns. That's why I've put together this short guide and a list of unicorn startups.
What is an Investment Unicorn?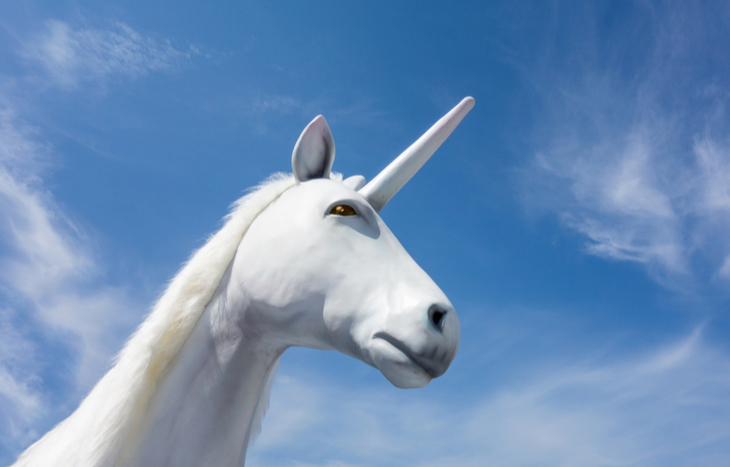 An investment unicorn is a privately held startup that's climbed to a valuation of at least a $1 billion. And most unicorns have come from the tech sector thanks to their ability to scale their business. For example, unicorns like Airbnb and Robinhood can reach millions of customers with their software.
Why give them the name unicorn? Reaching $1 billion is no small feat. It used to be very rare for a private company, some would even say mythical. Thus, the name unicorn… but thanks to inflation and a long bull market, investment unicorns are more common.
Over the last five years, the number of unicorns has more than doubled. As a result, there are more than 250 globally. And barring a recession, expect this number to continue to climb.
Going one step further, the number of private companies to reach $10 billion has also climbed. They're sometimes called decacorns. And a few of them have made it onto our list. Although, no super unicorns make the cut. Super unicorns are private companies that have reached a $100 billion valuation and one example comes from China – Ant Financial.
In a way, super unicorns are the new unicorns. They're still very rare… and instead, I think a more fitting term would be investment dragons. They're larger mythical creatures.
Top 10 Unicorn Startups List
The list below is hand-selected and only includes companies based in the United States. The startups are technology-focused but serve different industries. There's a little overlap but it's still a good mix…
| | | |
| --- | --- | --- |
| Unicorn Startup | Valuation | Industry |
| Stripe | $95 billion | Payment Processor |
| SpaceX | $74 billion | Aerospace |
| Databricks | $28 billion | Computer Software |
| JUUL Labs | $24 billion | Electronic Cigarettes |
| Epic Games | $15 billion | Video Games |
| Instacart | $13.8 billion | Food Delivery |
| Robinhood | $8.3 billion | Financial Services |
| Coinbase | $8 billion | Cryptocurrency |
| Rivian | $5 billion | Automotive |
| Magic Leap | $4.5 billion | Augmented Reality |
Since these are private companies, we don't have much insight into their financials. We have to use past funding rounds to determine valuation. As a result, some of the valuation numbers above are a bit delayed.
Unicorn Spotlight: Robinhood
One highlight from the investment unicorn list is Robinhood. The company has reached over a $7 billion valuation by making investing easier for millions of Americans. Robinhood offers free trading and other easy-to-use financial services.
Here at Investment U, we think that's a great step forward. Investing used to only be for the wealthy. To trade stocks, you'd have to call a broker who would charge you an arm and a leg… but thanks to the internet and companies like Robinhood, anyone can start investing today.
Robinhood and other unicorns have made great strides in their industries. They're pressuring the old guard, helping consumers and creating new innovative products. They've built strong brands and draw a lot of attention from the investment community.
How to Invest in Unicorns
Unfortunately, average investors can't buy shares in most investment unicorns. Although, if and when they IPO, you can buy a stake in each business. There's a lot of speculation as to when these startups will go public.
In the meantime, you can follow each company for updates. Or if you want to start investing sooner, you can check out our recent investment opportunities research. On top of that, you can sign up for our free e-letter below. It's packed with investing insight.
---