Elon Musk is a fixture in media headlines. Especially when he takes to Twitter (NYSE: TWTR) to engage his more than 90 million followers. Now, Twitter is more than just his de-facto platform for outreach. It's set to be the newest gem in his portfolio of companies. Musk proffered an offer to buy the company for $44 billion in late April. And while initially rejected by Twitter's Board of Directors, it was eventually accepted in early May. This article will examine Twitter stock forecast for 2022.
After news of the offer, Twitter's stock shot up. The offer sheet Musk presented specified a purchase price of $54.20 per share (cash), sending the stock from $38.69 to $50.98 in the span of two trading periods. However, despite an agreed-upon buyout price, Twitter stock has come back down to hover between $47-$49.
Here's a closer look at Twitter's stock forecast and the behind-the-scenes factors contributing to the fluctuation, even in spite of a buyout offer.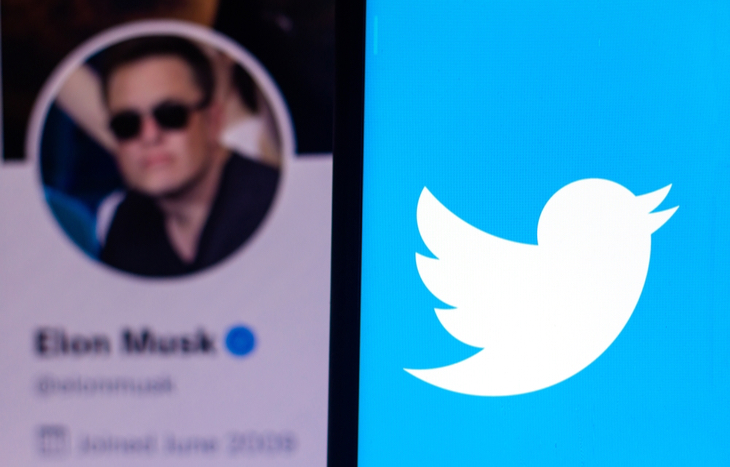 Why is Twitter's Stock Fluctuating?
The most obvious and reasonable explanation for Twitter's dropping share price is that the market as a whole is down. The tech and communication sectors in particular have suffered mighty losses over the last month.
Category leaders like Alphabet (Nasdaq: GOOG), Meta Platforms (Nasdaq: FB) and Match Group (Nasdaq: MTCH) are all down double-digits over a 30-day span. However, Twitter is green, gaining a couple percent that stands out among the pack. In fact, Twitter is up roughly 10% year-to-date. This is signaling relative confidence in the company's trajectory with a Musk takeover on the horizon.
It may seem like Twitter is bobbing up and down a percent each day. However, trading volume suggests that the movement is merely traders playing the headlines. Investors confident in Musk's bid have already bought in. While those against the takeover have already taken profits after the run-up to the acquisition price.
The Potential of a Re-Priced Deal is Growing
There's another reason that the Twitter stock forecast is hazy. According to insiders familiar with the situation, there's a growing possibility that Musk could seek to renegotiate the buyout price based on recent market downturn.
After fielding the original offer to the Board of Directors at Twitter, the Nasdaq dropped more than 17%. In the absence of Musk's bid, Twitter's price would be roughly 37% lower. It currently stands  at about $31.40. Musk is set to argue the latter as a more realistic interpretation of the company's value. In turn, lowering his bid to acquire the social media giant.
Should this renegotiated deal take shape, investors can expect rain in the Twitter stock forecast. The price will slide back toward the new buyout level, which is surely lower than the current share price.
Musk's Takeover is Controversial
Finally, it's important to consider a major behind-the-scenes factor influencing Twitter's stock price: the public's love-hate relationship with Elon Musk. He's a polarizing figure and it's affecting how investors view his intended takeover.
Since announcing the takeover bid, there's been a media frenzy. Employees at Twitter have threatened to resign in protest. Musk's ideas for monetizing the platform have received acclaim from some investors. Even his intent to un-ban former President Donald Trump from the platform has carried weight on the share price.
Moving forward, Twitter's share price is directly tied to Elon Musk: what he does, how he's perceived and the changes he chooses to make. As is the case with companies like Tesla (Nasdaq: TSLA) and SpaceX, Musk is the driving force behind their visibility, ingenuity and success.
What's Twitter's Stock Forecast for the Rest of 2022?
Investors taking an interest in Twitter because of Musk's takeover will need to ride out the current turbulence that comes with a potential renegotiation of the deal. It's also important to note that the tech industry stands to suffer as interest rates rise and the market trends downward. Where does that leave the company?
Twitter is down about 9% over the last year; however, it's up almost 11% year-to-date. It's clear that Musk's interest is buoying the stock. Even if a renegotiated deal does come to pass, it's likely to be significantly higher than the company's 52-week low of $31.30 and above its 50-day moving average. As the price continues to hover just below $50, there's strong sentiment that $46 could be the new target price for the stock.
Post-Musk, analysts are bullish on Twitter's outlook. According to an aggregated survey by CNN money, industry analysts expect it to find support at $54, with a ceiling as high as $75, pending market forces. For contrarians and bears, $33 could prove to be the target price if the takeover fails or the market continues its downward spiral.
Should Investors Buy Twitter Stock Right Now?
The $44 billion question on everyone's mind right now is whether to buy Twitter and capitalize on a Musk takeover, or avoid the stock and wait for the uncertainty to pass. Really, it comes down to each individual investor's tolerance for risk and their objective view of the situation. Musk evangelists are doubling down on a bright future for Twitter. Weary tech investors are steering clear until the situation solidifies.
Stay up-to-date on this developing situation and other factors affecting the tech market. We'll deliver important information straight to your inbox, so you can stay informed about the future of Twitter and how it'll affect other companies, like Tesla.
---