Elon Musk has been known to influence crypto prices through his tweets. Now, instead of Dogecoin, he might be directly influencing shares of Twitter stock (Nasdaq: TWTR). That's because Elon Musk recently purchased a 9.8% stake in the microblogging company. For reference, Musk now has an ownership stake that's more than quadruple the size of Twitter's founder, Jack Dorsey. Musk will join the board of directors and his opinions will have a direct impact on the company's future. This begs the question, should you be going all-in on Twitter stock? Let's take a look.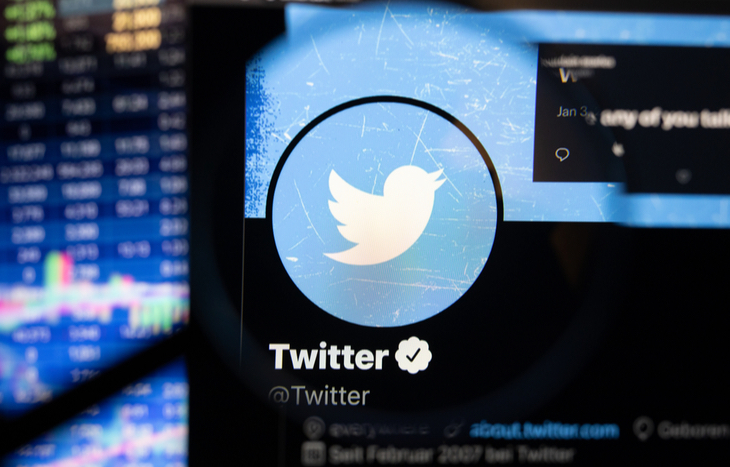 Out With The Dorsey, In With The Musk
Prior to Elon, the biggest news from Twitter was that Jack Dorsey stepped down as CEO. Dorsey, the company's founder, stepped away to focus on his other company, Block Inc. Parag Agrawal, a long-time Twitter employee, replaced Dorsey as CEO. In 2021, Twitter stock reached an all-time high of $77. Since then, it slumped down to under $35. However, it surged about 30% on the Elon Musk news.
Notably, there's no bad blood between these two billionaires. Dorsey has publicly supported Musk joining Twitter's board. Appropriately, he voiced his support via a tweet stating, "I'm really happy Elon is joining the Twitter board! He cares deeply about our world and Twitter's role in it."
Twitter's current management has also welcomed Musk. Parag Agrawal, the current CEO, tweeted, "He [Elon] is both a passionate believer and intense critic of the service which is exactly what we need on Twitter, and in the boardroom, to make us stronger in the long-term. Welcome, Elon!"
Since his ownership stake is under 10%, Musk is technically a passive shareholder. However, Musk is also not your standard shareholder. He's the richest man in the world, has 80 million Twitter followers, and is very outspoken. Due to this, Musk will likely exert an outsized influence on Twitter's policies.
So, what could this mean for the future of Twitter stock?
What Does Musk Have Planned?
With a net worth of $276 billion, Musk could technically buy Twitter ($40 billion market cap) many times over. However, part of his agreement to join Twitter's board is that he cannot purchase more than 14.9% of the company. He will serve on the board until 2024. During this time, his biggest initiative will likely be addressing Twitter's free speech policies.
More so than other social media companies, Twitter is the public square of the day. It's a platform for anyone and everyone to share their thoughts. However, in recent years, Twitter has come under fire for preventing certain people from sharing their thoughts. The best example of "certain people" is former President Donald Trump, who is banned from Twitter. This is likely what prompted Trump to start Truth Social. Musk himself has landed in hot water several times over his tweets.
Moving forward, Musk will likely make changes to how Twitter addresses free speech. Musk has already polled his followers, asking them if Twitter allows for free speech. 70% of respondents voted no.
One way that Musk could address this is by redefining Twitter's rules on hate speech. Or, he could make Twitter's algorithm open-source. This would help to prevent bias in its design.
Musk definitely has big plans. However, it's tough to know how they will influence Twitter stock. Especially since social media stock prices have been all over the place so far in 2022.
Where Does Twitter Stock Stand?
The social media industry has been particularly volatile lately. For example, Meta Platforms recently reported slowing user growth and its stock dropped 40%. On the other end of the spectrum, Snap Inc reported a surprise profit in Q4 2021. This news sent Snap Inc stock soaring over 50%. Twitter stock was down 20% YTD but jumped 30% after the Elon news.
Looking forward, Twitter investors should expect the unexpected. By this, I mean that there's a good chance Twitter stock will start behaving irrationally. We can call this the "Musk Effect."
As we've seen with Dogecoin, a handful of meme stocks, and Tesla, Musk has the power to move markets. He's got a very loyal base of investors who will basically scoop up anything that Elon touches. Now, this fanbase could be piling into Twitter stock.
Every update that Musk tweets could send Twitter's stock soaring or crashing. These price swings could even happen on marginally small news updates.
The Public Square of The Day
Twitter is an interesting company. When compared to other social media companies, it generally lags behind in terms of users and profitability. Twitter has struggled to be consistently profitable and posted annual losses in 2020 and 2021. Compare this to Meta Platforms, which posted a 2021 net income of $39.4 billion. It also has significantly fewer users than platforms like Facebook, Instagram, YouTube, TikTok, and Snapchat. Despite this, Twitter is highly influential in society.
Musk himself has referred to Twitter as "the public square of the day". It's a place that lots of people visit to get daily news updates and share their thoughts. Depending on your goals, being blocked on Twitter is a huge disadvantage. For example, politicians essentially need Twitter to reach voters.
Is Twitter Stock a Good Buy?
So far, it seems like Musk is dead set on making Twitter a medium for free speech. If you believe in this mission then it's a good idea to buy Twitter stock. Musk is incredibly smart, opinionated, and knows how to successfully run a company. His joining the board could be the spark that Twitter has needed to reach the next level. However, it's also worth noting that Twitter is not Musk's only job.
Musk is also still the CEO of Tesla, Starlink and SpaceX. It's not uncommon for investors to overemphasize the importance of investors like Musk joining the company. Musk will bring new (and probably very big) ideas to the table. However, it's not like he'll be running the day-to-day operations. If you're planning on buying Twitter stock, be sure to take a step back from the Elon news before you do. Take a detailed look at Twitter's value propositions and examine how it fits into the market.
Remember that, at the end of the day, Twitter is a business. And businesses need to make money. All of the talk surrounding free speech won't mean much for Twitter if it doesn't improve the bottom line.
At the end of the day, it's perfectly okay to invest in Twitter because of Elon Musk. If you feel that he will be crucial to the long-term success of the company then ahead and buy stock.
Please remember that I'm not a financial advisor and am just offering my own research and commentary. As usual, please base all investment decisions on your own due diligence. With that in mind, I hope that you've enjoyed learning about Elon Musk, Twitter stock and whether or not you should invest.
---