Paperwork for the Vita Coco IPO is now public. The coconut water giant has set its terms to debut on the Nasdaq exchange. Let's break down the filing…
About The Vita Coco Company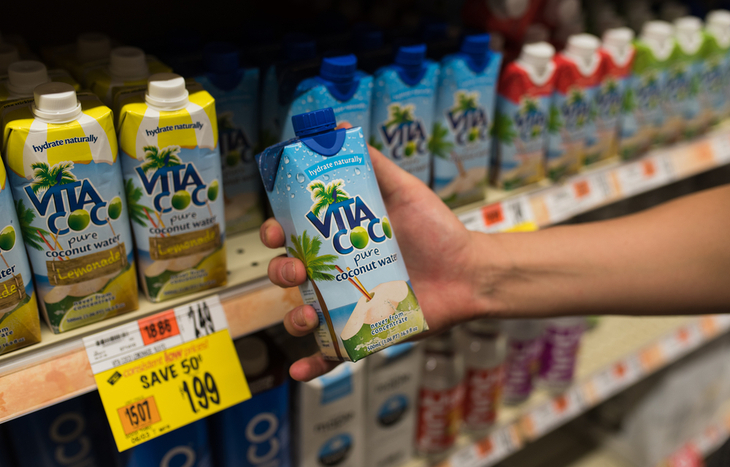 Michael Kirban and Ira Liran founded The Vita Coco Company in New York City in 2004. The company is a leading worldwide manufacturer of coconut-based drinks and other ready-to-drink beverages.
The Vita Coco Company started with an ambitious mission. It wanted to reimagine what's possible when brands deliver great-tasting, natural and nutritious products that are better for consumers and the world. Today, it's a known name and a leader in its market.
The company's portfolio is led by Vita Coco. This is the world's leading coconut water brand. Vita Coco has leveraged its success to scale into a multi-brand platform. Its portfolio also includes…
Runa – energy drinks made from plants
PWR LIFT – flavored protein-infused water
Ever & Ever – sustainably packaged water
Choc-o-lot – dairy-free, vegan chocolate drinks
Vita Coco's products are available in 24 countries. The pioneer is driving growth in the coconut water industry. All while growing its market share.
Vita Coco Grows to Become Leading Coconut Water Brand
According to The Insight Partners, the coconut water market stood at over $1.1 billion in 2019. By 2027, the market is set to grow 14%. This could make it a$3.2 billion market. Consumers are looking for nutritional and delicious drinks to maintain a better lifestyle. Due to its health benefits, coconut water is becoming a popular alternative to sugary soda. This is one reason investors should keep an eye on the Vita Coco IPO.
The company pioneered packaged coconut water. Since then, Vita Coco has grown to become the No. 1 coconut water brand. It has a 46% market share. Furthermore, with a 36% market share advantage over the closest leading competitor, the company has a significant market share advantage.
Despite its success, the company's journey hasn't always been smooth. According to Vita Coco CEO Mike Kirban, the company has had to overcome intense competition. In 2009, beverage industry giants entered the coconut water market. But they did so through acquisitions. Nonetheless, these entrants threatened Vita Coco's existence in what Kirban dubbed the coconut wars…
In 2009, Coca-Cola and PepsiCo entered our category through acquisitions. Some feared that the strength of their distribution networks would lead to our demise. In fact, the opposite happened. We did what we have always done best: we out-hustled, out-innovated, and out-maneuvered the competition.
We battled with everything we had. And we won what has been dubbed, "The Coconut Water Wars!" Most importantly, we won because consumers loved our brand and stayed loyal to it.
Vita Coco's market position reflects in its finances. The company's recent filing shows growing sales and profitability. Unlike many companies going public recently, it actually turns a profit. As a result, it could make the Vita Coco IPO a good candidate for investors.
Vita Coco: Financial Information
Detailed financial information is in the Vita Coco IPO prospectus. This can allow investors to gain more insight into the company's finances. If you're in the market for COCO stock, let's look at the details.
Vita Coco highlights some key information for investors. The company's profit and loss statement and balance sheet data are summarized as follows…
Net Sales: The company's net sales have grown. Vita Coco recorded $284 million in net sales for the 2019 fiscal year. For 2020, Vita Coco reported over $310.6 million in net sales.
Gross Profit: Vita Coco's gross profit has grown. The company recorded a gross profit of $93 million for the 2019 fiscal year. In 2020, Vita Coco recorded almost $104.9 million in gross profit.
Net Income: Vita Coco's net income has grown. For the year ended December 2019, the company recorded $9.4 million in net income. By December 2020, the company's net income grew to $32.7 million.
Cash: Vita Coco's cash flow has faced a recent drop. To illustrate, the company recorded $36.7 million in cash for the fiscal year 2019. The company's cash rose to $72.2 million for the year 2020. However, for the six months ending June 2021, Vita Coco reported $19.5 million in cash.
Total Assets and Liabilities: Vita Coco has reported increases in total assets and total liabilities. As of December 2019, the company reported $146.1 million in total assets and $72.3 million in total liabilities. As of December 2020, Vita Coco has over $183.9 million in total assets. And it has $81.6 million in total liabilities.
The company has the interests of distribution giants. Keurig Dr Pepper has agreed to buy $20 million worth of COCO stock from an existing shareholder as part of the offering.
Keurig Dr Pepper to Buy $20 Million Worth of COCO Stock
Vita Coco is heavily dependent on Keurig Dr Pepper (Nasdaq: KDP). The soda, tea, water and coffee giant is Vita Coco's largest distributor customer. According to the SEC filing, Keurig Dr Pepper accounted for 19% of Vita Coco's total net sales in 2020.
Keurig Dr Pepper is a known name for its coffee platform. This in addition to its namesake drink, Dr Pepper. The company has a massive portfolio of over 125 brands. This includes 7UP, A&W and Canada Dry. However, more recently, the company has been looking to expand its portfolio. So naturally, acquiring companies has been a priority. The company recently acquired the majority of Bai Brands not already owned by it for $1.7 billion. The company also acquired Core Nutrition for $525 million.
As part of its growth strategy, Keurig Dr Pepper has agreed to buy $20 million of stock from an existing shareholder, Verlinvest Beverages, in a private placement. Verlinvest Beverages will own 38% of COCO stock following the Vita Coco IPO, according to the prospectus.
An investment from the entity could give investors confidence in the Vita Coco IPO. So let's look at the filing details…
Vita Coco Valued Over $1 Billion
Vita Coco filed on September 27 and set its terms on October 12. The company plans to list on the Nasdaq under the ticker COCO.
The company is offering 11.5 million shares of common stock. Shares will price between $18 and $21 per share. A pricing at the mid-point of the range would value Vita Coco at $1.08 billion.
At the low end of its range, the Vita Coco IPO could raise $207 million. At the top end of the range, the company could raise up to $241.5 million in its offering.
Goldman Sachs, Bank of America and Credit Suisse are lead underwriters for the offering. The underwriters will have the option to buy an additional 1.7 million shares from selling stockholders at IPO price.
The Vita Coco IPO is coming amid a hot IPO market. The recent successful debut by Oatly may be a good sign for COCO stock in the future.
As always, make sure to research before you invest. IPOs can be volatile for the first few months. And share prices are constantly changing. Moreover, if IPO investing interests you, check out our top recent IPOs and our IPO calendar. We update the calendar daily to give you the latest news on upcoming and filed IPOs.
If you're looking for the latest investment opportunities, consider signing up for Liberty Through Wealth. This free e-letter is full of market insights from leading experts. You'll hear from bestselling author and investment expert Alexander Green. It's one of the easiest ways to stay on top of market news out there. All you need to do is enter your email address in the box below to get started.
---
Aimee Bohn graduated from the College of Business and Economics at Towson University. Her background in marketing research helps her uncover valuable trends. Over the past year, her primary focus has been researching IPOs and other trends.