You're standing on a mountaintop, waiting for the dragon in front of you to come closer. You want to be able to get a good angle to slice it's head off. To your right and left, flowing rivers of lava. If you trip, you'll die. The dragon lurches at you, you smell its rotting breath. And in one swift motion, you dodge teeth and hurl your sword down. It's head bounces into the lava to your left. You just won a virtual reality (VR) game. Virtual reality is a "futuristic" technology. Because of this, VR penny stocks are speculative.
VR penny stocks are a great investment if you believe in the technology and its advancement. It has tons of unexplored applications and uses. Plus, it's projected to grow from $4 billion dollars right now, to $84 billion by 2028.
The VR penny stocks with good companies behind them are a bit hard to find. You must do some digging. Below, I go into some of the best VR penny stocks, and show you why they might be great investments. Some of them are a little high in price for the technical definition of "penny stock status," but others are still very cheap.
Penny stocks are also volatile creatures. You can gain large amounts of money quickly. But you can also lose large amounts of money. Sometimes, that means your entire investment goes poof. Gone! So, do your due diligence and invest only after researching the company and stock chart in depth.
On top of that, VR is a speculative market. Meaning there isn't much history with it, and there's no guarantee that the market will even survive. Only invest what you are willing to lose.
Best VR Penny Stocks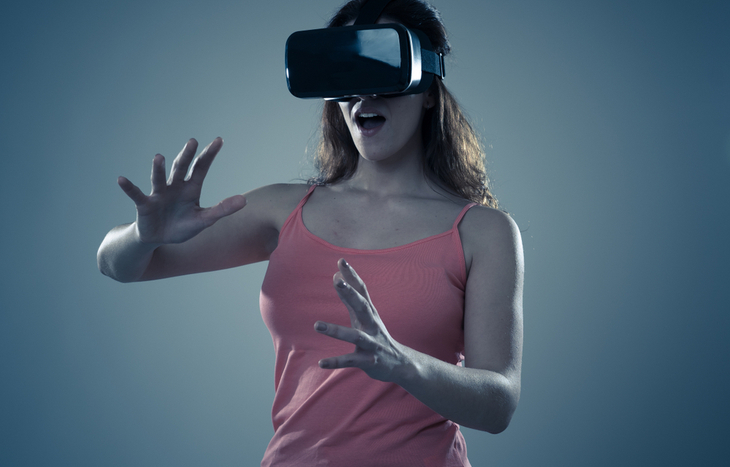 Wimi Hologram Cloud Inc. (Nasdaq: WIMI)
Blue Hat Interactive Entertainment Technology (Nasdaq: BHAT)
NexTech AR Solutions (OTC: NEXCF)
Liquid Media Group Ltd. (Nasdaq: YVR)
Imagine AR Inc. (OTC: IPNFF)
If you're looking for larger VR companies to invest in, check out these virtual reality stocks as well.
VR Penny Stocks to Buy Now
Wimi Hologram Cloud Inc.
Wimi is new and listed on the markets back in 2020. After being in a bearish pattern up until the end of October, the stock is coming back up. It has broken up into a bull. In about a week, it's risen close to 40%. For me, this momentum is a good signal.
Revenue climbed to $766 million in 2020, up 140% from the previous year. On the net income side, it doesn't look as good. But this is common for early stage high growth companies. The company is investing heavily for future growth.
Wimi's market cap is still small at around $450 million, so it has plenty of room to grow. The company is positioning to be a leading global provider of AR technology. If the progress continues, this VR penny stock should reward investors in a big way.
Blue Hat Interactive Entertainment Technology
Like Wimi, Blue Hat is in China. Blue Hat creates and distributes interactive games, toys and educational materials. The website explains it's able to deliver a superior experience and do so in an efficient manner.
The website features play-based learning technology, AR picture books and toys. And even a game for older kids and adults.
Blue Hat stock is also new and was listed in mid-2019. It's been in a bear for the lifetime of its listing. And it hasn't stopped, but it has slowed. So, it might be a good idea to keep an eye on it and buy when it starts to turn around.
It's also got a low P/E ratio of around 4, which could mean that it's undervalued. That's great for those wanting to buy in. And the company has a lot of room to grow with only a market cap of close to $40 million.
Revenue for fiscal Q2 2021 has come up by 206%. And net income has decreased but still remained in the green.
Blue Hat has many cooperative partners, as outlined on their website, including Tencent. If the company continues to grow its VR and other efforts, investors should see higher profits down the road.
NexTech AR Solutions
NexTech is a Canadian AR company that listed in 2018. It's stock reached a high of close to $7 in mid-to-late 2020. But now, it's trading closer to $1. It's nice and low, and might be headed lower. So, there could be an even better buying opportunity that presents itself soon.
It's on the OTC markets, so if you want to trade this, not every broker will have access.
The company's revenue in Q2 2021 is up from last year by 73%. And net income is in the red, which isn't good but as mentioned before, can make sense for high-growth companies. If efforts work out well, it should lead to higher cashflows down the road.
NexTech works with many large companies, including Wal-Mart, K-Mart and Target. Also, Pier 1 imports and Wayfair. It offers AR solutions to businesses to give them an edge and showcase their products. It also offers solutions for virtual events, education and holograms.
Liquid Media Group Ltd.
Liquid Media targets IP creators. It gives them solutions to problems they face daily. This VR penny stock provides entertainment content for various platforms. These include film, gaming and VR.
Liquid is another Canadian company. It's much older and was founded in 1986. The company has had some success, as it's still here and thriving.
Over its lifetime, the stock is in a bear and it's low right now. But it may be hitting the bottom threshold soon. It's been basically flat since 2019 with a few small bull runs.
The company doesn't have much revenue to show and lots of losses. Although, it's transitioning and will hopefully show big sales down the road for investors.
Imagine AR Inc.
Imagine AR is the cheapest stock on this list. It's currently trading for around $0.10. This company is also relatively new. Its stock is in a bear, but we might be seeing the signs of a reversal.
As one of the top VR penny stocks, it offers an AR-as-a-service platform for desktop. You can get the software, and create your own AR campaigns. Even if you have no programming or tech experience.
Its revenue looks great, and has increased by over 1,000% in fiscal Q3 2021 compared to last year. On the profitability side, there's not much to show. But with increasing sales, net income should eventually move in a better direction.
Imagine AR's website showcases some clients, which include Grubhub and NFL Alumni Academy. It provides AR scavenger hunts, sweepstakes and coupons.
Beyond VR Penny Stock Opportunities
As with any investment, don't invest blindly. Do your due diligence. Make sure these VR penny stocks are right for you and will help your portfolio grow. Virtual reality is a speculative market, and investing in penny stocks is also risky.
Many of these companies won't turn a profit for a while, if at all. Nonetheless, the projected growth rate of VR technology in the coming years is phenomenal. So, these stocks might work out really well.
If you're looking for even better investing opportunities, sign up for Liberty Through Wealth below. It's a free e-letter that's packed with investing tips and tricks. You'll hear about some of the top recent investment trends from investing experts.
---
Vanessa Adelman graduated with an Interdisciplinary degree. She majored in Entrepreneurship, Painting, Music and Film. Shortly after, she received a copywriting mentorship with Mark Morgan Ford. Then, she earned her AWAI Verification. Now, Vanessa freelances in the financial direct response industry. She's been investing since 2016. In her free time, she enjoys books about money and wealth. She loves being with her boyfriend, hunting, fishing and going on outdoor adventures.