If you keep up with the financial news, then you've probably noticed a handful of new buzzwords recently. Tons of companies have started throwing out words like decentralized, blockchain, NFTs and web 3.0. All this talk feels like we're at the cusp of a new internet being created. If that's true, then this would be the perfect time to start hunting for web 3.0 stocks to buy.
Before we do that, let's take a brief look at the history of the World Wide Web.
Web 1.0 – The first stage of the World Wide Web. In this stage, users only had the functionality to post content for people to read. The internet was basically treated like a big data hub. This stage is also known as the "read-only web."
Web 2.0 – In web 2.0, the web became more social. Users were able, and encouraged, to engage with each other. Web 2.0 created plenty of billion-dollar companies. For example, Google, Amazon and Meta Companies are all web 2.0 companies. However, Web 2.0 became largely dominated by a handful of tech giants. This stifles competition and continues to create privacy issues.
Web 3.0 – This version of the web is currently under construction. It is expected to be a decentralized version of the virtual world. Users will be able to collaborate on Web 3.0 without worrying about the central, data-specific repositories. This version of the web is being built on blockchain technology.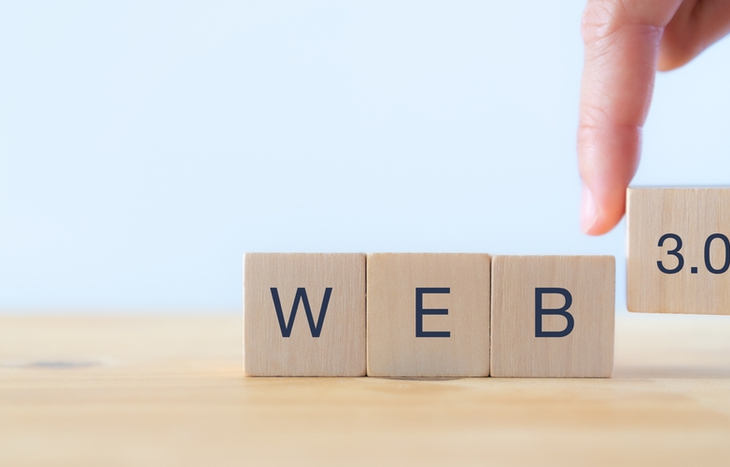 So, What's The Point?
It's easy to write Web 3.0 off as mostly hype with little substance. Besides, the existing internet seems to have plenty to offer. What's the point of redoing it all?
People are excited about Web 3.0 stocks for lots of reasons. Mainly, it's an opportunity to take some power back from massive organizations. There are plenty of examples of how Big Tech's dominance has become questionable.
For example, users upload billions of posts to Facebook, Instagram and Twitter every day. However, most social media companies have become stricter with the types of content that they do/don't allow. This creates a controversy over how free speech needs to work on a site with billions of users.
Similarly, thousands of companies rely on Amazon Web Services for cloud computing. When AWS suffered an outage recently, it caused Disney+, Netflix, Robinhood, Roku and more to face disruptions. This type of ripple effect isn't healthy for the internet.
Finally, the thought of a new company being able to compete with Amazon, Google, or Facebook is laughable. All in all, Web 3.0 should be a step toward giving power back to the people.
If you feel like you missed the Web 2.0 takeoff, this could be your chance to make up for it. On that note, let's take a look at a few Web 3.0 stocks to buy.
NOTE: I'm not a financial advisor and am just offering information and commentary. Please do your own due diligence before making any decisions.
Web 3.0 Stocks to Buy
No. 3 Nvidia (Nasdaq: NVDA)
Nvidia Corporation is on the cutting edge of just about every major technological field. So it makes sense that it tops the list of Web 3.0 stocks to buy. It has solutions for artificial intelligence, cloud computing and deep machine learning. Nvidia's technology is already used across a wide range of industries. For example, it works in telecommunications, financial services, healthcare and more. There's a very good chance that Nvidia's technology will be powering the future of Web 3.0
In FY 2021, Nvidia posted annual revenue of $16.68 billion. This was a 52.73% increase from $10.92 billion in 2020. It also posted a net income of $4.33 billion. This was a 54.94% increase from $2.8 billion in 2020.
Nvidia's stock is down 44% so far in 2022. But it's also up almost 370% over the past five years.
Web 3.0 Stocks No. 2 Coinbase (Nasdaq: COIN)
Web 3.0 stocks will be the convergence of the internet, blockchain, cryptocurrency and NFTs. Coinbase checks off two of these: cryptocurrency and NFTs. This makes it one of the most prime Web 3.0 stocks to buy.
Coinbase is one of the only publicly traded cryptocurrency company. Currently, the company acts as an exchange to buy, sell, and invest in cryptocurrency. However, it expanded recently to include an NFT platform as well. Due to its popularity, there's a good chance that Coinbase will help thrust NFTs further into the mainstream. It's also interesting to note that Coinbase is a fully remote company. I don't mean that its employees work remotely. I mean that it doesn't even have a physical HQ. Maybe it's currently building one on Web 3.0?
In 2021, Coinbase reported annual revenue of $7.8 billion. This was up 514% from $1.27 billion in 2020. It also reported a net income of $3.6 billion. This was also up 1,024% from $322 million in 2020.
Coinbase went public in early 2021. But its stock is down about 77% so far in 2022.
Web 3.0 Stocks No. 1 Block Inc. (NYSE: SQ)
Block Inc. (formerly known as Square) is a diversified financial services company. It has solutions for point of sale, peer-to-peer payments and cryptocurrency. The reason Block Inc. is one of the top Web 3.0 stocks is mainly because of its leadership. Jack Dorsey is one of the most innovative founders on Wall Street. Up until recently, he was splitting time between Block and Twitter. Recently, he stepped down from Twitter to focus on Block Inc.
According to Quartz, Dorsey can use Block's massive revenues to fund experimental ventures. Chief among these is, most likely, Web 3.0. Dorsey has been quoted saying that, "there is nothing more important in my life to work on than cryptocurrency."
In 2021, Block Inc. generated $17.7 billion in revenue. This was an increase of 85% from 2020. It also reported a net income of $166 million. This was down 22% from 202o.
Block Inc.'s stock is down 58% so far in 2022. However, it's up 192% over the past five years.
Final Thoughts on Web 3.0 Stocks
The term Web 3.0 can also be used interchangeably with the metaverse. To read about a few similar companies, check out my article on the best metaverse stocks to buy.
I hope that you've found this article valuable when it comes to learning a few of the best web 3.0 stocks to buy. Please base all investment decisions on your own due diligence and risk tolerance.
---
A University of Miami grad, Teddy studied marketing and finance while also playing four years on the football team. He's always had a passion for business and used his experience from a few personal projects to become one of the top-rated business writers on Fiverr.com. When he's not hammering words onto paper, you can find him hammering notes on the piano or traveling to some place random.