The best wine stocks cover a huge list of brands. When buying into these companies, you gain exposure to the entire alcohol industry. And no matter what's happening in the markets, people keep buying booze.
There's a long history and this bodes well for future returns. Before jumping into the list of wine stocks, let's take a look at the industry as a whole. This can help you better decide if these wine companies make sense for your portfolio…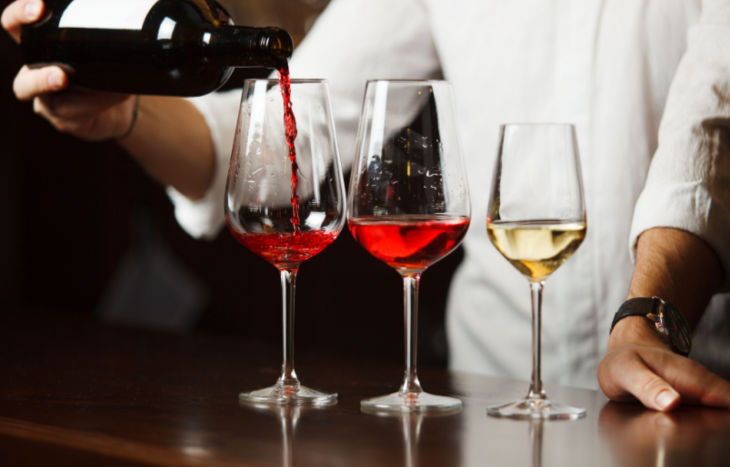 Wine Industry Trends
The earliest evidence of making wine dates back 8,000 years. And over the millennia, it's helped push human civilization forward…
For example, there's a huge health benefit… the process of making wine and other alcoholic drinks can kill dangerous microorganisms. And this allows for longer storage without spoiling. For this reason, sailors would keep wine aboard their ships.
Today, most people have access to clean water in developed countries. Although, there are other health benefits to drinking wine in moderation. On top of that, it's used in major religions and has many other social uses.
In modern history, the wine industry has made great strides. Advances in production, marketing and distribution have opened up new profit opportunities…
On the high end, a single bottle of wine has sold for half a million dollars. And the premium wine market continues to grow. In 2021, this segment grew 21%. Although, the bulk of wines are much more affordable. This gives people access no matter what the market is doing…
Many sources have claimed alcohol consumption goes up during market downturns. Although, it appears the research to back that claim is mixed. What researchers have found is that during downturns, there's not a big change in overall demand in either direction.
If anything, there's a shift from high- to low-end wines. And the predictable demand is good for investors. As a result, the wine companies below should fare well in the years ahead…
Best Wine Stocks
Brown-Forman (NYSE: BF.B)
Brown-Forman is the 5th largest American spirits and wine company. It spans across six continents and you can find its products in more than 170 countries. Its two large wine brands are Sonoma-Cutrer and Korbel. This gives good exposure to the wine industry. Although, Brown-Forman also owns Jack Daniel's, Woodford Reserve and Fords Gin, just to name a few.
This huge brand portfolio helps produce steady cashflows. As a result, the company continues to reward investors with bigger dividends each year. On top of that, Brown-Forman also has a record of paying big one-time special dividends.
Constellation Brands (NYSE: STZ)
Constellation Brands is another huge alcohol company. It started back in 1945 and now has more than 100 brands in its portfolio. Some of its big wine brands are Kim Crawford, Meiomi, The Prisoner Wine Company and 7 Moons. And for a few of its non-wine brands, you'll find Corona, Modelo, Svedka and Casa Nobel Tequila.
Constellation Brands is well diversified and continues to adapt to changing markets. It's also started investing in the cannabis industry. Back in 2017, it acquired close to a 10% stake in Canopy Growth. And since, it's increased its holdings. As legalization continues in the years ahead, this should provide more sales opportunities.
LVMH Moet Hennessy Louis Vuitton (OTC: LVMUY)
This is a French holding company that owns some huge wine brands. It has Dom Perignon, Krug and Chateau Cheval Blanc, just to name a few. The company offers many high-end wines and other products.
When buying into this top wine stock, you also gain access to some top fashion brands such as Christian Dior, Marc Jacobs, Sephora, Bulgari and Tiffany & Co. So, this isn't a direct play into the alcohol and wine industry. But this outside exposure can help diversify your portfolio.
Vintage Wine Estates (Nasdaq: VWE)
Vintage Wine Estates includes many different wineries and types of wine. You can find its wineries in Napa, Sonoma, California's Central Coast, Oregon and Washington State.
This wine stock is much smaller than the previous ones. Although, it gives more direct exposure to the wine industry. To build awareness, the company has partnered with Mr. Wonderful – aka Kevin O'Leary from Shark Tank. And moves like this should help push sales higher.
Duckhorn Portfolio (NYSE: NAPA)
Similar to Vintage Wine Estates, this wine stock gives direct access to investing in wine. Although, it's a larger company when looking at total sales and distribution. You can find Duckhorn Portfolio wines throughout the U.S. and in more than 50 countries.
Similar to the other wine companies on this list, Duckhorn Portfolio continues to look for areas to expand. It recently acquired a 265 acre cabernet sauvignon vineyard in California. And as the markets move, some more expansion opportunities should come along.
Corby Spirit and Wine (OTC: CBYDF)
Corby Spirit and Wine is another small company and it's based in Canada. It's the second over-the-counter stock on this list. And when buying OTC stocks, it's important to understand they have different requirements than the major exchanges.
Nonetheless, Corby Spirit and Wine provides a unique investment opportunity. It owns or represents many of the 25 top-selling brands in Canada. Although, it also exports its products to the U.S., Europe and other international markets.
Investing Beyond Wine Stocks
The wine stocks above provide some of the best investing opportunities in the industry. There's a good mix to choose from. And here are some beer stocks to consider as well. However, it's good to diversify across many different companies and industries.
Feel free to continue exploring our investment research and sign up for these free investment newsletters. The markets are always moving and the best opportunities come and go. So, recent insight from market experts can come in handy.
---