Activision Blizzard stock is down over 35% this year, with reports of toxic work culture weighing it down. The Call of Duty maker faces heavy scrutiny, with CEO Bobby Kotick in the middle of it all.
In today's world, this type of behavior is not tolerated. Everyone is paying attention, from employees to shareholders. This isn't the end of it, though. More significantly, business partners are rethinking their ties to the game developer.
On the other hand, the extreme price drop improves Blizzard's value. In fact, Blizzard has lost over a third of its market cap since last year. Activision Blizzard's (Nasdaq: ATVI) stock  value started the year at 71.89 billion and is now around 45 billion.
With this in mind, Activision still has a strong catalog of hit games, such as:
Call of Duty
Candy Crush
World of Warcraft
Not to mention a slate of new content coming soon like Overwatch 2 and Diablo IV.
Does this mean it's time to buy Activision Blizzard stock? Let's see what's in store for the beaten-down company.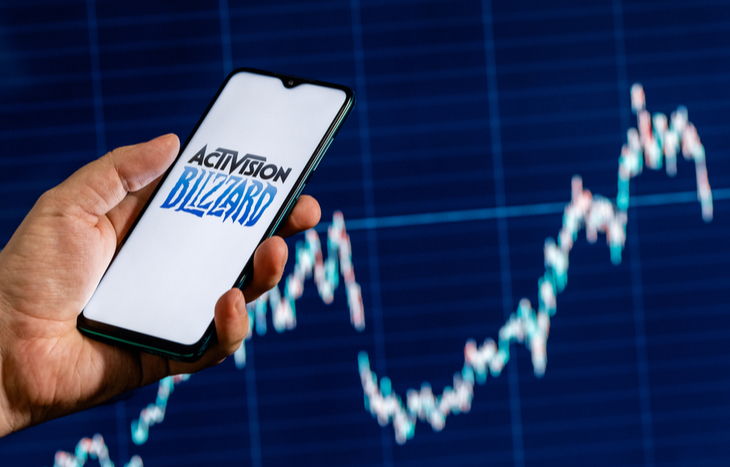 Why Is Activision Blizzard Stock Down?
Sexual harassment is a serious allegation. When the CEO of a Fortune 500 company is involved, it's all over the headlines. As a result, shareholders may look for an exit to avoid losses.
At the same time, investors are now calling for the CEO to resign, heating up the pressure on ATVI stock. A group of shareholders holding over 4.8 million shares sent a letter to the company's board asking to remove Bobby Kotick.
The shareholders said in the letter:
"In contrast to past company statements, CEO Bobby Kotick was aware of many incidents of sexual harassment, sexual assault, and gender discrimination at Activision Blizzard."
Yikes. When a group of prominent investors calls for resignation, it's never a good situation.
And to make matters worse, employees are also pushing a petition to remove Kotick from the company. The petition states, "Bobby Kotick has proved that he does not care about his employees, and he is not fit to be the CEO of Activision Blizzard." So far, the petition has over 30,000 supporters.
Furthermore, several reports suggest major business partners are "evaluating" their relationship with the company.
Microsoft (Xbox): Microsoft's head of Xbox sent a letter to employees saying he's "evaluating all aspects of our relationship with Activision Blizzard."
Sony Interactive Entertainment (PlayStation): CEO Jim Ryan also expressed concerns over the reports saying he is "disheartened and frankly stunned."
You can imagine how important these two entertainment giants are to the ATVI's business.
Stock Analysis
A lot is weighing on ATVI stock right now, erasing all Activision's returns since the pandemic. Since the pandemic forced people to shelter inside, video games were a big business.
Altogether, Activision blizzard stock nearly doubled between when the pandemic hit and its peak of $104 in February. But, now the stock is down over 45% from its February highs and making new lows daily.
The declining share price is cratering Activision's value, losing over a third of it in 2021. Yet, when compared to its competitors, it's still relatively higher. For example:
Activision Blizzard – Market Cap: 45 billion
EA Sports – Market Cap: 35 billion
Take-Two Interactive – Market Cap: 18.7 billion
Given that its other competitors – Microsoft (2.4T), Nintendo (52B) and Sony (151B) all have gaming systems as well, the market caps are deservingly higher.
Another key point to consider is the company's other valuation measures. All of which are lower than they were at the beginning of the year. Moreover, before Q3, Activision Blizzard achieved double-digital revenue growth for five straight quarters.
With this in mind, ATVI's P/E ratio is discounted compared to its peers. For example,
Activision Blizzard – P/E: 16.88
EA Sports – P/E: 45.71
Take–Two Interactive – P/E: 33.80
In other words, the company's earnings are growing quicker, while Activision Blizzard stock is getting cheaper due to the events surrounding management.
Can Activision Blizzard Stock Bounce Back?
It's hard to predict exactly what will happen in the next few months. Thus several scenarios can happen with Activision blizzard stock, such as:
The CEO stays put. In that case, employees and investors are undeniably unhappy. If he cannot fix the workplace culture, things can get worse for investors. In light of this, reports are swirling with Kotick saying he will consider leaving the company if this is the case.
The CEO resigns. If Kotick leaves, it seems ATVI will be in a better position going forward. Employees will get back on board, and investors will continue backing the company. And more importantly, the company's new CEO can bring a fresh perspective to a company in dire need of a makeover.
All things considered, the company is at a crossroads. Depending on what happens next can influence the next several quarters and the company's future.
Activision needs its team on the same page if it wants to keep up in the rapidly evolving gaming market. So far, that doesn't seem to be the case. With delays in its two biggest launches next year, you have to wonder if it stems from internal conflict.
Is It Time to Buy Activision Blizzard Stock?
All in all, ATVI still has an incredible library of hit games. The company's legacy is comparable to Disney's but for gaming. If the company can overcome these new issues, it can play a lead role with the market set to reach nearly $400 billion by 2026.
But that's a big IF. With this in mind, things could worsen if the CEO is unable to do so.
That said, Activision Blizzard stock is cheaper than it's been in nearly two years. Even more, it's cheaper than its peers with higher sales. Yet this is all relative if employees refuse to work and investors withdraw their funds.
Activision Blizzard stock could offer big return potential with the gaming market set to explode over the next several years. Innovations like the Metaverse and Esports are driving new revenue into the industry. Then again, it's also bringing more competition into the arena. Tech giants like Microsoft and Nvidia (Nasdaq: NVDA) are vowing to play a vital role in the new future of technology.
And finally, sign up for the Trade of the Day e-letter to stay up-to-date with the latest disrupting market events. The free e-letter gives you a detailed recap of daily market moves crafted by market tacticians. Check it out today!
Sooner or later, AB will need to choose the best course of action for the company. And when this time comes, look for it to have a significant influence on the stock price.
---
Pete Johnson is an experienced financial writer and content creator who specializes in equity research and derivatives. He has over ten years of personal investing experience. Digging through 10-K forms and finding hidden gems is his favorite pastime. When Pete isn't researching stocks or writing, you can find him enjoying the outdoors or working up a sweat exercising.