There are few companies in the world that are as beloved as the Walt Disney Company. Most people grew up watching Disney movies and even enjoy them as adults. Every day, 250,000 people flock to Walt Disney World Parks. It's also one of the only companies in the world that people describe using the word "magical". It seems obvious that investors should buy Disney stock, right?
Disney's business has been expanding for decades. By this point, it now owns production/animation studios, theme parks, cruise lines and intellectual property. At first glance, this seems like a good thing. However, it also has investors scrutinizing how Disney plans to expand its business in the coming years. Sure, it launched Disney+ but this is hardly a unique idea. Almost every other major production company has its own streaming service. Disney+ was also incredibly late to the party. It was launched a full 12 years after Netflix first introduced streaming.
When looking at Disney stock returns, it seems as if investors have been losing their excitement. Over the past 5 years, Disney (NYSE: DIS) stock is up about 60%. This pales in comparison to major tech companies like Netflix (Nasdaq: NFLX) up 491%, Amazon (Nasdaq: AMZN) up 366% or Microsoft (Nasdaq: MSFT) up 455%. Even the S&P 500 Index returned almost double what Disney did.
This has investors questioning whether or not to buy Disney stock. As we enter 2022, is it time to swap Disney stock for another blue chip? Or does The Mouse still deserve its "never sell" status?
Let's examine whether or not you should buy Disney stock.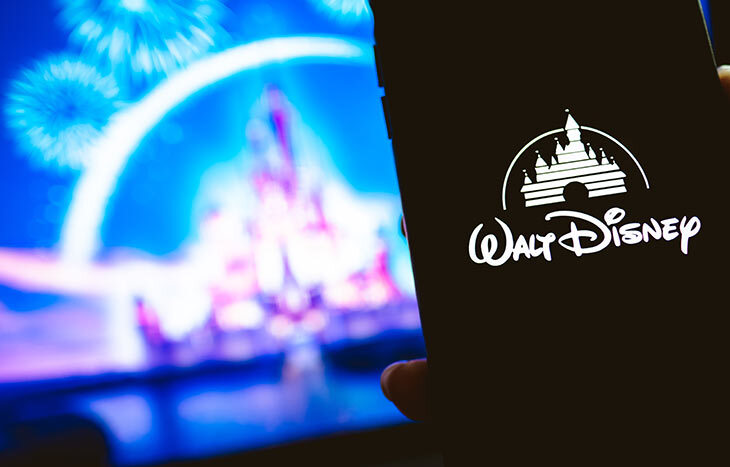 Is This A Good Time to Buy Disney Stock?
There's definitely such a thing as a "good stock, bad timing." Some companies have stellar business models, which makes them a good stock to invest in. However, if you buy into this stock at the wrong time then you might find yourself regretting your decision. It's a little bit like breaking bad news to your significant other.
You have two options. One, you could wake your significant other up at 6am to tell them the bad news. Since they haven't had coffee or breakfast yet, they probably won't be very understanding. Or, two, you could break the news at 10am after they've woken up, eaten, and had some coffee. Your bad news hasn't changed. But, by sharing your news when your significant other is in a good mood, you are more likely to get a favorable reaction.
The same thing is true for stocks. For example, Disney and Microsoft are both members of the Dow Jones. This fact alone is enough to consider them both quality stocks to buy. However, let's pretend that it's April 1, 2020. The coronavirus pandemic just entered the United States and the entire country is about to quarantine.
Disney relies heavily on crowd-heavy events like theme parks, cruises, and film production. Due to this, its business is about to be stifled. On the other hand, Microsoft has an incredibly large cloud computing division. As companies will now have to do more business online, it is set to make a lot of money.
These are both great companies. However, the timing of the coronavirus pandemic made one a much better buy than the other.
With that said, let's take a look at Disney's stock.
Disney Q3 2021 Earnings Report
To get a good idea of whether you should buy Disney stock, let's break down its most recent earnings report.
Disney released Q4 2021 EPS of $0.38. This was 23.41% lower than the $0.50 that analysts expected. It also reported Q4 revenue of $18.53. This was 1.24% lower than the $18.77 billion that analysts expected. However, it's worth noting that $18.77 billion was a 26.02% increase from 2020. Disney also reported a Q4 net income of $159 million. This was an increase of 122% from 2020.
For fiscal year 2021, Disney reported annual revenue of $67.42 billion. This is fairly comparable to what it posted prior to the pandemic in 2019 ($69.61 billion). However, total net income has still not returned to pre-pandemic levels. In 2019, Disney posted a net income of $11.05 billion. In 2021, it posted a net income of just $2 billion.
Streaming Subscriber Growth Slowing
Since streaming is Disney's newest business line, Disney+ generally receives a lot of scrutiny. In Q4 2021, Disney added just 2.1 million Disney+ subscribers. While this is still good, it was well below what investors were expecting. It's also worth noting that Disney added an impressive 44.4 million subscribers in the past year. This was a 60% increase year-over-year. Due to this surge of new memberships over the past year, slower growth right now might not be that big of an issue.
Disney+ currently has 118.1 million subscribers. For comparison, Netflix has 214 million. Remember that Disney plus was started in 2019, compared to 2007 for Netflix.
Hulu showed improved results due to solid subscription revenue growth as well as higher advertising revenue. Since Hulu offers live TV packages, it has benefitted from the return of live sports and other events.
Disney also stated that all streaming platforms are starting to get overproduction bottlenecks. These bottlenecks are still left over from COVID-19 lockdowns.
Final Verdict: Should You Buy Disney Stock?
The decision on whether or not to buy Disney stock will always be a personal one. Disney's stock returns have definitely disappointed over the past few years. It is also still struggling to recover from the effects of the COVID-19 pandemic. Investors were probably hoping that Disney's numbers would rebound significantly, once the initial restrictions were lifted.
Instead, Disney has taken a very cautious approach. It decided to go with a slow re-opening, mask mandates, and limited park capacity. While this is good for employee and customer safety, it has not been great for short-term profits. This could be one reason why Disney stock has been underperforming.
Disney is also still experiencing bottlenecks from its film production business. Film production is not just something you can turn off and on. It involves months of casting, filming, editing, reshooting, and marketing. Due to this, it could very well take another year or so for Disney to get back on track.
With that said, Disney is still one of the world's most popular companies. As a general rule of thumb, it's a bad idea to bet against companies with loyal fanbases. In the coming years, there's a good chance that Disney find its stride again. In 5-10 years, the years 2021 and 2022 might have been a great opportunity to buy Disney stock.
If you're looking for additional information on the best stocks to buy and hold, we recommend signing up for the Liberty Through Wealth e-letter below. Market expert, Alexander Green helps investors find investment opportunities with the most momentum so you can build your wealth.
I hope that you've found this article valuable when it comes to learning whether you should buy Disney stock. As usual, all investment decisions should be based on your own due diligence and risk tolerance.
---
A University of Miami grad, Teddy studied marketing and finance while also playing four years on the football team. He's always had a passion for business and used his experience from a few personal projects to become one of the top-rated business writers on Fiverr.com. When he's not hammering words onto paper, you can find him hammering notes on the piano or traveling to some place random.