Artificial intelligence, also known as AI, is one of the most exciting technological frontiers. This is because AI has such a wide range of uses. It powers everything from self-driving cars, to speech recognition, to social media newsfeeds. In fact, new use cases for AI are emerging almost every year. Due to this, investors are constantly on the hunt for the top AI companies to invest in. I'll dive into my three top choices in just a second. First, I want to take a look at exactly what artificial intelligence is.
IBM describes artificial intelligence as using machines to solve problems and make decisions like a human. So far, no computers have achieved "strong AI". This is when a computer would have intelligence similar to humans (just like Terminator). However, there are plenty of examples of "narrow AI". Narrow AI is when a computer is trained to perform specific tasks. Examples of narrow AI are found in Amazon Alexa, Siri, and self-driving cars.
Machine learning and deep learning are two subfields of artificial intelligence. You can think of both as big algorithms that process data. Basically, machine learning requires a little more human intervention in order to "learn." For example, humans might need to label data points a specific way before the algorithm can process them. On the other hand, deep learning requires less help from humans. This allows it to process much more data.
With all of that out of the way, let's answer a more important question. How can we make money from artificial intelligence? To answer that, we're going to take a look at the three top AI companies to invest in.
NOTE: I'm not a financial advisor and am just offering information and commentary. Please do your own due diligence before making any decisions.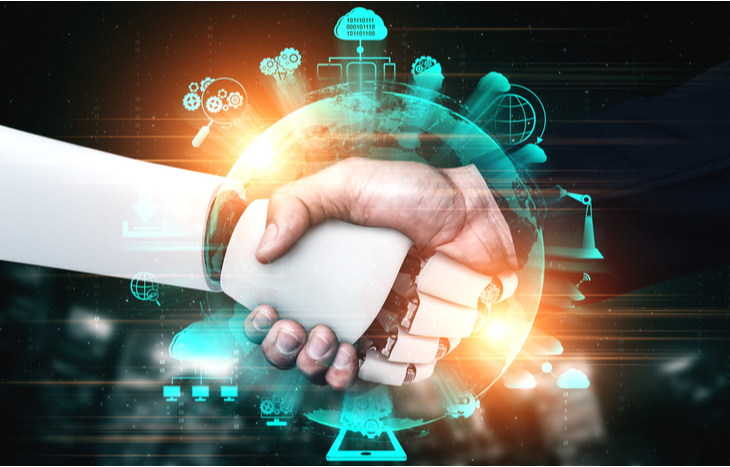 Top 3 AI Companies to Invest In
No. 3 Nvidia (Nasdaq: NVDA)
Nvidia is a jack-of-all-trades technology company. It has such a wide range of solutions that it's tough to narrow it all down into one section. To name a few, it has solutions for AI, cloud computing, gaming, edge computing, and self-driving cars. Notably, Nvidia also offers both hardware and software. For example, you can buy a Nvidia GeForce RTX laptop. These are high-powered laptops used for gaming. From there, you could download Nvidia-powered GeForce to digitally access your games. In this sense, Nvidia is a little like Apple. You can buy an iPhone, put on your Air Pods, and then browse the App Store.
Since it's involved in so many growing industries, Nvidia's business has been on a tear lately. In Q3 FY 2022, data centers, gaming, and professional visualization all posted record revenue. In particular, gaming was up 42% year-over-year to $3.22 billion. Its data center division was up 55% year-over-year to $2.94 billion. Overall, total revenue was up 55% year-over-year (YOY) to $7.1 billion. Nvidia also boasts an impressive 34.69% profit margin.
Many of Nvidia's solutions have been heralded as top-of-the-line. In 2021, Time Magazine named two of Nvidia's products "Invention of the Year." These products were Nvidia's Omniverse and Broadcast.
If you are looking for one of the top AI companies to invest in, Nvidia is a great choice. At least, U.S. Congressmen certainly think so. In total, 10 different members of the House of Representatives traded Nvidia stock since 2020.
Nvidia's stock is up 130% so far in 2021. It's also up approximately 1,030% over the past five years.
No. 2 Amazon (Nasdaq: AMZN)
As far as consumer businesses that use AI, Amazon is one of the biggest users. This makes it one of the top AI companies to invest in. I'll assume that you know about Amazon and spare you the "what Amazon does" section. Instead, I'll focus on how it uses AI.
Amazon leverages artificial intelligence internally in a number of different ways. First, it uses AI to recommend related products to customers. Think about when you buy a product on Amazon. Immediately after, you'll see a section along the lines of "products we think you'll love". This is AI in action. This feature improves both the customer experience as well as Amazon's profits. Reportedly, Amazon's recommendation engine drives 35% of its sales. Amazon also uses AI to power the Amazon Go store and, more importantly, Alexa.
Like Nvidia and Apple, Amazon is unique mainly due to its ecosystem. Amazon's core business is eCommerce. Alexa and the Amazon Go store work seamlessly on top of this business. With Alexa, customers can order more products, check the weather, or look up a recipe. If they need to, they can visit an Amazon Go store to shop or return products. This creates a seamless customer experience. Amazon's artificial intelligence helps all of these business divisions work together.
After perfecting its AI, Amazon started selling AI solutions to other companies via Amazon Web Services (AWS. In fact, AWS is the real profit puppy for Amazon, not its eCommerce business. In total, Amazon sells AWS services to over 1,000,000 organizations. This includes Airbnb, Netflix, NASA, Pfizer and more.
Amazon's stock is up 7% so far through 2021. It is also up approximately 355% over the past five years.
AI Companies to Invest In No. 1 C3.AI (NYSE: AI)
Both Nvidia and Amazon use artificial intelligence in a wide range of ways. However, they also both have tons of other business lines. C3.AI, on the other hand, operates exclusively in AI. This makes it one of the top AI companies to invest in when it comes to a pure-play AI stock.
If you're not familiar, C3.AI essentially offers AI-as-a-service. It helps the most complex organizations in the world operate more efficiently. This means streamlining supply chains, improving employee safety, and optimizing business practices. It currently has 4.8 million AI models in use by other companies. These models churn out 1.7 billion predictions every day. In this sense, C3.AI helps executives make more informed decisions.
C3.AI has been losing money since going public in late 2019. In 2021, its net losses have been widening every single quarter. This is most likely why its stock is down over 70% so far in 2021. However, there is plenty of good news that makes this a frontrunner for top AI companies to invest in.
Land And Expand
Notably, C3.AI now works with 104 customers. This represents a 64% year-over-year increase. C3.AI isn't working with Mom-and-Pop shops either. Its clients include Sunoco, Raytheon, and the U.S. Department of Defense. These are Big Fish that have even bigger budgets. Right now, C3.AI needs to keep getting its foot in the door at major organizations. Once a contract is signed, there is plenty of opportunity to provide a valuable service. If the value is there, it's likely that these businesses will have no problem signing larger contracts later on. This strategy is sometimes called "Land and Expand."
C3.AI has already done this successfully. In Q2 FY2022, C3.AI expanded its contract with Baker Hughes in terms of both length and size. This was the second time restructuring the contract. Each restructuring means more guaranteed future revenue for C3.AI. If it can do this successfully, C3.AI will continue to be one of the top AI companies to invest in.
C3.AI just recently went public in late 2020. Since then, this AI stock is down over 70%.
I hope that you've found this article valuable when it comes to learning the three top AI companies to invest in. Please base all investment decisions on your own due diligence and risk tolerance.
---
A University of Miami grad, Teddy studied marketing and finance while also playing four years on the football team. He's always had a passion for business and used his experience from a few personal projects to become one of the top-rated business writers on Fiverr.com. When he's not hammering words onto paper, you can find him hammering notes on the piano or traveling to some place random.