When asked to pick one stock to hold forever, most investors would probably choose Amazon. Amazon is one of the largest companies in the world. It completely dominates the world of eCommerce and many people use it multiple times per week. It's also consistently ranked as one of the world's most admired companies. Since being listed in the late 1990s, Amazon stock has also increased an astounding 180,000%. Over the past five years, the stock is up over 350%. However, by this point, everyone knows about Amazon. Its stock is still definitely a great investment. But will it continue to grow by 100% yearly for the next decade? Probably not. Instead, investors are hunting for the next Amazon stock to buy.
To find this stock, investors might not need to search very far. In fact, they might not even need to switch industries. This is because there could be an incredible power shift happening in the world of eCommerce. That power shift is being brought on by a company called Shopify. Shopify helps merchants and entrepreneurs set up online stores without any coding necessary.
Shopify CEO Toby Lutke has summed up the industry like this, "Amazon is trying to build an empire, and Shopify is trying to arm the rebels." He has even gone so far as to say that Shopify is the Anti-Amazon. This is because Shopify is attempting to take power away from Amazon and give it back to small businesses.
Let's take a look at why Shopify is the next Amazon stock.
NOTE: I'm not a financial advisor and am just offering information and commentary. Please do your own due diligence before making any decisions.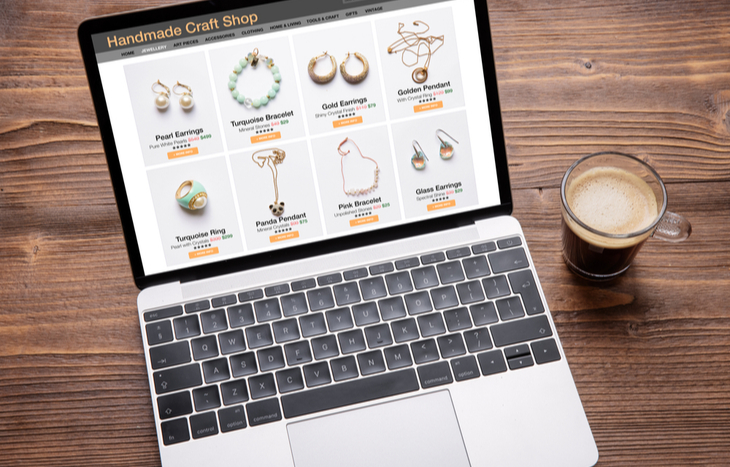 The Next Amazon Stock: What is Shopify?
If you're not familiar, Shopify is an eCommerce company. It sells software that allows people to create online stores in minutes without any coding knowledge. You can choose from hundreds of pre-built templates to create a digital store that matches your brand. Shopify offers services for payments, marketing, shipping, and customer engagement.
Shopify's platform costs anywhere from $29/month to over $2,000/month. This means that it can be used for businesses of all sizes. For example, it's a great option if you wanted to start selling T-Shirts in your spare time. However, it is also used by major corporations like Chipotle, Staples and Kylie Jenner's Kylie Cosmetics. Just recently, two companies (Allbirds and Figs) went public that are built entirely on Shopify software.
Shopify went public in 2015, so it's still relatively young. In just five years, it has grown to become Canada's most valuable company. But does this make it worthy of being the next Amazon stock to buy? Let's take a closer look.
By The Numbers
Shopify's business has been growing at a very fast pace. Over the past five years, its revenue has grown at an average rate of just over 70% annually. In 2020, it posted annual revenue of $2.93 billion. It also posted its first profit ever in 2020 of $319.51 million. It has already eclipsed both of these numbers so far in 2021. In Q3 2021, Shopify reported revenue of $1.12 billion and net income of $1.15 billion.
This growth has definitely generated excitement from investors. Since going public in 2015, Shopify's stock has increased nearly 5,000%. So far in 2021, it has increased by approximately 30%.
The Next Amazon Stock: Potential Opportunities
You might be quick to point out that Shopify reported $2.93 billion in 2020 revenue. This is a far cry away from Amazon's reported $386.06 billion. Clearly, these companies are on entirely different levels. Why is it fair to name Shopify as the next Amazon stock?
Right now, Shopify is nowhere near the size of Amazon right now. However, that does not mean that it can't become the next Amazon stock over the next decade or so. In Q3 2021, Shopify earned 8.6% of all U.S. eCommerce sales. This is already ahead of Walmart, eBay and Apple. In fact, it's second in the United States. Amazon reigned supreme with 39% market share.
Shopify also has a few trends on its side. Let's take a deeper dive into those trends to see why it's the next Amazon stock.
The Pandemic
The COVID-19 pandemic was supposed to be a once-in-a-lifetime event. However, new variants are starting to appear consistently. With new variants comes more quarantines and lockdowns. Obviously, we all hope that this doesn't happen. However, businesses need to take this risk into consideration. This means that almost all businesses, old and new, are rushing to create online stores.
Sure, this might also be good for Amazon. However, as the pandemic goes on longer, merchants will probably start looking for long-term solutions. Instead of just selling products on Amazon's site, why not create their own? It will be better for their brand, they will have more control and they will keep more of the profits.
A Generation of Entrepreneurs
For the first time in a while, younger generations might be worse off than older ones. Costs are rising but wages are stagnant. This makes it difficult to earn a living, let alone save/invest for the future. For example, in Washington D.C. the average rent for a one-bedroom apartment is $2,450. The federal minimum wage has been $7.25 since 2009. This means that someone making minimum wage has to work 340 hours just to afford rent. 340 hours/month is more than 80 hours/week. All this just to afford the rent. Even someone earning $25/hour still has to clock in 100 hours just to pay for a place to live. Similar situations are playing out all over the country. Notably, San Francisco, New York and Los Angeles are notoriously pricey.
For many young people, it's simply not realistic to work a job and be able to live comfortably. Instead, they're turning to entrepreneurship. Entrepreneurialism offers more income potential and the ability to work remotely. Both of these factors appeal to Millennials and Generation Z. Younger generations have much more incentive to create online businesses. When they do, Shopify is right there to help them get started.
Keep reading for more info on why Shopify is the next Amazon stock.
Growing Anti-Monopolistic Sentiment
People love Amazon because it's quick, easy, and reliable. However, Amazon's dominance has generated so much wealth for Jeff Bezos that it's hard to comprehend. When offered the opportunity, most shoppers would likely rather support a small business than contribute more money to Jeff Bezos's empire.
Over the next decade, there's a good chance that more small businesses will create online stores. This will give shoppers more options on where to spend.
Scalability
Today, Amazon makes money in tons of different ways. Amazon Web Services is a massive cloud computing business. It helps third-party sellers move products or advertise. It also has services like Amazon Prive and Prime Video. However, remember that Amazon started by selling books online. Over time, it scaled its business into a goliath. Shopify could do something similar.
Right now, Shopify mainly helps sellers create online stores. It also offers services for payments, marketing, and shipping. Once it has created a massive ecosystem, it will have a huge opportunity to scale other aspects of its business. This is especially true with new technologies like blockchain, web 3.0 and the metaverse growing in popularity. Shopify could potentially expand into all of these areas.
Shopify: The Next Amazon Stock?
Amazon is known for relentlessly aiming to please the customer. This strategy has worked incredibly. However, prioritizing the customer naturally implies short selling the merchant. Up until recently, merchants have not had many alternatives to selling on Amazon. Now, Shopify is giving merchants some of the power back. It's doing this by arming merchants with clean, digital websites of their own. In a way, Shopify is democratizing eCommerce.
Shopify is also making big moves to grow its business. First, it has teamed up with music streaming giant Spotify to help artists sell their own merchandise. Second, it has built up a network of 43,000 partner blogs and businesses. These partners help refer new merchants to Shopify every single month. Last, shortly after the pandemic, Shopify decided to terminate its office leases. Its 7,000-person workforce works 100% remotely. This allows Shopify to recruit talent from all over the globe.
There is no denying that Shopify has quite a way to go to become the next Amazon stock. However, it's easy to imagine a future where Shopify dominates. Amazon's dominance is challenged by a huge wave of digital small businesses. A higher percentage of younger generations launch their own businesses. Ecommerce is spread out over thousands of digital small businesses. All of this could be possible thanks to Shopify.
I hope that you've found this article valuable when it comes to learning why Shopify is the next Amazon stock. Amazon is reportedly launching a rival service to Shopify. Be sure to keep an eye on this if you plan on investing in Shopify! As usual, please base all investment decisions on your own due diligence and risk tolerance.
---
A University of Miami grad, Teddy studied marketing and finance while also playing four years on the football team. He's always had a passion for business and used his experience from a few personal projects to become one of the top-rated business writers on Fiverr.com. When he's not hammering words onto paper, you can find him hammering notes on the piano or traveling to some place random.