In 2015, an Albertsons IPO was filed with the SEC. Investors were eager to get a share in the large grocery chain. But Albertsons' stock never hit the market.
Now, five years later, Albertsons is once again moving forward in the IPO process. But when can investors expect to see Albertsons on the market? Here's what we know…
Albertsons IPO: The Business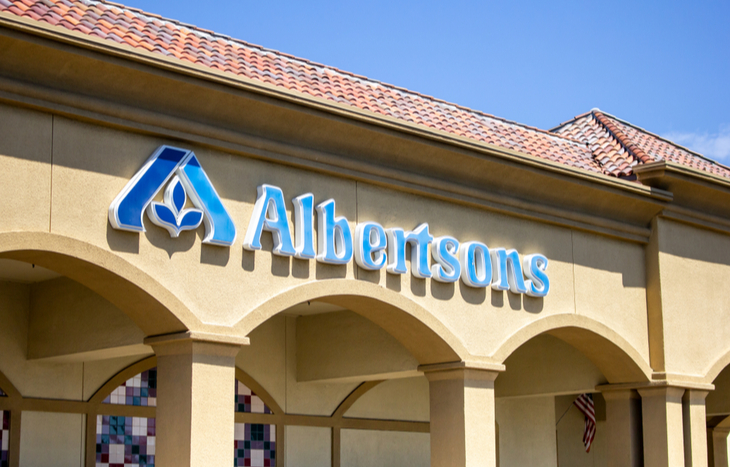 Albertsons is an American grocery company. Its headquarters are in Boise, Idaho, where the company was founded. Currently, private investors own the company. The biggest is Cerberus Capital Management. In April 2019, Vivek Sankaran from PepsiCo (Nasdaq: PEP) was hired as CEO.
Albertsons has over 2,200 stores. It's the second largest grocery chain in the U.S. The company operates with 20 banners, including Safeway, Acme and Vons.
So, why did the Albertsons IPO not happen in 2015?
Stock Markets Delay Albertsons IPO
This is the third time Albertsons has attempted an IPO. The first was in 2015. It came after Albertsons' merger with Safeway. Investors wanted to take the company public and raise $1.6 billion. However, late 2015 wasn't friendly to retail stocks. So, Albertsons pulled the offering due to tough market conditions.
The next attempt was in 2018. Albertsons tried to go public via merger with Rite Aid Corp (NYSE: RAD). The deal was worth $24 billion. However, investors pushed back. They thought the merger would lower the value of their investment. Albertsons called off the merger the night before the vote.
Jumping forward to October 2019, Albertsons filed with the SEC. Then on March 6, 2020, the company publicly filed for an Albertsons IPO. But the following Monday was the infamous stock market plunge from coronavirus. A bear market and volatility followed.
Kathleen Smith, a principal with Renaissance Capital, said:
"This extreme market volatility shuts down the market for all issuers. Capital raising doesn't happen when existing companies and investments are not doing well, because every investor pulls in their horns and won't add risk when they're trying to manage their existing issues in their portfolio."
However, investors have seen successful IPOs amid the coronavirus chaos. One example is GFL Environmental (NYSE: GFL). The GFL IPO raised $1.4 billion.
But the information investors need to know when it comes to an Albertsons IPO is finances.
Albertsons Sees Increasing Sales Growth
CEO Sankaran came on the scene a year ago. But he is already credited with turning the company around. Albertsons was expected to go out of business in recent years. And now, it's seeing growth.
In the prospectus, Albertsons said sales have grown for eight straight quarters. In the 2019 third quarter, sales were up 2.7%, an increase from 1.9% in 2018. And for the fiscal year ended February 23, 2019, Albertsons reported a net income of $131 million from a revenue of $61 billion. That's compared to $46 million from $60 billion the year before.
Sankaran commented:
"Our identical sales momentum continued in the third quarter, as our core business continues to delivery strong growth. We are focused on providing our customers with an easy shopping experience, exciting merchandise and friendly customer service in our omnichannel shopping environment and creating deep and lasting customer relationships."
There's great growth potential but it comes at a cost…
The 2015 Safeway merger costed $9.2 billion. And four years later, outstanding debt was still high at $8.2 billion. This could be a reason why Cerberus wants to cash out.
Running grocery stores isn't cheap. Expenses for store openings and remodels were around $3.8 billion. Albertsons also spent about $375 million on new technology. The company has online home delivery and a Drive Up & Go pickup service. It also works with Instacart, Grubhub and Uber Eats for delivery.
So, the big question is…
When Will Albertsons IPO?
Albertsons is going to IPO. But the exact date isn't known. Investors can likely expect an update once the coronavirus outbreak is contained. It's now a waiting game with the markets.
If you're looking for the latest investment opportunities, Investment U is the place to be. Sign up for our free e-letter! It's full of useful tips and trends researched by our experts. Whether a beginner or experienced investors, there's something for everyone!
Albertsons is hoping to list its shares on the New York Stock Exchange. The requested ticker is ACI. Investors should keep an eye out for Albertsons stock. The Albertsons IPO could be the biggest of the year.
---
Amber Deter has researched and written about initial public offerings (IPOs) over the last few years. After starting her college career studying accounting and business, Amber decided to focus on her love of writing. Now she's able to bring that experience to Investment U readers by providing in-depth research on IPO and investing opportunities.