Amazon (Nasdaq: AMZN), a pillar of the MAGA stocks, announced earnings back on April 28. The earnings report was a massive drag on the stock, sending shares of the company tumbling downwards. It was an astonishing earnings report for the tech giant. And today, we'll take a closer look at Amazon stock earnings.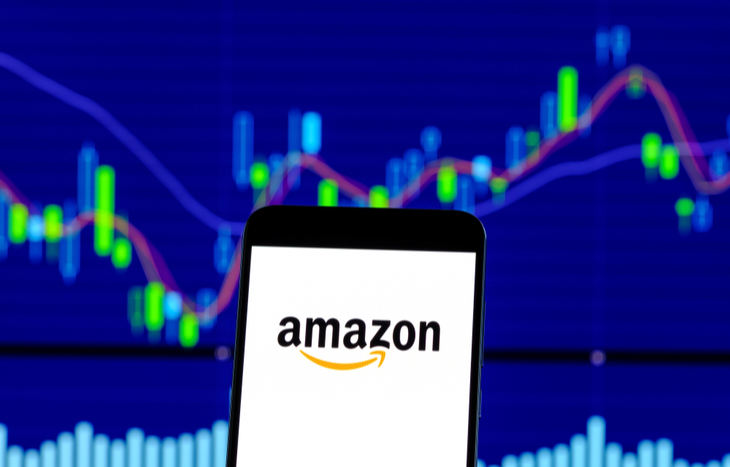 Amazon Stock Earnings: The Report
To say that the Amazon stock earnings report was a shock would be a monumental understatement. It marked the first time in four years that Amazon reported a net loss. Earnings per share were expected to be $8.55, and Amazon missed, badly. Amazon reported net losses of $7.56 – a $16.11 per share difference between expectations and actual earnings. Overall, Amazon reported a total loss of $3.8 billion in Q1 of 2022.
Amazon also announced their adjusted expectations for the upcoming financial quarter. Operating income in Q2 of 2021 is expected to be between $1 billion and $3 billion. Compared to the $7.7 billion Amazon reported in Q2 of 2021, this also concerned investors. The company is only expecting revenue to grow between 3-7%, which is quite low. The decrease in company expectations can be explained by two main factors. First, a return to relative normalcy after as physical economies have reopened, or are planning on reopening. Second, broader concerns regarding a recession, and the fact that tech will experience the brunt of any market selloff. As to the second point, only the Nasdaq has entered bear market territory, the S&P 500 and DJIA have not.
Main Business Segments
Looking deeper at the Amazon stock earnings report, some things stood out. Amazon Web Services is, at this point, the best part of Amazon's business. AWS revenue far exceeded expectations, bringing in over $18.3 billion in revenue. Sales were up 37%, and profit was up 57%. AWS accounted for over 63% of Amazon's operating income, but only 12.5% of the total revenue. Therein lies the problem. Amazon's other business segments were either not profitable, or marginally profitable. With the pandemic largely coming to an end, and online shopping becoming less of a necessity, Amazon's other segments suffered. With very few people yearning for a return to an environment similar to 2020, Amazon stock has found itself back at those levels.
A Closer Look at Amazon Stock Earnings
While the slow down of most of Amazon's business segments is concerning, that doesn't seem like the root issue. No, in fact, upon closer inspection it seems one segment is to blame for Amazon's losses. If you recall from the first paragraph, Amazon reported a total loss of $3.8 billion in Q1 of 2022. However, Amazon reported a net loss of $7.6 billion based on their investment into EV company Rivian. In a previous article, I discussed how Amazon owned roughly 20% of Rivian stock. However, not even Amazon's backing was able to stop the absurd decline Rivian stock's has experienced this year. Ford, another major shareholder, has already begun dumping shares of Rivian, and has publicly soured on the relationship.
The connection to Rivian also seems to be quite strong. Rivian reported their own earnings after market on Wednesday, and missed on revenue estimates. Yet, the stock has still surged since then. Amazon stock has experienced a related, but less pronounced, bounce as well. Amazon hit a 52-week low at market open Thursday morning, trading at $2048.11. As of today, the stock is already back above $2220, a 8.3% bounce in two trading sessions. Given that Amazon is an established, trillion dollar company, a 7.8% swing is quite large. The stock's performance has also led the Nasdaq, a strong reason why the index is up.
Conclusions on Amazon Stock Earnings
Yes, the Amazon stock earnings report at the end of April was a shock. While it is easy to write off the company, given the massive earnings miss, some context is necessary. First and foremost, if not for the investment in Rivian, the company would not have reported a loss. Lower earnings, sure, but not the first loss in four years. Second, yes, a correction in the stock price was necessary given the shifting economic conditions. With people shifting back to physical commerce and interaction, Amazon became less necessary. Third, if Amazon Web Services was a standalone business, we might be considering it a hyper-growth stock. With that segment continuing to grow, giving up on Amazon seems foolish.
Overall, yes, Amazon probably won't experience growth this year like it did in 2020 or 2021. However, if Rivian can manage to not plummet even further, there is no reason why Amazon can't be a profitable company. Tempered expectations are prudent. But there is still some strength in Amazon stock moving forward.
---