The latest AppHarvest stock news fueled a rally in AppHarvest (Nasdaq: APPH) stock, but will it be enough to turn the company around?
Farming stocks have been a big topic among investors, with food inflation on the rise. The most the latest Consumer Price Index (CPI) for food shows an increase of another 0.9% in October. In fact, this makes it a 5.4% increase from last year.
With this in mind, AppHarvest is transforming the agriculture industry with its sustainable approach to farming. What's more, the company is building some of the largest indoor farming facilities in the world. By using up to 90% less water, and high-tech growing methods, the company is leading the future of farming.
At the same time, AppHarvest stock is down over 60% this year as investors question how the company will turn a profit. Yet its latest earnings report suggests the company is on track with its second harvest off to a good start.
That said, I'm going to break down the latest AppHarvest stock news to see if the drop is justified and what to expect going forward.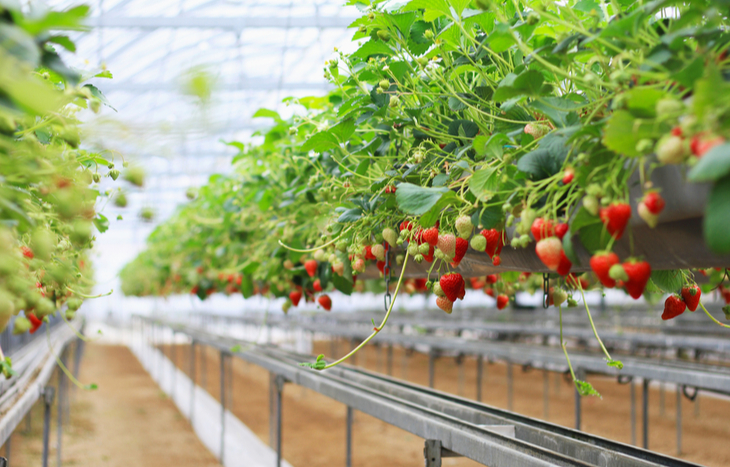 AppHarvest Stock News – 'Fight the Food Campaign'
To kick of AppHarvest's second growing season, the company is launching its 'Fight the Food' campaign.' The move comes as a way to support a more resilient food system in the U.S.
More importantly, to drive support for the cause, AppHarvest is launching a website featuring "Fight the Food Salsa." Although the selection is small, they do offer three packs of salsa in 3 flavors:
And to top things off, the company also offers a variety pack with one of each flavor. Currently, the 3-packs are going for $15. Even more, recent AppHarvest stock news revealed a percentage of each sale will go towards the AppHarvest Foundation to support the future of farming.
AppHarvest Founder & CEO Jonathon Webb had this to say:
"As a mission-driven company, we're working to deliver consumers options for more delicious, sustainably grown produce that's better tasting, better for the environment, and better for people – and still at about the same price as standard produce."
There's a lot to take in from that statement. The first takeaway is AppHarvest is a founder-led company with Jonathon Webb. Secondly, the company is focused on what's best for consumers. And lastly, the superior product is roughly the same price as lower quality competitors.
Wrapping Up "Summer Refresh"
In other AppHarvest stock news, the high-tech farming firm is wrapping up its "Summer Refresh." So far, its flagship Morehead, KY indoor farm is experiencing a robust second harvest.
The facility is home to over 700,000 tomato plants expecting to reach around 40 ft. tall when fully mature. Furthermore, AppHarvest's superior growing techniques are allowing them to learn and adapt to improve the product.
The company is also on track to offer different crop types by the end of next year. In light of this, AppHarvest is building several facilities that will produce crops like leafy greens and berries.
On top of this, the farming firm is securing a $25 million credit facility with JP Morgan (NYSE: JPM) on its third facility.
Hiring an Amazon Vet
Just recently, AppHarvest announced it's hiring former Amazon specialist Mark Keller as SVP of its Software Applications Platform.
Mark comes with over 25 years of experience in the industry with credit to launching Amazon's first Kiva robotics warehouses. The company is planning to have mark help train its intelligent robot, Virgo, to harvest multiple crops.
As the company expands its crop types, it's using AI to learn and improve its growing process. The move is massive news for AppHarvest as it looks to strengthen its growing techniques.
Keller had the following to say:
"Two of the most pressing global concerns are water scarcity and creating resilient food supply, and AppHarvest is solving for both."
This is immense praise from someone that played a pivotal role in Amazon's growth into an industry leader.
AppHarvest Q3 Earnings Results
The third quarter was a telling one for the growing company, with $543,000 in sales from 1.5 million pounds of tomatoes. These sales reflect a $0.37 price per pound.
But, AppHarvest stock news suggests higher tomato prices may be in store based on indications from its distribution partner. AppHarvest still posted a net loss of $17.3 million despite the strong showing as the company is just starting to produce sales.
However, the company has ambitious plans to expand. For instance, AppHarvest has several key projects in the works.
60-acre tomato farm
15-acre leafy green farm
30-acre berry farm
10-acre leafy green facility
Not to mention, as the company grows, its AI-based model learns from the harvest and adapts to better the outcome. So, as these facilities are being built, the robots are already hard at work learning the best growing methods to use in the facilities.
Considering the Latest AppHarvest Stock News, Is It a Buy?
AppHarvest investors have gotten crushed this year, with the stock down 87% from its highs earlier this year. But, on the positive side, recent AppHarvest stock news may help investors recoup some losses.
The company is leading the future of farming with its high-tech facilities and AI-based growing methods. Recent weather events, the pandemic, and other issues have shown the need for sustainable food in the U.S.
With this in mind, AppHarvest is taking the right steps towards profitability as it ramps up production. But the company will need to continue showing it can grow and meet the demand.
To keep up with the latest AppHarvest stock news, sign up for the Trade of the Day e-letter below. If you're sick of missing the most critical market news, enter your email below, and receive a quick recap of what you need to know. Check it out for free today!
Currently sitting near all-time lows, AppHarvest looks like a steal at these valuations. We will see if the company can continue staying on track with several projects finishing in 2022.
---
Pete Johnson is an experienced financial writer and content creator who specializes in equity research and derivatives. He has over ten years of personal investing experience. Digging through 10-K forms and finding hidden gems is his favorite pastime. When Pete isn't researching stocks or writing, you can find him enjoying the outdoors or working up a sweat exercising.