Crypto
The ARK Bitcoin ETF Is One Step Closer to Existing
A prospectus for the ARK Bitcoin ETF has officially been filed. The U.S. Securities and Exchange Commission received the filing June 28. However, there's a good chance we're still a ways off from seeing it on a major exchange.
As of right now, this is at least the 11th Bitcoin ETF filing the SEC has received since December. Whether or not it will manage to jump to the front of the line is anybody's guess. But we do know a fair amount about the proposed ARK Bitcoin ETF from what we can glean from the filing.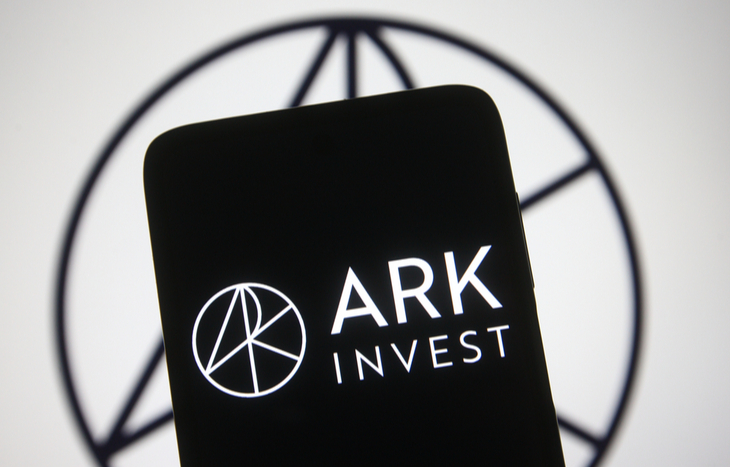 First and foremost, ARK Investment Management is teaming up with Switzerland-based 21Shares to release the fund. It will be officially known as the ARK 21Shares Bitcoin ETF. And it will eventually trade under the ticker ARKB. Also, it's anticipated to be listed on the CBOE Global Markets.
Truth be told, anytime Cathie Wood's ARK Investment Management firm puts together something new, there's reason to sit up and take notice. She's polarizing for sure. But her track record has earned her some serious accolades. And her investments have made a lot of people a lot of money. It's why the Bloomberg News editor-in-chief dubbed her the best stock picker of 2020.
But she doesn't interest us because of the accolades she's received. It's her strategy that has our attention. Not only is she good at picking out trends, her investment philosophy and research are uniquely hers. And that's led to some remarkable takeaways that all investors could stand to learn from.
But before we get into all of that, let's take a little closer look at the ARK Bitcoin ETF…
The ARK Bitcoin ETF: What We Do and Don't Know
The American branch of 21Shares is the official sponsor of the ARK Bitcoin ETF. Meanwhile ARK Investment Management will do most of the marketing of the shares. And Coinbase (Nasdaq: COIN) will retain custody of the Bitcoin on behalf of the ETF.
It's worth noting that there are several funds in the U.S. that track companies that operate in the crypto space… or even hold Bitcoin on their balance sheets. However, the SEC has yet to approve an ETF that directly holds Bitcoin.
It's worth noting that the Toronto Stock Exchange debuted the Purpose Bitcoin ETF back in February. It was the first such ETF backed by settled Bitcoin in North America. So once again, the U.S. is lagging behind other countries in this department. So, when one does eventually come to market, it's crucial it's done right.
The SEC is still at odds with the idea that a financial instrument like this would be transparent and liquid enough to avoid extreme levels of volatility and market manipulation. And after the massive drop in Bitcoin's value over the last couple of months, it's safe to say they're not in a big hurry to unleash the ARK Bitcoin ETF on the public… Or any Bitcoin-backed ETF for that matter.
In fact, the SEC recently delayed a final decision on whether to approve the similar VanEck Bitcoin Trust. The commission is still seeking comments and feedback as to its viability. But love it or hate it, the disruptive nature of Bitcoin – and all crypto for that matter – will eventually find some form of home on a major exchange.
Why ARK, Why Now
Cathie Wood has been laser-focused on tech she deems "disruptive." It's what led to her notably bullish stance on Tesla (Nasdaq: TSLA). And whether you're talking about the underlying blockchain technology or the crypto itself, there's no denying Bitcoin's disruptive nature. In fact, major government agencies can't decide on a unified designation. The SEC considers it a security. But the IRS views crypto as property. And just to complicate things a little further, the Financial Crimes Enforcement Network doesn't consider it to be legal tender. So yea, Bitcoin is even disrupting governmental dictionaries.
But beyond that, now might be an ideal time to strike a deal for the ARK Bitcoin ETF. By most measures, Bitcoin is trading at a discount. And considering Wood has gone on the record saying that Bitcoin could hit $500,000 a coin, getting in now could make a lot of sense.
Realistically, Bitcoin won't be hitting the $500,000 any time soon. However, if other financial institutions follow her recommendation, it's certainly not out of the question long-term. She believes that if/when all financial institutions start allocating a spot for crypto on their balance sheets, it will trigger a major rise in value. Which, quite frankly makes a lot of sense… And is starting to happen with the rise of crypto hedge funds.
While we're not sure when the ARK Bitcoin ETF will hit the market, we're certainly excited about when the time comes. Not necessarily because we'll be getting in on the action. But it should trigger a nice rise in our crypto portfolios. After all, the more institutional investors get in on the crypto action, the faster the rewards might come for early adopters.
The Bottom Line on the ARK Bitcoin ETF
Cathie Wood's ARK Bitcoin ETF might not be the first such ETF to make it to the markets. But the reason we're so optimistic about this one in particular is that it falls perfectly inline with Wood's strategy. ARK Investment Management is only interested in a few things. And if they don't disrupt or innovate, it's not interested.
This is why ARK Invest has been so successful of late. The markets have a whole lot of both right now. Between DNA sequencing, energy storage, artificial intelligence, robotics and blockchain technology, many of the market movers are disrupting and innovating. Never before, she and her team say, has the market seen such a robust lineup of mega forces all working at the same time. And that's why ARK and Bitcoin seem such a perfect fit for each other. It's not just about an opportunity to make money. It's because ARK believes in a robust future for Bitcoin and its disruptive capabilities.
Are you looking for more investment opportunities poised to disrupt the market? If so, then look no further than Manward Financial Digest. In it, founder Andy Snyder helps investors navigate through the choppy crypto markets. He offers valuable insight into the great markets as a whole. All you need to do is enter your email in the box below to get started.
---
Matthew Makowski is a senior research analyst and writer at Investment U. He has been studying and writing about the markets for 20 years. Equally comfortable identifying value stocks as he is discounts in the crypto markets, Matthew began mining Bitcoin in 2011 and has since honed his focus on the cryptocurrency markets as a whole. He is a graduate of Rutgers University and lives in Colorado with his dogs Dorito and Pretzel.