Small cap stocks are very exciting. You do your due diligence by researching a stock, and it turns out to be a potential winner. You invest some of your cash into the stock. As time goes on, returns can grow and grow to the point you never thought they could.
You go on your phone and check your portfolio. Sometimes your friends find you bawling in your office, but not because you lost money. No way.
Those are happy tears.
Small cap stocks are great for people looking to grow their portfolio. They average higher annual returns than large cap stocks.
Do yourself and your portfolio a favor. Do your homework and buy a handful of good small cap stocks.
Small Cap Stocks Have Great Potential
One awesome advantage to the best small cap stocks is that they're usually cheap. If you're a new investor, they can hook you.
Of course, be cautious. Don't put all your dollar bill shaped eggs into one basket. This is important especially with small cap stocks. They are, by definition, companies that are still small. They don't often have a major foothold in the market. So they're much more likely to tank as well.
But find and invest in a handful of small caps that have great potential. If you buy an array of them, it's less risky.
This is because if one of your stocks drops, you won't lose all your money. You'll only lose the part you paid into that one stock. And usually, the other stocks will do so well that they'll offset your loss. Investors have been using this trick for a decades.
I've done a little homework for you below. And underneath that, I'll show you what kind of things to look for in a small cap stock.
The following companies range from a few hundred million to $2 billion in market cap…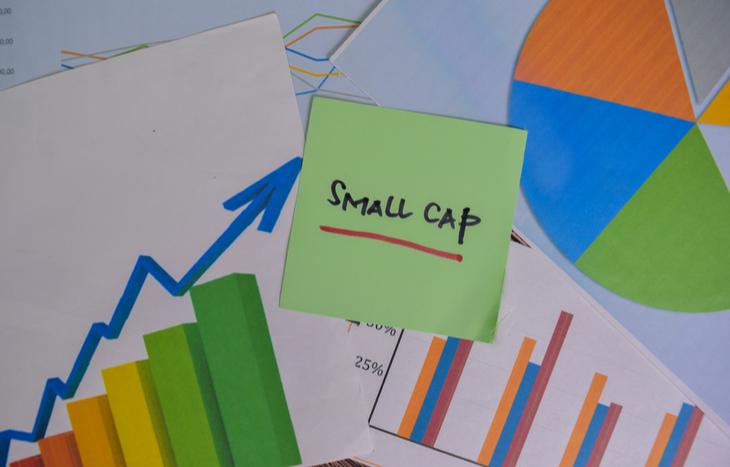 Three Best Small Cap Stocks
Triterras (OTC: TRIRF)
Koppers Holdings (NYSE: KOP)
Supernus Pharmaceuticals (Nasdaq: SUPN)
Top Small Cap Companies
Triterras
Triterras is a fintech company that aims to tap into the finance and tech worlds. Its market cap sits at around $200 million. It's near a low point right now, and still bearish. But that could change soon, as it seems to be flattening.
Triterras' mission is to transform trade and trade finance. It's in growing industries (technology and fintech) that are taking off. On top of that, Triterras' leadership is rock solid. This helps make it one of the best small cap stocks to buy.
Koppers Holdings
Koppers is a producer of materials for infrastructure. Catering to a global audience, it has locations around the world. Its market cap comes in at over $600 million and the company has great leadership, too. The executives and board members all have great backgrounds in all the right places.
Koppers is also a large producer of tar for various uses. It's a world leader in material production. These materials include wood products, tar products, railroad ties and others.
With the new infrastructure bill in the U.S., this small cap stock will probably see a nice spike in revenue. And the BLS predicts construction employment will increase by 11% by 2028.
Supernus Pharmaceuticals
Supernus' market cap comes in over $1.5 billion. It's focused on the production and commercialization of drugs. In particular, drugs that treat diseases of the central nervous system.
In the beginning, it was a part of Shire. Shire was a global company. It focused on producing drugs for rare diseases and conditions. Shire has since been purchased by Takeda, a biopharmaceutical company.
Since then, Supernus has branched out on its own.
Healthcare is another great industry to find the best small cap stocks. It's incredibly profitable by nature. Plus, Supernus is going after diseases that other companies don't want to touch. This gives it a large advantage in the market.
How to Pick Out Quality Small Cap Stocks
Investing doesn't have to be hard. There are certain things to look for in a stock that will help tell you whether it's a winner or not.
Don't ever randomly pick a stock. A habit like that will quickly make your money go bye-bye. It's important to do all your research and due diligence. Here are few checkpoints when it comes to investing due diligence…
The Market Cap – If you're looking for small cap stocks, that's usually between $300 million and $2 billion.
The Industry – You want to choose a stock from a growing industry. I found the top three fastest growing industries, as reported by the Bureau of Labor Statistics. Those three industries are IT, Construction and Personal Services.
P/E Ratio – This is the ratio that can help tell you whether a stock is overvalued or undervalued. A low ratio can indicate it's undervalued (good) and a high ratio can mean it's overvalued (bad).
Volume and Average Volume – If the average volume is in the hundreds of thousands, but then the volume jumps to the millions, it can be a good thing. That usually means there is something going on in the background and more investors buying and selling.
This is best to use for short-term trading. But if everything else checks out, and it is a good long-term investment, you might have a winner on your hands.
Cutting Edge – Is the company doing something in a sector that still has room to grow? It's good to find companies with continued growth potential.
Leadership – You want to make sure the leaders of the company know what they are doing. Many people overlook this aspect. You want to look for previous leadership experience in their respective field. And look for non-leadership experience in their industry, too.
Opportunities Beyond Small Cap Stocks
When doing research for this post, it was difficult to find stocks with dramatic volume increases. But that's sometimes rare to stumble across. Nonetheless, these best small market cap stocks might help your portfolio grow into greatness. And if you're looking for even more investing opportunities, check out these stocks…
If you want more insight, it helps to have guidance from experts. Feel free to check out our most recent investment research…
---
Vanessa Adelman graduated with an Interdisciplinary degree. She majored in Entrepreneurship, Painting, Music and Film. Shortly after, she received a copywriting mentorship with Mark Morgan Ford. Then, she earned her AWAI Verification. Now, Vanessa freelances in the financial direct response industry. She's been investing since 2016. In her free time, she enjoys books about money and wealth. She loves being with her boyfriend, hunting, fishing and going on outdoor adventures.