In retirement, your portfolio requires more conservative investments than in your earning years. On the other hand, inflation eats away at your savings. Stocks give you better odds of beating inflation over time. However, the stocks to hold in your retirement portfolio are not necessarily the same ones you held at an earlier stage of life. The best stocks for retirement are blue-chips, especially those paying healthy dividends.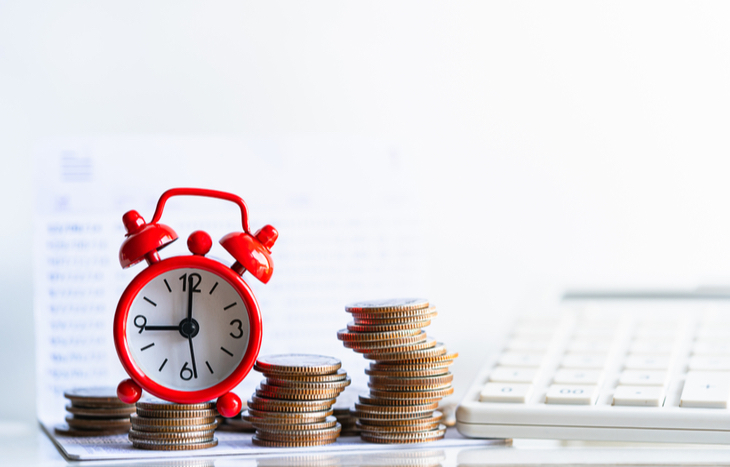 Why Dividend-Paying Stocks Matter in Retirement
The dream of many retirees is living off income. While that generally translates to bonds, it also applies to quality dividend-paying equities. Recently, Vanguard changed its target-date retirement fund allocations at the designated date. It changed from 30 percent equities and 70 percent bonds to an even 50-50. That's more risk for retirees. But the standard portfolio may not provide the retirement investors planned.
In retirement, you need dependable income. Such income includes Social Security and a pension for those lucky enough to have the latter. Annuities are also structured to provide income you can rely on.
Retirees may reconfigure their 401(k) or other employer-sponsored retirement accounts. And, they may also reconfigure various IRAs to provide a steady income stream. You may plan to take four percent in distributions annually. However, stock market volatility makes retirees understandably nervous.
Here's where dividend-paying stocks in your portfolio come in. Share prices may fluctuate as with any equities. However, blue-chip stocks with a history of paying dividends could be the best stocks for retirement. Providing the steady income stream you seek.
Dividend Yield vs. Dividend Rate
When researching dividend-paying stocks, know the difference between annual dividend yield and the dividend rate. The dividend yield is a ratio. Calculate dividend yield by dividing the dividend's dollar value paid per share in a year by the dollar value of one stock share.
The dividend rate is the total amount of income received from a stock annually. Most companies pay their dividend amounts quarterly. However, there are some that pay dividend amounts semi-annually or annually.
Dividend Aristocrats, the Best Stocks for Retirement
Known as Dividend Aristocrats, these best stocks for retirement have upped their annual payments for decades. Dividend aristocrat eligibility is open only to those companies worth at least $3 billion. In addition to at least a quarter-century history of dividend increases. Industrials and consumer staples are the major sectors among dividend aristocrats.  All dividend aristocrats are leaders in their industries.
The S&P 500 conducts a quarterly rebalancing. Dividend aristocrats must have an average daily minimum volume of $5 million in transactions. The average daily minimum must include the prior three-month period of each quarterly rebalancing date. Once a year, those stocks that no longer qualify are removed and newly qualifying stocks are added.
Here is a dividend aristocrat sampling of best stocks for retirement:
Coca-Cola (NYSE: KO)
Will retirement go better with Coke? That's a real possibility. This iconic American company boasts an annual dividend yield of 2.93 percent. And a quarterly dividend amount of $0.44. As of 2021, Coca-Cola has raised its dividend for the past 59 years.
Colgate-Palmolive (NYSE: CL)
On March 10, 2022, American multinational consumers products company Colgate Palmolive announced its 60th annual dividend increase. The company has paid dividends since 1895. Colgate-Palmolive's annual dividend yield is 2.5 percent. Its quarterly dividend amount is $0.47.
Consolidated Edison (NYSE: ED)
ConEd's annual dividend yield is 3.51 percent. Its quarterly dividend amount is $0.79. And it has increased its dividend for 47 years.
International Business Machines (NYSE: IBM)
This information technology company's annual dividend yield is 5.13 percent. Its quarterly dividend amount is $1.64. While it has increased its dividends for 26 years, IBM has paid dividends since 1916.
3M (NYSE: MMM)
This American multinational conglomerate has an annual dividend yield of 4.04 percent. And with a quarterly dividend amount of $1.49. It has paid dividends for more than a century. 3M increased its annual dividend for 64 years.
Walmart, Inc. (NYSE: WMT)
For 49 years, retailing behemoth Walmart has increased its dividend. Its annual dividend yield is 1.54 percent, and its quarterly dividend amount is $0.56.
Keep reading for more info on the best stocks for retirement. 
Best Tech Stocks for Retirement
Tech stocks belong in any retirement portfolio. While the tech sector isn't as "safe" as some other sectors, top tech stocks are now part of value portfolios. Think of it this way, these are the stocks mature investors are familiar with because they grew up with the innovations these tech companies provided.
Again, retirees should look for a steady dividend record. However, these dividend yields are not in the same league as top dividend-paying stocks. Still, these top tech companies continue to have exceptional growth potential. These tech stars are great buy-and-hold investments for your retirement portfolio:
Apple (Nasdaq: AAPL)
Apple pays steady dividends. It has a current dividend yield of 0.55 percent and a quarterly dividend of $0.22. The company dominates its market. And if not exactly recession-proof, it's certainly recession-resistant. Apple recently became the first company to hit $3 trillion dollars in market value. That's equal to the gross domestic product of Britain.  It was only in 2018 that it became the first American company to reach the $1 trillion mark. Apple's legendary cash stash is now about $190 billion.
Intel Corporation (Nasdaq: INTC)
The dividend yield of this semiconductor giant is an impressive 3.10 percent. Intel's quarterly dividend amount is $0.37. Although Intel's share price has stumbled lately, it has excellent long-term growth potential.
Microsoft (Nasdaq: MSFT)
Microsoft is arguably the best tech stock for a retirement portfolio. Its annual dividend yield is 0.84 percent. And it pays a quarterly dividend of $0.62 per share. It began paying dividends in 2004, so it doesn't yet qualify as a dividend aristocrat in terms of time. Odds are that will happen by the end of the decade. It's also likely that Microsoft will join the $3 trillion club in the near future.
Best Stocks for Retirement Considerations
Many blue-chip stocks pay dividends. And because of this, are therefore the best stocks for retirement considerations. Keep in mind that mutual funds and ETFs also pay dividends. Some of the funds focus on dividend aristocrats. These choices may prove better options for more passive investors.
---