Like many sectors, Canadian cannabis stocks have taken a hit in 2022. As a whole, this group is down ~18% year-to-date and struggling to find any upward momentum headed into the second quarter. But while the stock chart shows red, many investors still see the potential for green.
Still in its fledgling stages as an emerging industry, cannabis stocks are ripe for the picking at their current valuations. There are no truly dominant players in the sector, despite legal cannabis across Canada and in an increasing number of countries around the world. There are, however, a pack of Canadian cannabis stocks primed for growth as the industry continues to develop. 
For investors patient enough to hold during the infancy of the cannabis market, there's future profitability lurking in several contenders. Here's a look at five cannabis companies in Canada worth investing in now, even amidst market uncertainties.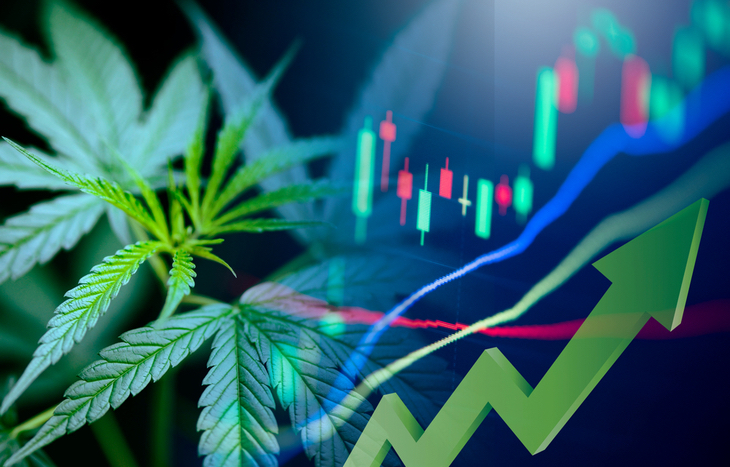 1. Canopy Growth Corporation (NASDAQ: CGC)
The largest public cannabis company in the country, Canopy Growth Corporation has been the name to watch since legalization swept through Canada. The company has a market cap of $3.52 billion (CAD), well-earned by increasing revenues year over year since 2017. Canopy pulled in $546.65 million in revenue in 2021 through an ever-expanding range of consumer product lines spanning vapes, edibles, concentrates, topicals and more. 
The company remains unprofitable in 2022 but is making great strides towards buttoning up its operations. For starters, Canopy was able to reduce its total operating expenses to $160 million in 2021, down significantly from $578 million in 2020. As it cleans up its balance sheet, the company is also looking forward to the prospect of federal legalization in the United States, and is already forming partnerships to capture market share if and when that time comes. 
2. Cronos Group Inc. (NASDAQ: CRON)
The other billion-dollar-plus player in Canada's cannabis sector is Cronos Group (market cap of $1.73 billion CAD). While about half the size of Canopy Growth Corporation, this company presents investors with significant opportunity as the de-facto number two choice in the industry. Specifically, Cronos is extremely active in monetizing a broad range of marketable cannabinoids, including CBD, CBG and THC.
Cronos carries virtually no debt load and is primed to begin translating revenue to profit in short order. This is further bolstered by the company's fourth quarter consolidated net sales, which were up an impressive 51% from the prior-year period. Moreover, while the company faces falling U.S. revenues (-11%), its worldwide sales are up significantly (+68%). In particular, Cronos enjoys a burgeoning presence in Canadian recreational and Israeli medical cannabis markets.
3. Aurora Cannabis (NASDAQ: ACB)
On the cusp of joining the billion-dollar market cap club (market cap of $985.81 million CAD), Aurora Cannabis has faced recent headwinds that leave it lagging just behind the other major players on this list. In February 2020, the company's co-Founder and CEO resigned, prompting an executive search to fill the void. Prior, the company undertook an aggressive expansion campaign that included a series of acquisitions, which left its balance sheet encumbered.
The good news for Aurora is that the turbulence appears mostly behind it. The company generated $230.50 million in sales in 2021 and stands poised to post a profit within the next year. The company's acquisition strategy is also paying dividends as it controls a significant stake of the recreational cannabis market in Canada and Europe. This is largely thanks to its subsidiary Pedanios GmbH, the EU's largest distributor of cannabis by volume of product sold.
4. OrganiGram Holdings (NASDAQ: OGI)
One of several minor players in the Canadian cannabis market, OrganiGram Holdings enjoys a market cap of $614.80 million CAD. And while the company has underperformed in recent years, its current standing in the market suggests that it's ready to break out and join the major players in the years to come. 
There are several important indicators for OrganiGram's impending breakout. For starters, the company has virtually no debt. It also has increasing sales, up 66.80% over the past five years, culminating in $90.20M in 2021. In December 2021, the company also acquired Quebec's Laurentian Organic, a producer of high-end cannabis consumables, putting it on-track to directly compete with some of the subsidiary brands of the major Canadian cannabis companies. It's a sign that OrganiGram is ready to blossom. 
5. The Hexo Corporation (NASDAQ: HEXO)
Investors looking for a sneaky play among Canadian cannabis stocks will find it in The Hexo Corporation. The company only has a market cap of $290.53 million CAD, largely due to the fact that its shares have plummeted more than 90% in the last 12 months. Despite this, there's more to Hexo than meets the eye. 
The most enticing aspect of this company is its impressive $144.50M in sales, up 131.20% over the last five years. These figures put it on a trajectory to compete with companies more than 10x its size. Its growth is undeniable, as well. Hexo has seen a 131.20% increase in sales over the past five years. Perhaps most intriguing of all, however, is the company's relationship with Tilray Inc. (NASDAQ: TLRY). Tilray recently purchased $211 million of Hexo's debt as part of a strategic alliance. It's a move that could result in M&A activity down the line. 
Buy and Hold as the Canadian Cannabis Market Grows
On the surface, Canadian cannabis stocks haven't wowed investors in 2022. Yet, probe deeper and there's a wealth of potential waiting for investors willing to buy and hold while the industry matures. If you're intent to buy and hold, these five stocks are more than likely to return significant value as the industry takes shape and grows.
---