Looking for excitement in Shakopee, Minnesota, not far from Minneapolis? Canterbury Park offers plenty of it, from horse racing to poker to table games. Canterbury Park stock (Nasdaq: CPHC) is not focused entirely on gambling, It's also involved heavily in real estate development of adjacent properties. Yes, fans can literally live at Canterbury Park!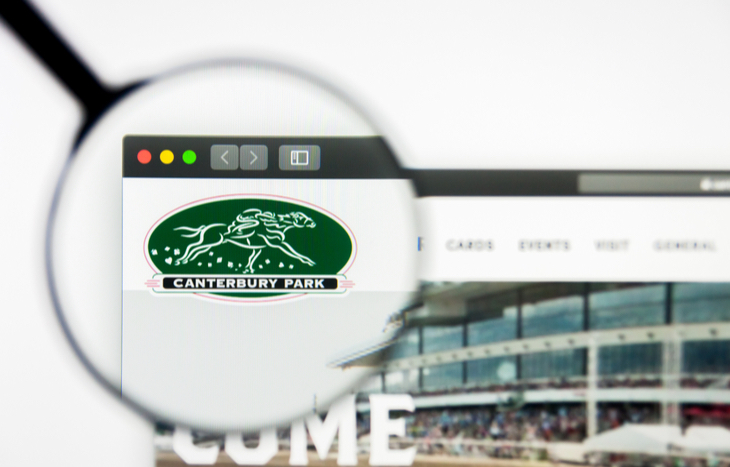 Canterbury Park
The first legal horse race in Minnesota took place on June 26, 1985, at what was then known as Canterbury Downs. Although initially successful, financial issues ensued and the racetrack was closed from 1992-95. It later reopened with renewed success, and remains the only pari-mutuel racetrack in the state. On August 25, 1994, the IPO of Canterbury Park Holding Company owner took place on the Nasdaq Capital Market under the symbol TRAK.
Since 1998, the racetrack has hosted the National Claiming Crown 10 times, making it the claiming horse owners' Breeder's Cup. Claiming horses are the bread-and-butter of the sport. In addition, without question, Canterbury Park has a profound effect on the Minnesota horse breeding industry.
In 2000, the Minnesota legislature approved a 24-hour per day Unbanked Card Club at Canterbury Park, which proved an immediate hit.
Canterbury Park Holding Corporation
Canterbury Park stock hosts the pari-mutuel wagering on live thoroughbred and quarter horse racing at Canterbury Park. It also hosts pari-mutuel wagering on races at out-of-state tracks and those races simulcast live at Canterbury Park. In addition, the company hosts unbanked card games. These are games in which players compete against each other rather than against the house. Other revenue sources include parking, concessions, admissions, programs and other events held at the racetrack.
The four segments of CPHC include:
Horse racing
Card casino
Food and beverage
Real estate development
Canterbury Commons
Currently, Canterbury Park stock is developing approximately 140 acres of land surrounding the racetrack into Canterbury Commons. This is happening via partnerships with major real estate developers. As Canterbury Park draws more than 1 million visitors annually as an entertainment anchor, Canterbury Commons is a draw for underserving key demographics in Scott County. It's one of the fastest-growing areas in Minnesota.
Canterbury Commons is within a 20-minute drive of 280,000 households with an average household income of $103,000. A 30-minute drive adds a total of 742,000 households with an average household income of $90,595. At this time, there are 1,051 businesses within a 3-mile radius, 3,190 within a 5-mile radius and 7,853 within a 7-mile radius. Within a 20-minute drive, the number of businesses totals 31,342. With a 30-minute drive, the number of businesses totals approximately 85,000. Those businesses employ 1.474 million. The property benefits from its established freeway location off Highway 169. Canterbury Commons boasts "location, location, location." This is the key factor in real estate development.
The plan is to create "a unique place to live, stay, work and play." It is the largest type of mixed-used development project, encompassing housing, offices and entertainment venues, underway in the Greater Minneapolis area. The company is pursuing hotel and destination retail partners. Additionally, the housing mix includes luxury apartments, townhomes and active senior residences.
Phase 1 of its Triple Crown Apartments is now complete, with 321 units available for occupancy. Canterbury Park stock reports strong leasing interest. Phase 2 of the Pulte Company's construction of 109 for sale residential rowhomes and townhomes is now underway. Construction of a new 28,000 square foot office building and headquarters for developer Greystone Construction was completed in 2021.
Charities
As a member of the Minnesota Keystone Program, Canterbury Park stock returns up to 5% of pre-tax profits to the community each year. Its Canterbury Park Minnesota Fund, established in 2003, provides funding for organizations involved in agricultural and equine cases, responsible gaming, and the local community. To date, it has awarded almost $1 million in grants.
Canterbury Park Stock
In 2020, Canterbury Park stock was hit hard by the pandemic. Its net revenues decreased 44% year over year to $33.1 million. While net income decreased 60.9% year over year to $1.1 million. In January and February 2020, operations performed well, but as of March 15, 2020, operations were suspended due to COVID-19.
As of April 29, 2022, Canterbury Park stock had a 52-week high of $32.92 and a 52-week low of $13.52. Furthermore, its annualized dividend is $0.28 with a current yield of 8.5%.
CPHC's annual balance sheet for 2021 includes total assets of $83.6 million, virtually no debt and liabilities of $18.71 million. In addition, as of December 31, 2021, its cash and cash equivalents were $11.8 million.
Stock Considerations
Perhaps appropriately, Canterbury Park stock is somewhat of a gamble. However, its earnings per share price are growing. Over the past three years, earnings per share have grown 24% annually, compounded. Revenues are also growing. Investors could make worse bets.
---