No matter your preference in pets, Chewy (NYSE CHWY) fulfills their needs quickly and for a good price. Spend more than $49 and shipping is free. In 2021, Chewy's revenue was up 24.14 percent over the previous year. So, what's Chewy's stock outlook going forward?
While the pandemic fueled Chewy's growth, circumstances have changed. It reached a high of $120 per share in February 2021. One year later, its price has plummeted to $49.29. Is Chewy still worth gnawing on?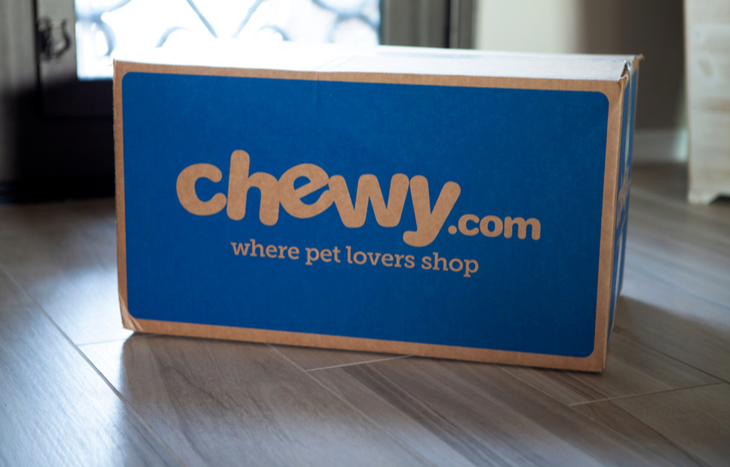 The Chewy Origin Story
In 2011, two Florida-based twentysomethings, Ryan Cohen and Michael Day, decided to start an e-commerce business. While a jewelry site was their original goal, both men owned small dogs. They realized a pet food retailer offering low prices and quick shipping was a more enticing prospect.
The goal was making Chewy the pet product equivalent of Amazon. It is by far the top online pet supplies retailer in e-commerce net sales. Chewy's sales dwarf competitors such as:
Chewy is similar to Amazon in another way. In regards to Chewy stock outlook, its emphasis has been on long-term growth as opposed to short-term profits. It wanted to get big ASAP, and it did.
After nearly a decade in business, it was only in Q4 of fiscal year 2020 that Chewy had its first profitable quarter. It still posted a net loss of $92.5 million for the year.
PetSmart's Chewy Acquisition
In 2017, pet retailer PetSmart acquired Chewy for $3.35 billion. This made it the biggest e-commerce deal to date.
Chewy's press release announcing the merger states, "The combination of PetSmart and Chewy creates one of the leading brick and mortar and online pet retailers. Providing the most convenient, high-touch customer experience to serve the needs of pet parents and pets across every channel."
Although a lot of press releases are heavy on hyperbole, this one rings true. PetSmart knew Chewy was affecting its market share.
Cohen stepped down from Chewy in 2018. These days, he's the chairman of GameStop, the world's largest video game retailer. GameStop, of course, has generated plenty of attention in the investing world.
Chewy Stock Outlook And The Pandemic
In 2020, 67 percent of U.S. households had a pet. By 2021, that number had increased to 70 percent. That's about 90.5 million homes.
The pandemic brought about an unprecedented number of pet adoptions. Lonely people stuck at home wanted the company of a furry friend. Shelters actually ran out of pets. These new animals required all the necessary accessories. Name the pet product: leashes, collars, crates, toys, litter boxes. They were all ordered via Chewy.
In addition, pet owners who normally shopped in brick-and-mortar stores decided ordering from Chewy was the better alternative. Subscription sales, known as Autoship, are a significant part of Chewy's business.
More recently, during the Great Canned Cat Food Shortage of 2022, cat owners flocked to Chewy. Local supermarkets and pet retailers were out of stock. While Chewy could not always come through, desperate cat people had better luck here than with other retailers.
However, with people heading back to supermarkets and brick-and-mortar pet stores, Chewy stock outlook is showing a slowdown. The Chewy growth frenzy has definitely slowed.
The Chewy Prescription Market
If your pet requires a prescription medication, most veterinarians will admit upfront they cannot beat Chewy's prices. During the pandemic, a survey was conducted by the American Veterinary Medical Association (AMVA). The results show that 75 percent of veterinarians reported their clients had switched to ordering pet food and medications online. Additionally, roughly a quarter said their clients were ordering from online retailers such as Chewy and Amazon.
In 2021, Chewy filed a lawsuit against Vetcove, Inc., Covetrus, Inc., and DOES 1-100 in New York. Vetcove  provides veterinary practice software. Covetrus provides pharmacy services for veterinarians. DOES-1-100 indicates other defendants may be added to the lawsuit.
In addition, the lawsuit alleges these companies have been actively building technologies and processes designed to interfere with Chewy's relationships with its customers.
Chewy argues that the expansion of "pet-exclusive retail pharmacies" benefits pet parents and veterinarians. Pet parents can order these medications from the safety of their homes with expedited delivery. On the other hand, limited inventory at a vet's office may mean the medication is not immediately available, as per the lawsuit.
In September 2021, Chewy launched Practice Hub. This marketplace is only for veterinarians. It allows them to earn revenue via Chewy.com purchases. Moreover, Chewy is expanding its Connect A Vet telehealth solution. In addition, clients can receive veterinary advice 24/7 by video chat or text.
Excellent Customer Service
Chewy's legendary customer service helps keep pet parents loyal. Available 24/7/365 through phone, email, chat and social media, customer service reps are trained to "wow" customers. And most importantly, they succeed.
Expect a card on Fluffy or Fido's birthday. An Autoship customer whose pet dies may receive flowers after notifying Chewy about the reason for the cancellation. Holiday greetings arrive in the mail.
The Chewy Stock Outlook
As with everything else, demographics is destiny. Millennials are the generation most likely to call themselves pet parents. Nearly one-third of this group in their prime buying years keep animals. Baby Boomers are next at 27 percent, but Gen X is not far behind with 24 percent experiencing pet parenthood. Gen Z, most of whom are still in school, account for 14 percent.
Young people love their pets. They consider them family. And that's unlikely to change.
As a whole, the pet food market is pretty recession-resistant. People may cut back on pet-centric extras, but pet food is a necessity. Instead, pet parents become more price-conscious. That's where Chewy has an advantage.
In a 2021 SEC filing, Chewy notes that the pet market overall has grown from $73 billion in 2014 to an estimated $98 billion in 2020. That's a 5 percent compounded annual growth rate (CAGR). The market is expected to grow at a CAGR of 6 percent through 2024. Further, pet food and treat sales from 2020 to 2024 were adjusted higher by 3 percent from pre-pandemic estimates. In addition, Chewy's 52-week range is 36.70 to 120. In 2020, the stock price ranged from 29.00 to 89.89.
As for Chewy's stock outlook, primary competitors in the online pet retail space include Amazon (Nasdaq: AMZN), Bark (NYSE: BARK), Petco (Nasdaq: WOOF) and Wayfair (NYSE: W). In short, Chewy is becoming the Amazon of the pet industry. This is definitely a stock you will want to keep an eye on.
---