It's that time of the year again! The holidays season is almost upon us. This means that it's almost time to relax with loved ones, bake cookies and, inevitably, let your waistband stretch a little bit. For most people, this is also the time of the year to let their budget stretch a little bit as well. And this is great for the best Christmas stocks.
In 2018, most households spent an average of about $1,500 during the holidays. Out of this amount, about a third went towards buying gifts. The rest went towards entertaining, going out and buying outfits to wear. $1,500 was also the household average back in 2018. It's now 2021 and humanity has spent the better part of two years locked inside with little to celebrate.
Due to this, it's safe to assume that this year's holiday spending will probably get ramped up a little bit. In general, it just feels as if people are anxious to see friends and family, go out to eat and (most importantly) spend money.
As we know, all consumer spending ultimately ends up as revenue for businesses. If we can figure out where most of the spending is going, we can invest in these companies well before they report on the holiday numbers.
According to the stat above, most holiday spending goes to four categories: gifts, entertaining, going out and buying outfits. With this in mind, I've selected a few Christmas stocks that fit those categories.
Let's take a look at six Christmas stocks to buy for the holiday season…
Holiday and Christmas Stocks to Buy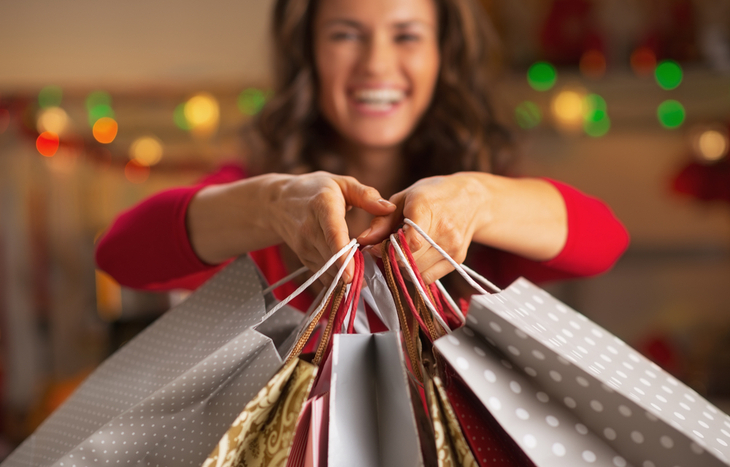 Note: I'm not a financial advisor and am just offering my own research and commentary. Please do your own due diligence before making any investment decisions.
Best Christmas Stock for Gifts: TJX Companies (NYSE: TJX)
I'll be honest, Walmart and Target are two of the most obvious choices when it comes to spending on Christmas gifts. These are two of the biggest retailers in America and are usually the first stop for Christmas shopping. They're both incredibly popular, which is just the problem. Everyone knows that Walmart and Target will make a killing during the holiday seasons. Due to this, high earnings are usually factored into their stock prices way ahead of time.
On the other hand, TJX Companies is a little less talked about. TJX Companies is the parent company for TJ Maxx, Marshalls, HomeGoods and HomeSense. These are all discount retailers that sell a mixture of apparel, supplies for the home and miscellaneous goods. Due to the range of products that they sell, these stores are all great for gift shopping. Shoppers can visit a TJ Maxx store and find gifts for just about any family member.
Another reason that TJX Companies is one of the best Christmas stocks is that at least one of its brands has a semi-cult following. If you've ever met someone who shops at TJ Maxx then you know that most people gush over it.
This is because people don't just shop at TJ Maxx. When they visit TJ Maxx, they go on a treasure hunt. This is actually part of the reason that TJ Maxx has strayed away from building up its eCommerce offerings. People love visiting TJ Maxx because there is a thrill behind finding a luxury good at a heavily discounted price. When the holidays roll around, there's a good chance that TJ Maxx locations around the country will be filled to the brim.
TJX Companies stock is about breakeven so far in 2021 and is up close to 100% over the past five years. 
Best Christmas Stock for Entertainment: Domino's Pizza (NYSE: DPZ)
 When it comes to entertainment, most people will probably eat out more than they normally do this Christmas season. However, due to budget constraints, there is really only so much that most families can afford to eat out (I know, I know… speak for yourself).
After eating out once or twice, families will still have several days to spend together. Family together + nobody feels like cooking = ordering pizza (usually).
When this time comes, Domino's Pizza will be there to answer the call. Domino's Pizza has about 15,000 stores across the U.S. and brought in $4.1 billion in revenue in fiscal year 2021. More importantly, Dominos has perfected the art of pizza delivery with its Domino's Pizza Tracker.
The Domino's Pizza Tracker tells you down to the minute when your pizza will arrive. This has allowed it to stay independent from GrubHub, UberEats and other delivery services. Independent delivery will ultimately mean higher margins on pizza deliveries during the upcoming holiday season. This is one of the reasons it will have a leg up over other pizza chains.
Domino's Pizza stock is up 26% so far in 2021 and up 190% over the past five years.
Best Christmas Stock for Outfits: Macy's (NYSE: M)
Hear me out on this one. If we're talking about a stock that's set to profit off a surge in people buying new outfits, Macy's may actually be a potential Christmas stock to buy.
Ever since eCommerce took center stage, most people have pretty much counted out most retailers. However, low expectations haven't stopped many retailers from doing well in the past few years. A few examples of retail stocks that have surged in the past five years are Target, Walmart and Dick's Sporting Goods.
Most of these stores have boosted their eCommerce offerings and created an omnichannel experience for customers. This means that shoppers who prefer to buy online can do just that. However, shoppers who prefer to shop in person still have a store to visit.
Despite all the doom and gloom that surrounds retailers, Macy's is still alive and well. Fiscal year 2021 was a down year but Macy's still pulled in $18 billion in revenue. And the quarterly trend looks good. Keep in mind that these numbers were during a global pandemic (I know it can be easy to forget).
Additionally, if people are searching for a new outfit, Macy's might be one of the first stops. It has significantly more options than Target or Walmart. It also offers more higher-end items than either of these stores. If someone needs an outfit for a party,  there is a good chance that they'd visit Macy's.
The kicker for Macy's this holiday season is that investor expectations are at all-time lows. The price had dropped more than 90% since 2015. Also, when you visit the Macy's ticker on investing sites like Google finance, it hardly even gets any news mentions. Almost everyone has written off retail stocks and analysts are ignoring Macy's.
If Macy's receives record visitors and posts a surprise profit, then investors might finally start to take notice. Already, investors have been looking forward to the turnaround story…
Macy's stock is up about 150% so far in 2021 but is still down about 25% over the past five years.
Best Christmas Stock for Gift Financing: Affirm (Nasdaq: AFRM)
As we know, Christmas is a notoriously expensive time of year. Most families might be stretched thin on their budget. However, they don't want this to prevent them from spreading holiday cheer. Due to this, many holiday shoppers usually find themselves about $554 in debt by the time Christmas is over.
Usually, this debt just gets put on a credit card. However, this year shoppers might have a new method for financing gift purchases. Instead of using a credit card, online shoppers can finance products in their cart right at checkout with Affirm.
Affirm is a company that offers Buy Now, Pay Later services. This is exactly what it sounds like. Shoppers can essentially get a loan while they are checking out so that they can pay for their products in full. Shoppers then repay this loan over the next few months. This way, they can buy their Christmas gifts now and pay for them later. For example, Affirm can help you buy a Peloton bike for just $39 per month (instead of $1,495).
Usually, if you pay for your purchase in full within three months there are no fees or interest added. You can take a little bit longer to repay if you need. However, over three months is when you will have to start paying interest.
If you've never heard of Affirm, that's because it just went public in 2021. However, it quickly made a name for itself by signing an impressive partnership with the world's second-biggest retailer, Amazon. Now, Affirm is in an ideal situation to help thousands of Amazon shoppers finance gift purchases this Christmas. This makes Affirm one of the best Christmas stocks to buy.
Also, speaking of Amazon…
Best Christmas Stock Overall: Etsy (Nasdaq: ETSY)
Wait, the best Christmas stock overall is not Amazon?! That seems like it would've been the obvious choice. If Alexa is listening to me now, I just want to say that this isn't a slight to Amazon. I'm sure Amazon will still do just fine during the holiday season. However, it also falls into the same category as Walmart and Target. Amazon has high expectations from investors that it needs to live up to. On top of that, Amazon has made it known that sales might be lower due to labor shortages and supply chain issues.
Due to this, Etsy is my sleeper Christmas stock to buy during the holiday season. If you're not familiar, Etsy is actually a lot like Amazon. It's a digital marketplace, except Etsy specializes in vintage and homemade goods.
One thing that sets Etsy apart is that it almost acts like a social media site. (Check out these top media stocks as well.) Etsy allows sellers to create their own profiles. On these profiles, sellers can include information about their store and products.
From there, shoppers can follow sellers that they like and "admire" (like) their products. You can even follow other shoppers to see what sellers' pages they like. Etsy does a really nice job of blending social media and eCommerce.
It's hard to explain, but shopping on Etsy is just a little bit more fun. It's mainly because most of the products that you buy are homemade or produced by a small business. Buying on Etsy makes you feel as if you're supporting a friend. On the other hand, buying on Amazon feels like you're making a donation to Jeff Bezo's "Conquer The World" Fund. I think a lot of consumers are starting to feel the same way.
Without realizing it, many purchases that we make are socially driven. Most people value the opinions of their friends or even strangers. Due to this, word of mouth is one of the most powerful marketing tools out there. With Etsy, word of mouth occurs almost naturally within the platform.
Its sales might be completely dwarfed by other companies, but Etsy is my outside horse for overall best Christmas stock to buy.
Etsy's stock is up 40% in 2021 so far and is up about 2,000% over the past five years.
I hope that you've found this article valuable when it comes to finding the best Christmas stocks to buy for the holiday season. As usual, all investment decisions should be based on your own due diligence and risk tolerance.
If you're looking for even better stocks, consider signing up for Liberty Through Wealth below. It's a free e-letter that's packed with tips and tricks. You'll hear directly from investing experts on some of the biggest investment opportunities today.
---
A University of Miami grad, Teddy studied marketing and finance while also playing four years on the football team. He's always had a passion for business and used his experience from a few personal projects to become one of the top-rated business writers on Fiverr.com. When he's not hammering words onto paper, you can find him hammering notes on the piano or traveling to some place random.