And they're off! On the first Saturday in May, the top three-year-old thoroughbreds in the world vie in the Kentucky Derby at Churchill Downs in Louisville, Kentucky. In fact, Churchill Downs Inc. is best known for this premier event. However, the company has evolved from this seminal racetrack to include the most profitable online sports and horse wagering platform. It also owns 16 industry-leading regional casinos and racing properties. Is Churchill Downs stock (Nasdaq: CHDN) worth betting on?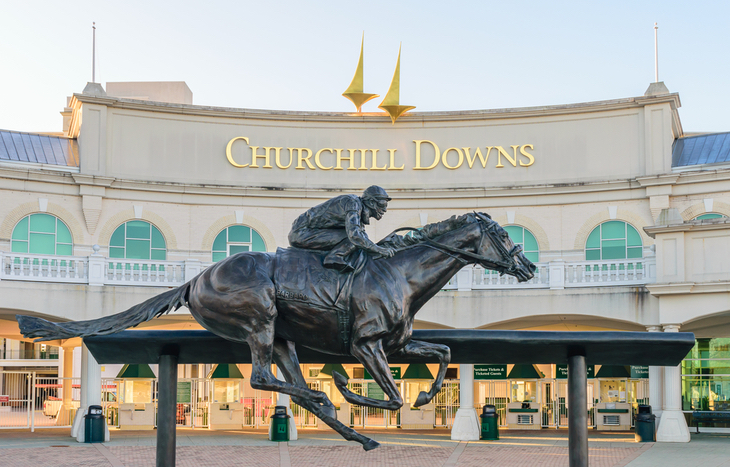 Churchill Downs History
Dating from 1875, the Kentucky Derby is the longest continually-held sporting event in the country. In addition, Derby Week in Louisville brings in an estimated $350 million to the local economy.
Today, the company is a leader in brick-and-mortar casino gaming. For instance, it boasts roughly 11,000 slot machines and video lottery terminals. And it has 200 table games in eight states.
Churchill Downs Stock and Racing Properties
Churchill Downs is not the company's only racetrack. However, in recent years it has been focusing on casinos and real estate development. And this is sometimes to the detriment of racing operations.
That's what happened to Calder Race Course in Miami, Florida. Churchill Downs opened a casino on the premises in 2010. However, under Florida law, the company had to run a minimum 40-day live horse racing meet to keep its casino license. The company's lawyers found a loophole in the statute. They argued that any type of pari-mutuel wagering fulfilled the requirement. To that end, it opened a jai-alai fronton at Calder. Several months later, a court upheld a decision by the state's Division of Pari-Mutuel Wagering. This decision permitted the jai-alai to, in effect, substitute for racing.  The company could keep its casino license without horse racing. In the third quarter of 2021, the company announced plans to sell 116 acres of the 170 acre Calder facility.
Arlington International Race Course, located in the Chicago suburbs, was considered one of the best racetracks in the country. In 2021, Churchill Downs announced its sale to the Chicago Bears for $197.2 million. A new Chicago Bears stadium on the site may open within the next few years. In addition, Churchill Down stock intends to use sale proceeds to buy or invest in replacement property.
Churchill Downs Racetrack and Casino Locations:
Derby City Gaming, Louisville, Kentucky
Fair Grounds Race Course & Slots, New Orleans, Louisiana
Newport Racing & Gaming, Newport, Kentucky
Oak Grove Racing & Gaming, Oak Grove, Kentucky
Presque Isles Downs, Erie, Pennsylvania
Turfway Park Racing & Gaming, Florence, Kentucky
Casino-Only Properties:
Harlow's Casino Resort & Spa, Greenville, Mississippi
Lady Luck Casino, Farmington, Pennsylvania
Miami Valley Gaming, Lebanon, Ohio
Ocean Downs Casino, Berlin, Maryland
Oxford Casino & Hotel, Oxford, Maine
Rivers Casino, Des Plaines, Illinois
Riverwalk Casino, Vicksburg, Mississippi
Churchill Downs Stock and TwinSpires
In January 2021, the company rebranded its Bet America online gaming product and sportsbook. In fact, the new name reflects the famous Twin Spires of Churchill Downs.
It's formally known as TwinSpires Horse Racing, Sports and Online Casino. This top online wagering site focuses on sports betting, online casinos and advance-deposit wagering for horse racing. For instance, fans can bet on a variety of professional and amateur sports, along with global horse racing and various slots and casino games.
The site offers bettors an array of educational content, analysis, strategies and picks.
Churchill Downs Stock and Sports Betting
Sports betting has long been prevalent. Until recently, it wasn't legal. It still isn't in many states. Currently, TwinSpires is active in Colorado, Indiana, Michigan, Mississippi, New Jersey, Pennsylvania, Tennessee and Arizona. The company has a strong geographic footprint in other key states as sports betting expansion continues.
The TwinSpires handle was up 36 percent in 2020 and 35 percent as of the third quarter of 2021. Additionally, revenue was up 39 percent and 37 percent, respectively.
The company "utilizes analytics on customer behavior to drive efficient customer acquisition, retention and activation."
The pandemic proved a boon to horse racing. In general, very few other sporting activities were taking place. People stuck at home were introduced to racing and wagering. And as a result, betting boomed. There was an 11 percent increase in wagering from the third quarter of 2019 to the third quarter of 2021. Moreover, the online wagering shift was significant. Specifically, it was rising 53 percent in that same period. TwinSpires offers 24/7 wagering from 16 countries.
Expansions and Renovations
In its November 2021 investor presentation, Churchill Downs discussed its most recent planned project capital investments. These include a $45 million renovation of the Churchill Downs grandstand opening in time for the May 2022 running of the Kentucky Derby. A $76 million expansion of its Derby City Gaming site includes a new five-story hotel. Additionally, it will also open an $80 million Derby City annex at Churchill Downs.
As of September 30, 2021, Churchill Downs stock has a 2.9x TTM Net Leverage capacity for future investments. Further, it has a $700 million undrawn credit facility.
Churchill Downs Stock and Gaming's Future
Churchill Downs stock's 52-week high and low is $262.20/$175.01. And overall, 2022 should prove the 11th consecutive increase in the dividend per share. Over the past six years, $127 million was paid to shareholders in dividends.
The national appetite for gaming of all types appears insatiable. Churchill Downs stock is gambling that there's still plenty of room to grow.
---