The clothing industry was one of the hardest hit by the COVID-19 pandemic. With the threat of COVID-19 lingering, it was no time to be buying new outfits. Additionally, since almost everyone was forced to quarantine, there was literally nowhere to go anyway. Almost two years later, things are finally starting to turn around. This has many investors wondering if this is the time to pile back into clothing stocks.
There have been two big trends in clothing over the past few years. The first is the rise of eCommerce. Companies that have created a digital or omnichannel experience have tended to outperform others. The second trend is athleisure. Today's consumer prefers comfort over above almost all else. This is especially true now that remote work is slowly becoming the norm.
With that said, let's take a look at the top five clothing stocks to buy.
NOTE: I'm not a financial advisor and am just offering information and commentary. Please do your own due diligence before making any decisions.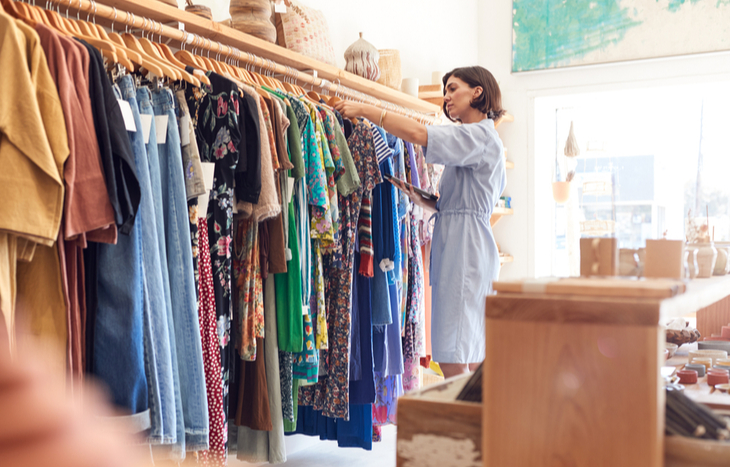 Top Clothing Stocks to Buy
No. 5 Stitch Fix (Nasdaq: SFIX)
One of the first clothing stocks to buy is actually more of a "style" stock. Stitch Fix is an online personal styling service. It uses data science, algorithms and predictive analytics to personalize clothes for you. Mainly, it creates custom looks based on your size, budget and style history.
Right now, CEO Elizabeth Spaulding says that Stitch Fix is going through a "multiquarter transformation." It has cut short-term revenue expectations as it examines new ways to reach customers. Since the start of the year, the stock has plunged 80% from its all-time high.
Despite this immense sell-off, Stitch Fix reported strong numbers in Q3. It reported Q3 revenue of $591 million. This represented a year-over-year (YOY) increase of 19%. On top of that total membership increased by 11% YOY. This brought the total number of active clients to 4,180,000. Notably, Stitch Fix's net revenue per user was $524 in Q3 2021. This is pretty astounding revenue to bring in per user. Compare this to Disney+, which generates just $80 per user annually. If Stitch Fix can continue to add users consistently, it should have no problem generating revenue.
Stitch Fix's stock is down 65% so far in 2021. It's up 25% since going public in 2018.
No. 4 Target (NYSE: TGT)
NOTE: I own a small position in Target
As the 8th largest retailer in the United States, Target sells much more than just clothes. However, this massive retailer is quickly becoming one of the top clothing stocks to buy. In total, Target owns 48 different clothing brands. 10 of these brands generate over $1 billion in sales each year. This is worth reiterating. $1 billion in sales is a massive milestone for most clothing stocks. Target by itself has 10 brands that have hit this milestone.
Target is also one of the leaders in the omnichannel experience. Consumers shop online, pick up online orders at a store, or visit a store in person. This easy shopping experience makes Target one of the go-to locations for shoppers.
In 2021, Target posted total revenue of $93.56 billion. This was up 19.78% from $78.11 billion in 2021. Target also reported a total net income of $4.37 billion. This was up 33.13% from $3.28 billion in 2020. Since Target was deemed "essential" during the pandemic, it did not suffer a slowdown. This means that these YoY increases are fairly accurate, despite the pandemic.
Biggest Holiday Season In Recent Years?
Another thing to note is that Target is a massive destination for holiday shopping. In 2020, the pandemic completely muffled the holiday season. In 2021, people were allowed to reunite. However, many people still refrained from gathering. Due to this, there is a good chance that there will be a surge in pent-up holiday spending this year. If this happens, Target will be one of the main winners. This is because people visit Target for gifts as well as food and drinks.
Target knows this and is prepping accordingly. It has stocked up $2 billion in extra inventory has hired 130,000 additional workers. As far as its products, it's launched partnerships with Lego, Apple and Disney to get shoppers excited.
Target's stock is up 34% so far over 2021. It's also up 210% over the past five years.
No. 3 Crocs (Nasdaq: CROX)
Crocs have sneakily transitioned from a quasi-joke to a staple for many people. These days, tons of people unironically wear Crocs around the house, out running errands, or to the pool. It's not just little kids wearing Crocs either. Several major celebrities have endorsed Crocs. This endorsement list includes Justin Beiber, Post Malone and Bad Bunny.
This rubber clog company was also unfazed by the pandemic. Being able to adapt to tough times is what makes it one of the top clothing stocks to buy. In 2020, Crocs reported annual revenue of $1.39 billion. This was up 12.62% from $1.23 billion in 2019. It also reported a net income of $312.86 million. This was up 161.81% from $119.5 million in 2019.
More recently, Crocs reported an incredibly strong Q3 2021. Its revenue grew by 73% over already strong 2020 numbers. It also boasted an industry-leading 32% operating margin. Despite supply chain issues, Crocs' CEO expects a 20% increase in sales in 2022.
Crocs stock is up over 150% so far in 2021. It's also up over 2,100% over the past five years.
Top Clothing Stocks No. 2 Lululemon (Nasdaq: LULU)
Lululemon is another one of the top clothing stocks to buy. It's also one of the top companies pioneering the athleisure trend.
In FY 2021, Lululemon posted annual revenue of $4.4 billion. This was an increase of 10.62% from $3.98 billion in FY 2020. It also reported a total net income of $588.91 million. This was a decrease of 8.78% from $645.60 million in 2020.
In general, Lululemon has one of the strongest apparel brands out there. On top of that, it recently acquired the fitness technology company Mirror. Mirror offers a product that allows people to get an assisted workout from home. This acquisition is part of the CEO's vision for a "hybrid" workout model. He believes that people will return to their gym to workout post-COVID-19. However, he also thinks that working out from home will not entirely die. The purchase of Mirror will help Lululemon connect with its customers as they workout from home.
Lululemon's stock is up about 14% so far in 2021. It's also up over 500% over the past five years.
Top Clothing Stocks No. 1 TJX Companies (NYSE: TJX)
TJX Companies is the holding company behind Home Goods, Marshall's and TJ Maxx. These companies are all discount retailers that sell a wide variety of goods. Of the three, TJ Maxx has an excellent selection of clothing. TJ Maxx, in particular, is what makes TJX Companies one of the top clothing stocks to buy.
What sets this clothing stock apart is that it has largely ignored one of the major eCommerce trends. TJ Maxx is fairly vocal about being anti-eCommerce. While other companies are scrambling over each other to provide 1-day delivery, TJ Maxx is welcoming shoppers with open arms. It believes that its unique advantage is in the "treasure hunt." Shopping at TJ Maxx is unique because shoppers don't quite know what they'll find. It's entirely possible to find a $200 Ralph Lauren jacket for only $80. The thrill of the treasure hunt is what keeps customers coming in.
Additionally, all three stores are major destinations for holiday shoppers. TJX Companies could be one of the best performing clothing stocks during the holiday season.
TJX Companies stock is up about 11% so far in 2021. It's also up approximately 94% over the past five years.
To get insight on Nike, LVMH and Tapestry Brands check out my article on fashion stocks. Otherwise, I hope that you've found this article valuable when it comes to learning a few of the best clothing stocks to buy. Please base all investment decisions on your own due diligence and risk tolerance.
---
A University of Miami grad, Teddy studied marketing and finance while also playing four years on the football team. He's always had a passion for business and used his experience from a few personal projects to become one of the top-rated business writers on Fiverr.com. When he's not hammering words onto paper, you can find him hammering notes on the piano or traveling to some place random.