This year, the CVS Health (NYSE: CVS) stock may have popped up on investors' radars. This year, a few factors have hit stock market indexes pretty hard. First, supply chain issues and the Russia and Ukraine conflict have caused inflation to reach multi-decade highs. Then, to combat inflation, the Federal Reserve plans to increase interest rates throughout the year.
Investors may be wondering where they can find shelter if stocks continue to fall for these reasons. One sector with less exposure to inflation and rising interest rates could be health care stocks like CVS Health. Though CVS Health stock is down about 7.75% year-to-date, the broader S&P 500 stock index is down over 14% over the same time period.
Over the past several years, CVS Health has grown into a leader in the patient ecosystem. In 2007, the company bought pharmacy benefits manager company Caremark. Then in 2018, it bought health insurance provider Aetna.
CVS Health's goal is to decrease drug costs and increase the health outcomes of its customers. The company is now an integrated health care company. Therefore, it has some power to negotiate with drug makers to reduce prices.
When patients have better access to their medications, they are more likely to comply with doctors' orders. They tend to have fewer hospital visits and trips to the emergency room when that happens. What does all this mean for CVS Health stock?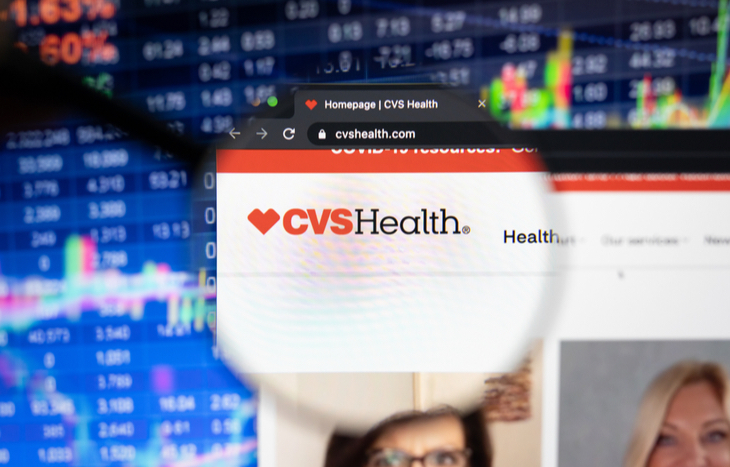 CVS Health Stock Earnings
In February, CVS Health put out a press release about its fourth-quarter and full-year results for 2021. The press release noted that sales rose almost 9% to $292.1 billion for the year. In the fourth quarter, sales were up over 10% over the fourth quarter of 2020.
In addition, the company said that it made adjusted earnings per share of $8.40 for the year and $1.98 for the fourth quarter. The full-year earnings translated to $18.3 billion in operating cash flow. CVS used the cash flow to reduce nearly $9 billion of long-term debt.
President and CEO Karen Lynch commented about the results, saying, "We're engaging millions of customers across our businesses and in our community health destinations, becoming an even bigger part of their everyday health. That's clearly reflected in our performance, but more importantly in our potential."
After the company put out the press release, managers from CVS Health held a webcast to talk about the results. After they spoke, the managers answered questions from listeners. You can find a replay of the webcast here.
Industry analysts predicted CVS Health would make $1.94 in earnings per share for the fourth quarter. So, the company did better than the analysts thought by a small margin.
Stock Forecast
Investors may find CVS Health stock interesting with so much negative news outside of the health care sector. Those investors are probably also interested in how the company will do this year.
In the fourth-quarter and full-year press release, the company spelled out how it thinks it will do in 2022. CVS Health forecasted that adjusted earnings per share would fall in a range of $8.10 to $8.30. They also think the earnings will translate into operating cash flow within a range of $12.5 billion to $13 billion.
Industry analysts' forecasts show that they agree with CVS Health. The average of analysts' earnings per share forecasts is $8.23 for 2022. However, two of those analysts decreased their forecast over the last four weeks.
You can learn more about CVS Health when they report results for the first quarter of 2022 on May 4 at 8 a.m. EDT. The company will put out the first-quarter results on that day, and managers will host a webcast to talk about the quarter. After they talk, the managers will field questions from listeners. You can find a link to the webcast here.
Is CVS Health Stock a Good Buy?
Though CVS Health is somewhat protected from inflation and rising interest rates, it does not automatically make it a good buy. The company will have to continue to carry out its strategy to improve patient outcomes.
CVS stock is currently just over $96 per share. A quick stock valuation shows that the stock has a forward P/E ratio of about 11.7x. Investors may see that valuation high, low, or just right, depending on their investment style. If the company's earnings per share fall in the range of their forecast or analysts' forecast, the stock could be a good deal for investors.
In addition, the stock pays a dividend. After the company increased its dividend by 10% in February, the dividend yield on the stock is almost 2.3%. CVS Health also said that it put in a plan to allow the company to buy back $10 billion of its stock. When a company buys back its stock, it decreases the number of shares. When a company reduces the number of shares and earnings stay the same, earnings per share could increase.
---