After another big earnings beat, DoorDash (NYSE: DASH) is showing it's in it for the long haul. Even though the surprise report boosted DoorDash stock, shares are still down close to 60% from its all-time high of $257.25.
It's no secret DoorDash is one of the biggest winners post-pandemic as demand for food delivery remains strong. But, with the tension in Ukraine and growth stocks continuing to sell off, DoorDash stock is having a hard time gaining legs.
A new study from Statista shows DoorDash is America's favorite food delivery service with 54% of the share.
With the food delivery leader hitting its lowest price as a public company earlier this month, is it time to consider it for the long-term? Let's explore what you can expect next from DoorDash.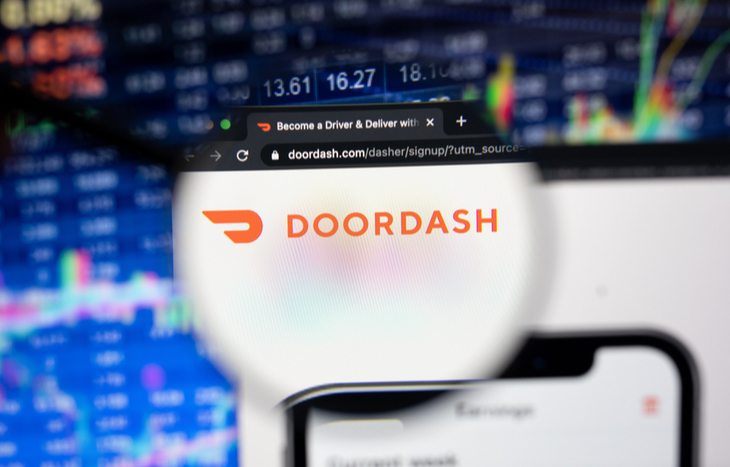 Big Earnings Growth
Despite critics calling for the business's slowdown with life returning to normal, DoorDash is achieving record growth. The company's fourth quarter earnings are another step in the right direction.
DoorDash beat top-line estimates ($1.30 billion vs. $1.28 billion) as demand shows no signs of slowing.
Having said that, here are a few highlights from the report.
Revenue grew 34% to $1.3 billion.
Total Orders advanced 35% to a record 369 million.
Gross Order Value (GOV) reached a record $11.2 billion, up 36%.
Monthly Active Users (MAU) also reached a record 25 million, up 22%.
More importantly, the company's subscription service, DashPass, reached over 10 million users. The sustained demand allows the company to invest in new categories, with over 14% of MAU ordering from non-restaurants.
As you can see, food delivery is not slowing by any means. In fact, the market is retaining much of its momentum from the pandemic. A new report from Mckinsey points out the food delivery market is now 4X-7X larger than it was in 2018.
Although DoorDash is growing on all levels, it could be a few years before we see a profit. That said, the company is aggressively investing to bring in more revenue.
Expanding Into New Categories
A major factor in the company's long-term strategy in becoming profitable is expanding its addressable market. So far, it's making progress with non-restaurant orders, gaining a share of total revenue.
However, DoorDash sees this as an opportunity, highlighting some markets are seeing 20% non-restaurant MAU's. The company is planning to expand on this further with offers like
Gifts
Retail
Alcohol
Makeup
Flowers
Grocery delivery
Not only that, but DoorDash is partnering with brand favorites like CVS and Ulta Beauty to make everyday items easier to get. DoorDash can fund these new verticals by retaining users and attracting new markets.
Furthermore, DoorDash is expanding its core food delivery business with its latest acquisition of Wolt Enterprises. Wolt is also a food delivery service operating in 23 countries across Europe.
The partnership will give DoorDash a foot in the door to continue attracting new users in new markets.
Most importantly, DoorDash takes a page from Amazon's playbook by offering same-day delivery. With its newest partnership in Albertsons (NYSE: ACI), a leading food and drug retailer, DoorDash provides grocery services in 30 minutes or less. Also, ahead of valentine's day, the company partnered with 3,000 florists for same-day flower delivery.
DoorDash Stock Analysis
Even with the record-breaking growth, DoorDash stock is still down over 33% this year. The overall market is down, but richly valued companies with no current profits are feeling the most heat.
Despite an attempted rally after earnings, DASH shares are still trending down over 7% today. Since the beginning of December, share prices are hovering around oversold on the Relative Strength Indicator (RSI).
With this in mind, investors are selling higher-risk companies like DoorDash in favor of value. In fact, the only sectors positive this quarter are financials, metals & mining and energy stocks.
On the other hand, earnings growth is one of the most critical factors while determining an investment's long-term potential. Including Q4, DoorDash has now grown its top line by double digits for six straight quarters. Moreover, gross profit has also swelled by double digits each quarter reaching $665 million.
Risks & Opportunities
Even though DoorDash is a market leader, the industry is uncertain with several risks. For example, regulation is a big question mark for the future. Will the industry see heavier regulation with its drivers?
We see how regulation can crush a stock, such as the case with Didi stock and ride-sharing in China. If the U.S. changes the required drivers' classifications, it could make it even more challenging to turn a profit.
That said, DoorDash is in direct competition with Uber Eats for market control. To close the gap, Uber Eats bought out Postmates for $2.65 billion in December 2020. The competition can be positive as consumers and restaurants adapt to the changing landscape.
At the same time, DoorDash is in a favorable position as the market leader in U.S. food delivery. The market is expecting to continue growing, with some estimates seeing it doubling by 2027.
DoorDash Stock Forecast: Can the Growth Continue?
Growth will continue to be the most crucial thing for DoorDash. Although the company is seeing double-digit year-over-year (YOY) revenue growth, the pace is slowing.
A year ago, DoorDash achieved 225% sales growth, then 198% in Q1, 83% in Q2, 45% in Q3 and 34% in Q4. You can see the trend is slowing after the pandemic boosted sales. Yet as we see many of the pandemic restrictions lifted, DoorDash is still attracting new users.
If growth slows anymore, investors may start to question the company's ability to turn a profit. In that case, DoorDash stock will likely remain under pressure for some time.
At the same time, the food delivery service continues beating everyone's expectations, leading the market to new heights. With several new categories to offer and more people to offer it to, the growth looks inevitable.
If you are looking to invest in DoorDash, keep in mind it could be a few years until profitability is achieved. If this is the case, I expect DoorDash stock will likely remain volatile this year.
But, as the industry matures, I think DoorDash will benefit the most as it maintains its lead.
---