In Super Bowl 56, The Los Angeles Rams defeated the Cinncinatti Bengals in an exciting matchup. By this point, the last pass has been thrown and the game is over. Now, it's time for the secondary game to begin. This secondary game mainly involves analyzing which Super Bowl ads were the most successful. It also means following up on my Super Bowl stock predictions to see which (if any) play out. One of my predictions, DraftKings stock, is set to report its Q4 2021 earnings is this week.
This was the second year in a row that DraftKings advertised during the Super Bowl. DraftKings stock is also up over 130% since going public. So, does this high ad spend mean you should buy DraftKings stock after the Super Bowl? Let's break down DraftKings' newest ad campaign and see how it could impact its business.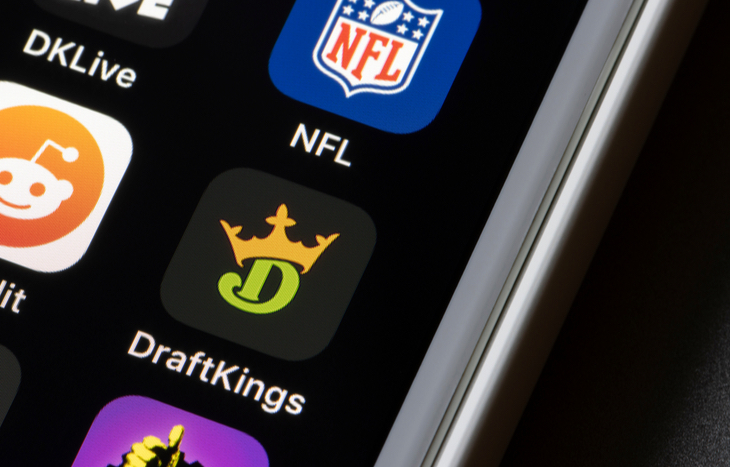 Meet "The Goddess of Fortune"
2021 was the second year in a row that DraftKings shelled millions to air a primetime Super Bowl ad. DraftKings reportedly paid $6.5 million for this 30-second slot. If you haven't seen it, you can check out the DraftKings ad here. This ad had two main objectives. First, it introduced a new mascot in an attempt to personify the brand. Second, it created an incentive for new members to sign up for DraftKings.
In this ad, "The Goddess of Fortune" can be seen taking a variety of extreme risks. She jumps out of a DraftKings blimp, rides on Evile Knievel's bike and bets on Joe Namath. DraftKings has stated that The Goddess of Fortune will make more appearances moving forward.
Consumers generally react positively to brand personification. If you're not familiar, brand personification is when a company uses some type of mascot to represent its brand. Usually, the mascot embodies all of the traits of the brand. A few examples of brand personification are Flo from Progressive, The Geico Gecko, or the M&Ms. Having a mascot can help separate a brand from its competition. It can also help consumers identify more closely with the company.
The second objective of the ad was an incentive to encourage viewers to signup. This incentive allowed 10,000 lucky members to bet on the Super Bowl for free. A handful of these bets had the potential to payout up to $1 million. In last year's Super Bowl, a similar campaign helped drive a record number of signups for DraftKings. Only time will tell if this year's ad is just as successful.
DraftKings Stock Earnings
DraftKings is set to announce earnings on February 18. Right now, analysts are expecting an EPS of -0.65 per share and revenue of $445.48 million. In Q3 2021, DraftKings reported revenue of $213 million. This missed analyst expectations by 10%. They also reported EPS of -1.35, which missed expectations by 47.56%.
DraftKings Super Bowl Performance
Sports betting is still incredibly new in the United States. In 2018, the Supreme Court eliminated the Professional and Amateur Sports Protection Act. This opened the floodgates for states to legalize sports betting if they want to. In just three years, 21 states have already legalized some form of sports betting. This means we are still in the early stages of being able to bet on professional sports.
As far as this year's Super Bowl, Forbes predicts that $7.6 billion was wagered in total. This money was likely wagered by as many as 31.4 million viewers. DraftKings' specific numbers are not available yet. However, with so much money changing hands, you can bet DraftKings was facilitating plenty of bets. So, does this mean that it's a good time to load up on DraftKings stock?
Should You Buy DraftKings Stock? Potential Upsides
One of the biggest issues for DraftKings right now is customer acquisition. Namely, it spends an exorbitant amount of money to acquire new users. This is because the DraftKings service is really not much different from FanDuel, Caesar's, or any other online sportsbook. It's a little bit like calling an Uber or a Lyft. Both Uber and Lyft have similar apps. Both will give you a ride from Point A to Point B and there's not really a discernible difference. Due to this, both Uber and Lyft spend tons of money on marketing promotions. A similar situation is playing out with DraftKings.
The name of the game right now for DraftKings is driving new signups. If DraftKings can convince new members to signup then it has the opportunity to turn them into lifetime customers. Due to the nature of gambling, long-term users could be extremely profitable for DraftKings.
With its introduction of The Goddess of Fortune, DraftKings took a step in differentiating itself from competitors. This could be a big move for the company in driving signups over the long term. However, it is still way too early to tell how The Goddess influences members.
DraftKings has a big head start in the mobile sports betting market. According to Similarweb, its website received 17.9 million visitors in December 2021. This is the largest of any fantasy sports provider. DraftKings Sportsbook App is also currently #4 in the Sports section of the app store. It is ranked 4.8 out of 5 stars.
The biggest thing for DraftKings stock is fighting tooth and nail to remain on top. This is because there are plenty of competitors nipping at its heels.
Should You Buy DraftKings stock? Potential Downsides
The two biggest threats to DraftKings stock are legalization and competition. Legalization is moving forward at a nice pace since 2018. However, there's always a risk that it could stall in key markets. Legalization is also just the first stepping stone. Once sports betting is made legal, DraftKings has to fight other companies for that market. Here are just a few of DraftKings' main competitors:
FanDuel
BetMGM
PointsBet
Caesars
Fox Bet
TwinSpires
WynnBET
Unibet
Bet365
BetRivers
As legalization increases, the market will most likely only get more competitive. Of these companies, a few also made their presence known at the Super Bowl. Caesar's showed its own ad featuring JB Smoove as Caesar, Halle Berry as Cleopatra and the Manning Family. Notably, this is another example of brand personification. It also builds on the already-established Caesar's brand.
As far as the Super Bowl is concerned, PointsBet is an official partner of NBC Sports. This year's Super Bowl was aired on NBC. This gave PointsBet plenty of air time during the big game.
The online sports betting market is a fascinating one. It has the potential to become huge in the coming years but is also filled with uncertainty. Keep an eye on DraftKings stock as they report earnings this week. This report will most likely offer insight into the industry as a whole (in addition to DraftKings business).
I hope that you've found this article valuable for learning about DraftKings stock! As usual, please base all investment decisions on your own research and risk tolerance.
---