When it comes to annual must-watch events, the Super Bowl pretty much reigns supreme. In 2021, the Super Bowl drew in about 96.4 million viewers. It's not just the football game that people are interested in watching too. Some people will watch the game, but really only care about the halftime show. Other viewers tune in just so they can see some funny ads. If you're an investor, you probably care more about these ads than the outcome of the game. This is because brands that successfully flex their marketing muscles during this primetime event could end up being great Super Bowl stocks to own. Some brands will experience boosted success for months, even after the final whistle has blown.
This year's Super Bowl will be played in California on February 13. The halftime show will feature a handful of classic rappers. This includes Dr. Dre, Snoop Dogg, Eminem, and Kendrick Lamar. Singer Mary J Blige will also be participating. In total, there will probably be around 70 commercials shown during the game. So is there any way we can try to predict which companies (and stocks) will benefit?
Let's take a look at five Super Bowl stocks that could break out after the game.
NOTE: I'm not a financial advisor and am just offering my own research and commentary. Please do your own due diligence before making any investment decisions. I also own small positions in Sofi, Block, DraftKings and Coinbase.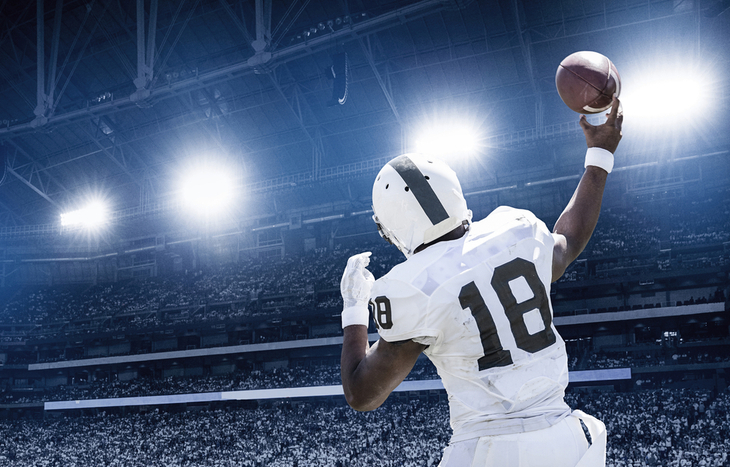 No. 5 SoFi Technologies (Nasdaq: SOFI)
This year's Super Bowl is being played at the brand new SoFi Stadium in Los Angeles. This creates a rare no-brainer when examining the top Super Bowl stocks. This year's Super Bowl presents a huge opportunity for this young fintech company. If you're not familiar, SoFi is a jack-of-all-trades personal finance company. It offers solutions for student loan refinancing, mortgages, credit cards, investing and money management. SoFi is in an incredibly exciting spot because many people probably aren't familiar with it.
Suit Up Rookie, You're Starting
The Super Bowl is generally dominated by major brands. Companies like Anheuser Busch, Frito Lay, Procter & Gamble, and Geico all have gargantuan marketing budgets. This allows them to buy up Super Bowl air time without breaking a financial sweat. However, pretty much everyone already knows about Bud Light, Tostitos, and Tide Detergent. Super Bowl commercials really aren't huge needle movers for these companies.
For example, American Airlines (Nasdaq: AAL) owns the American Airlines Plaza in SoFi Stadium. This will still increase brand awareness for AA slightly. However, American Airlines is one of just a handful of major U.S. airlines. I don't really see ticket sales spiking in a meaningful way just because they now own the AA Plaza. This is partly because people only fly when they need to. No one is going to suddenly start flying more because they saw a commercial.
Additionally, outside of their loyalty programs, airlines typically receive no brand loyalty. Most people really don't care which airline they fly. Instead, they are going to pick the cheapest, most convenient flight. For these reasons, American Airlines is not one of the best Super Bowl stocks to buy.
SoFi is in a totally different position. It's a young fintech company that's trying to make a name for itself. It also offers a consumer-facing product. You could argue that nearly every single viewer has a need to manage their money. This Super Bowl could introduce hundreds of thousands, if not millions, of new customers to SoFi.
I've already written about SoFi a lot as a potential stock that could double in 2022. To read more SoFi analysis, just follow that link.
No. 4 Block Inc (Nasdaq: SQ)
The Super Bowl generally gets planned years in advance. Contracts to show/host/endorse the game are signed well before the coin flip. On the other hand, brands that crush the marketing game might experience increased sales. However, these boosted sales could not show up on income statements for months. There are very few Super Bowl stocks with the potential to make a killing on the day of the game. Block Inc. (Formerly Square) is one of them.
Block Inc is a financial services company. It's best known for its point of sale checkout platforms that look like an iPad. It also owns the popular money-sending app Cash App. In September 2021, Block signed a unique partnership with SoFi Stadium. This agreement makes Block the exclusive point-of-sale (POS), payments, software, and merchant services provider for the stadium. This agreement puts a Square POS terminal in every single concession stand, roving snack merchant, and apparel store. In total, there should be more than 1,000 terminals in the stadium.
Block's standard processing fee is 2.6% + 10 cents for card payments. It's not clear whether this is the fee that will be in effect at SoFi stadium. It's possible that Block and the stadium worked out an exclusive deal in exchange for the partnership. However, one thing is for sure. Block Inc will be collecting a small percentage of all beer, food, and foam fingers sold in the stadium on Super Bowl Sunday.
No. 3 DraftKings (Nasdaq: DKNG)
There are two reasons that DraftKings could be one of the best Super Bowl stocks to buy. First off, just like Block Inc, its business could rake in money on Super Bowl Sunday. Right now, sports gambling is in different stages of legalization across the nation. Each state also has different rules for in-person versus online gambling. This makes it difficult to dissect the market. However, in 2021, gamblers wagered $136 million during the Super Bowl. This figure only includes Nevada's sportsbooks.
More so than other sports events, the Super Bowl is known for being a gambler's paradise. Gamblers will wager on everything from the length of the National Anthem to the color of the Gatorade bath. As one of the most popular online sports betting apps, DraftKings will likely help transact lots of these wagers.
On top of that, DraftKings has also booked a slot to advertise. It reportedly has a 30-second ad that should receive national air time. Just like SoFi, DraftKings has a lot to gain from this primetime slot. It's currently in a massive brand awareness battle with Fan Duel, BetMGM, Caesars and others. A Super Bowl ad is a unique opportunity to separate itself from the pack. At least that's what Tony Ponturo, VP of Marketing for Anheuser Busch believes.
In Tony's words, "Nothing reaches half the marketplace in homes and demographics [other] than the Super Bowl." He also stated, "Some younger, new tech company that wants to make a splash should do it." Please note that this quote was not referencing DraftKings specifically. He was also technically speaking about the halftime show. However, the concept still applies.
Super Bowl Stocks No. 2 Coinbase (Nasdaq: COIN)
In rare cases, you don't even need a commercial to be one of the best Super Bowl stocks to buy. For example, Coinbase is not advertising during the Super Bowl. But do you know who is? Two rival cryptocurrency companies Crypto.com and FTX. Crypto.com also paid $700 million for the naming rights to the Staples Center. FTX made a similar purchase for the naming rights to American Airlines Arena in Miami. So, how is any of this good for Coinbase?
99% of the time, a major competitor running a Super Bowl ad is a bad thing. However, cryptocurrency is not a normal 99% industry. It's an industry that's still fighting tooth-and-nail to gain acceptance from the mainstream. Crypto.com and FTX shelling out millions for Super Bowl ads helps to legitimize the industry. These ads will help get more people invested in cryptocurrency in general. Even though Coinbase isn't running any ads, its business should still benefit.
There's a chance that tens or even hundreds of thousands of viewers will decide to buy some cryptocurrency after seeing Crypto.com's ad. However, once they visit the app store, they will see two different apps. They will see Crypto.com's app with a 4.3 rating and 68,000 reviews. They will also see Coinbase's app with a 4.7 rating and 1.6 million reviews. Coinbase is currently ranked just above Crypto.com in the Finance section, so it'll be hard to miss.
Crypto.com might sell people on buying cryptocurrency. But that doesn't mean people will use Crypto.com to buy it.
Super Bowl Stocks No. 1 Nike (NYSE: NKE)
I ran a quick search to see which NFL teams Nike sponsors. Turns out, Nike sponsors all of them. Nike and the NFL have a partnership through 2028 that allows Nike to outfit all 32 teams. It has a similar partnership in place with the NBA as well as most colleges. In particular, Alabama and Georgia are Nike schools. These two teams just played in the College Football Championship.
Just like Tom Brady, Nike is the industry veteran. It's been dominating for years and just seems to get better each year. Also, despite his age, Tom Brady won Super Bowl MVP in 2021. Don't assume that Nike can't do something similar in 2022. Even though it's already so successful, I'd keep Nike on your list of Super Bowl stocks to buy. Want more info? Check out my Nike stock forecast.
I hope that you've found this article on the best Super Bowl stocks to buy valuable! As usual, please base all investment decisions on your own due diligence and risk tolerance.
---