Super Bowl Sunday is right around the corner. Historically, The Big Game creates one of the biggest gambling days of the year. In 2021, over $136 million total was wagered on Nevada sportsbooks alone. In recent years, we've also witnessed an explosion in online gambling popularity as well as relaxed regulations in the industry. Due to this, Super Bowl LVI is poised to experience a record number of wagers. As far as companies that are placing these bets, FanDuel is one of the biggest names in town. So, is FanDuel stock worth betting on?
Before I get into it, remember that FanDuel is not a publicly-traded company. This means that you can't buy FanDuel stock directly. However, FanDuel is owned by Flutter Entertainment, which owns a 95% stake as of December 2020. By buying stock in Flutter Entertainment, you can indirectly own stock in FanDuel.
Let's take a look at a few of the potential upsides and downsides of buying FanDuel stock.
NOTE: I'm not a financial advisor and am just offering my own research and commentary. Please do your own due diligence before making any investment decisions.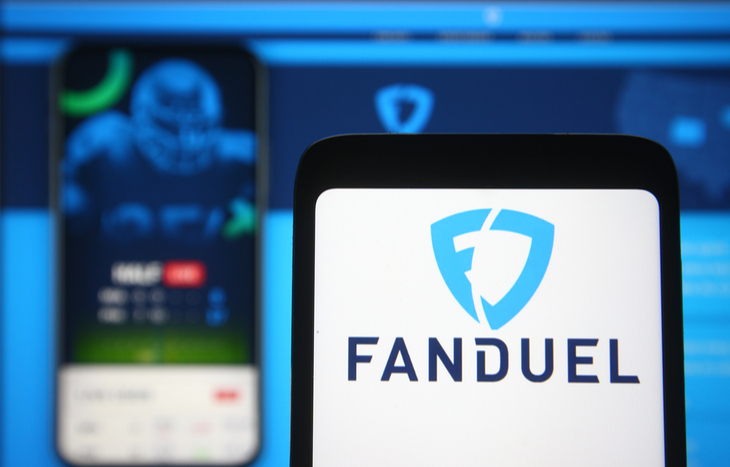 FanDuel (OTC: PDYPT) Stock Forecast
What Does FanDuel stock do?
FanDuel was founded in 2009 and started as an online fantasy sports provider. Since then, it has expanded its business. Now, FanDuel owns one of the top sportsbook apps. It also owns FanDuel Casino and Stardust, its online casino brands. For racing services, it owns TVG. In total, FanDuel has over 12 million registered users.
As far as sponsorships, FanDuel has agreements with the NFL, WNBA, NBA, NHL, MLB and PGA TOUR. In total, it operates 16 retail locations across the United States.
Let's take a look at what FanDuel has been up to recently.
Recent Announcements:
Partnered with the Bills – FanDuel recently became the #1 sports betting partner of the Buffalo Bills.
Announced The Bitcoin Bowl – This is a special promotion that FanDuel is running during the NFL playoffs. It features two contests that give people a chance to win Bitcoin. It is part of FanDuel's strategy to offer the most unique prizes and payouts.
Launched FanDuel Mixup – This is a "lite" version of FanDuel's traditional fantasy sports platform. It uses a simpler interface which should attract more casual players.
So, how have these recent announcements impacted FanDuel's business?
Stock Predictions
To learn about FanDuel's business, we have to dig through Flutter Entertainment's financial statements. This can sometimes be a little bit tricky because Flutter can choose which information they do/don't want to release.
Flutter Entertainment is one of the biggest online gaming companies in the world. It owns several brands including FanDuel, PaddyPower and more. Flutter is based in Dublin, Ireland but has a few U.S.-based brands. These include FanDuel, FoxBet, TVG, Poker Stars and Betfair US.
Flutter is a global company with operations all over the world. Luckily, it does segment out its U.S. operations, which is pretty much entirely FanDuel. Here are a few of the highlights:
In Q1 2022, Flutter reported total U.S. revenue of $574 million. This represented year-over-year growth of 45%.
FanDuel accounted for almost all of this revenue.
Sportsbook revenue growth was also up 89%.
In total, Flutter owns a 37% share of the U.S. online sports betting market. With FanDuel being the number one U.S. sportsbook.
Additionally, Flutter reported that betting volume in 2021 was some of the highest on record. In the 2021 season, most NFL Sunday games reached betting volumes on par with the previous year's Super Bowl.
So is this strong growth a reason to buy FanDuel stock? Let's examine a few of the upsides and downsides.
Should I Buy FanDuel Stock? Potential Upsides
FanDuel stock certainly has a case for being one of the top digital gambling providers in the U.S. FanDuel currently owns a 37% share of the market and has a very strong portfolio of partnerships. It essentially has partnered with every single major professional sports league. As online sports betting continues to gain popularity, FanDuel could very well emerge as a leader.  However, it's currently in a neck-and-neck race.
FanDuel Vs. DraftKings
FanDuel and DraftKings are the Nike and Adidas of the online sports betting industry. The two actually had plans to merge at one point. However, the FTC determined that they would control 90% of the market. The FTC labeled this as potentially monopolistic and shot the merger down. Now, the two are scratching and clawing to gain an edge.
The online sports betting market is a particularly interesting one. In my mind, it's not a question of IF sports betting will be huge. The bigger question is WHEN sports betting will be huge. Right now, sports betting is legalized in over 2 dozen states.
However, many states still have different rules for in-person vs online betting. For remaining states, it's nearly impossible to tell when the sports betting rules will be changed. More likely than not, it will be a much slower process than investors would like.
As far as their products, DraftKings and FanDuel are incredibly similar. The biggest difference between the two is DraftKing's NFT marketplace. This marketplace is offered through a partnership with Autograph. Autograph is an NFT marketplace co-founded by Tom Brady. It offers digital collectibles from sports legends like Simone Biles, Wayne Gretzky and Tiger Woods. Considering that NFT sales surged past $23 billion in 2021, this marketplace could be a huge differentiator.
Despite DraftKing's NFT marketplace, FanDuel stock still has the upper hand in terms of total revenue. In Q3 2021, FanDuel posted a revenue of $574 million. Comparatively, DraftKings reported revenue of $466 million.
I also ran a side-by-side comparison of both sites' Google search traffic. Neither company really has a distinct advantage in terms of search volume.
You can read more about my DraftKing's stock forecast here.
Should I Buy FanDuel Stock? Potential Downsides
The biggest thing to remember when buying FanDuel stock is that you're not only buying Fanduel. You're buying Flutter Entertainment stock. This means that there will be a lot of other factors that impact the stock's price. For example, FanDuel could still perform extraordinarily well. However, if other business segments suffer then it could drag the stock down.
As far as FanDuel specifically, the biggest risks are legalization and competition. As mentioned, the legalization process will most likely take much longer than expected. In the short term, this will restrict the total addressable market for all players. This restricted market will also lead to more fierce competition.
In this type of market, marketing costs will be incredibly high. FanDuel and DraftKings will basically need to have a marketing war to win customers. This means that customer acquisition costs will be through the roof. Something similar is playing out with ridesharing companies.
Ridesharing companies like Uber and Lyft have basically no customer loyalty. Many customers will check both apps for a quote on a ride. Then, they'll select whichever service is cheaper for that particular ride. Uber and Lyft can only win customers by offering discounts or similar incentives. DraftKings and FanDuel are in a fairly similar situation. But instead of offering discounts, they need to come up with creative games and bonuses.
I hope that you've found this FanDuel stock forecast to be valuable! As usual, please base all investment decisions on your own due diligence and risk tolerance.
---