Esports is a completely digital industry. It also already has a social media aspect built into it. Due to this, it's rising incredibly quickly in popularity. So much so, that some gaming competitions get viewership that rivals the Super Bowl. So far, esports investing has mainly been limited to venture capital or private equity. Many high-net-worth individuals are getting in the game by investing in teams, tournament operators and digital broadcasters. If you're not a high-net-worth individual, don't worry. There are still a handful of esports stocks that you can buy.
I'm going to share exactly why I consider these three companies to be ahead of the curve. Before I do, I want to take a closer look at the esports market in general. Esports is interesting because it connects a lot of different industries. For example, technology, advertising, social media, live events, digital events and gambling are all different pieces of the puzzle. Right now, the industry is still trying to figure out how all these pieces fit together.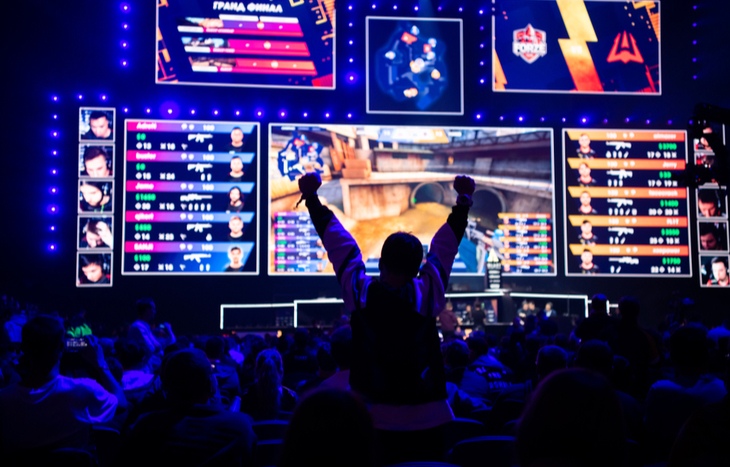 The State of Esports Stocks
For years, video games were looked at as an afterthought. Sure, plenty of companies still made video games. But, they were never considered "big business." For the most part, the world's tech giants prioritized other industries. For example, Microsoft has owned Xbox for years. However, it has always put much more weight into its cloud computing and business solutions. In the past few months, it looks like this is suddenly starting to change.
There are plenty of examples of major tech giants that are showing more interest in video games. Here are just a few:
Microsoft is acquiring Activision Blizzard for $70 billion.
Facebook is investing $10 billion into its Oculus VR division.
Sony is acquiring Bungie for $7.6 billion.
Netflix is introducing video games into its streaming platform.
One reason for this could be because gaming will play a crucial role in creating the metaverse. Another reason could be that companies are finally appreciating the profit potential of video games. As the world continues to get more virtual, it's likely that many esports companies will experience exponential growth.
For full disclosure, lots of esports stocks currently have high expenses and low revenue. In other words, they just burn through cash. This is partly because they are still figuring out the best way to generate revenue. Part of this process requires building a network of gamers, users, and viewers. Building this network today could allow for profitability down the road. It's a little bit like how Facebook spent several years building its user base. At the same time, it was building its algorithm for showing ads. Then, it was able to integrate the two and start raking in money.
With that said, let's see which esports stocks are ahead of the curve.
No. 3 Enthusiast Gaming (Nasdaq: EGLX)
Enthusiast Gaming is currently the largest gaming media platform in North America. It operates a vast network of digital assets. Its immense ecosystem is what makes Enthusiast Gaming one of the best esports stocks.
This ecosystem includes:
100s of websites that publish unique content.
1,000s of YouTube channels with 20+ million subscribers.
50 live and virtual experiences.
550 social media influencers.
7 professional esports teams.
Enthusiast Gaming breaks its business down into four segments. These are media & content, talent, esports and experiential. It has also been laser-focused over the past few years and has acquired 12 companies.
What really makes Enthusiast Gaming interesting is its vision. It believes that younger generations are spending less time on social media. Instead, they are turning to gaming. In this sense Enthusiast Gaming believes that gaming will become a social network. Right now, it is working to own as much of that network as possible. In its own words, it wants to "own the fan experience." So far, it claims to reach 300 million gamers through its channels.
Once it has built this network, it will start to monetize. This will come in the form of advertising, subscriptions and licensing. Down the road, it plans to turn its user base into its own marketplace and social network.
It honestly sounds a lot like Facebook when it was still The Facebook. Only time will tell if Enthusiast Gaming is as successful.
No. 2 Skillz (NYSE: SKLZ)
Skillz is an esports stock and mobile video game platform that is integrated into a number of iOs and Android games. Players can use Skillz to compete with other players around the world. Right now, there are a lot of moving pieces in the esports world. Skillz technology could play a crucial role in bringing the industry together.
There are two main things to note about Skillz's business. First, it has notched 23 straight quarters of revenue growth. In Q3 2021, it continued this trend and reported revenue of $102 million. This was 70% growth from 2020. Second, it has received a ton of recognition for its team. In Q3 2021, Fast Company ranked it as one of the top 50 "Best Workplaces for Innovators." Skillz recently welcomed a senior-ranking developer from Amazon.
In general, the team that's running a company is much more important than the company itself. That's because, at the end of the day, people drive businesses forward. People solve problems and come up with new ideas. If you have the right people running a business, it will most likely be successful. Based on its awards, Skillz seems to have a great team at the helm. 23 straight quarters of revenue growth is also a testament to the team's efforts. These two factors make Skillz one of the top esports stocks to keep an eye on.
Additionally, Cathie Woods invested in Skillz briefly via her Ark Innovation Fund. However, she has recently sold off most of her position.
Esports Stocks No. 1 Super League Gaming Inc (Nasdaq: SLGG)
Super League Gaming describes itself as a metaverse and creator economy platform. In this sense, it's a little bit like Roblox. It helps to empower digital creators. These creators build digital worlds that other gamers can then use. Super League Gaming is taking advantage of three main trends. These trends are:
The transition to Web3 and the metaverse.
The explosion of self-produced content.
The constantly-shifting digital ad model.
Right now, Super League Gaming boasts a monthly live audience of 119 million. It also has 1.1 million creators using its tools and economies.
In addition to being one of the top esports stocks, Super League Gaming has also positioned itself as a metaverse company. This means that it could have a big future outside of just esports. This ability to pivot at any moment is incredibly valuable. As mentioned, esports is a very fragmented market right now. Most people agree that it will be big. They're just not sure what the end result will look like. In the fast-moving world of technology, esports could look entirely different in one to two years than it does today. This ability to pivot gives Super League Gaming a distinct advantage over others in its space.
I hope that you've enjoyed learning about these esports stocks that are ahead of the curve! As usual, please invest based on your own research and due diligence.
---