Electric vehicle sales are fast on the rise, which bodes well for top EV infrastructure stocks. Yes, the overall market share is still quite small with EVs accounting for about 2.4% of new vehicle sales in 2020, according to the International Council on Clean Transportation. Still, the sheer number of new EV sales has grown from just a few thousand in 2010 to over 315,000 new vehicle sales per year from 2018 to 2020.
To put it another way, EV sales have increased roughly 100 times since 2010. That being said, 2010 was the year the Nissan Leaf and Chevrolet Volt were released in the U.S. Plus, at that time Tesla was just a startup with no vehicles on the road, so EV sales were just beginning.
Regardless, EV sales have grown immensely in what is quite a short time in the auto industry. To support that immense growth, there must be infrastructure in place. While electric vehicles can be charged at home, that may not be possible for those with street parking, and rapid charging is needed for long-haul driving.
Thus, EV infrastructure stocks are sure to see increased focus as EVs gain mass acceptance. To support that transition, here are some of the best EV infrastructure stocks to buy:
EV Infrastructure Stocks to Buy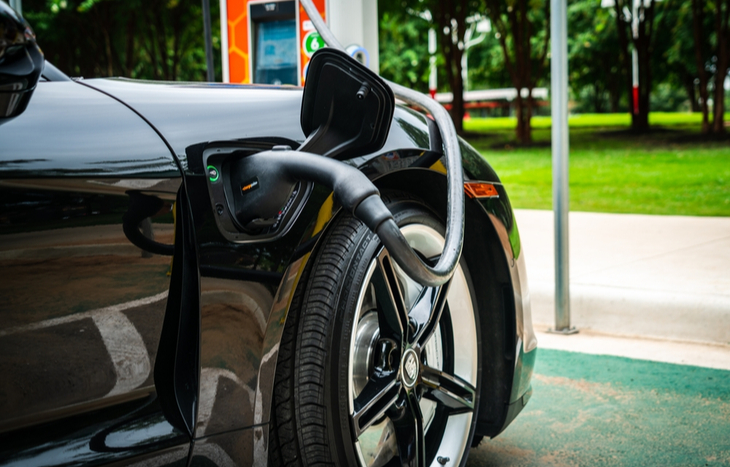 No. 1 ChargePoint (NYSE: CHPT)
ChargePoint is the largest provider of charging infrastructure in the U.S. and one of the largest in the world with over 114,000 charging spots. Hence, it is naturally the first of the EV infrastructure stocks on this list. In addition to manufacturing charging stations, ChargePoint also designs the software used to operate its stations. It operates both 240-volt (level 2) charging stations as well as DC fast (level 3) charging stations.
Chargepoint currently has a market cap of about $8.3 billion and is currently trading below its December 2020 high. However, its share price has been steadily increasing since its low point of under $20 per share in October 2021. While the company has struggled to maintain consistent profitability, it has over $600 million cash on hand and is best positioned to benefit from the infrastructure bill, which contains funding for EV charging.
No. 2 EVgo (Nasdaq: EVGO)
EVgo is next on the list of best EV infrastructure stocks. EVgo is slightly different than ChargePoint in that it's more focused on providing DC fast charging specifically. According to its website, it has more than 800 fast-charging locations ranging from 50 kW to 350 kW. For perspective, 350 kW charging can fully charge an EV in as little as 15 minutes.
While EVgo's footprint may sound comparatively small, its market cap is nearly $4 billion and it is increasing the rate of its charging expansion, nearly doubling the rate of charging deployments in Q2 2021 compared to Q1 2020. Like ChargePoint, its stock is trading lower than its peak of $22, in this case in January 2021. However, its share price has surged of late, going from under $8 to almost $15 per share.
No. 3 Blink Charging (Nasdaq: BLNK)
Blink Charging is our next EV infrastructure stock to buy. Blink provides a network of charging stations for both homes and businesses and has deployed over 23,000 charging stations. Most of them are networked charging stations, meaning they are connected remotely to Blink's charging network. Blink offers charging capacity of up to 175 kW and continues to expand rapidly.
Much like other EV infrastructure stocks, BLNK hit a high point in late January 2021 when it traded around $60 per share before falling to around $27 per share in early October. Since then, it has been increasing and is trading around $40 per share. Its market cap is nearly $2 billion and its revenue was up 177% year-over-year on its most recent earnings call, closing the quarter with $4.36 million in revenue.
EV Infrastructure Stocks to Buy No. 4 Volta (NYSE: VLTA)
Volta Inc. was founded in 2010 and is based in San Francisco. There are currently 2,102 charging stations in Volta's network which it builds out in partnership with property owners. What is unique about Volta is that its charging stations feature displays that show large, full-scale ads, which gives Volta another way to bring in revenue. It offers both level 2 and DC fast charging.
As for this EV infrastructure stock, it peaked in mid-February at around $15. It bottomed out at around $6.75 in mid-October 2021 and has been climbing since then, recently trading between $11 and $12. As for its market cap, it sits at $1.96 billion. Like most EV infrastructure stocks, Volta is not yet profitable; its profit margin for the quarter ending June 2021 was -297%. Still, that was an increase of 41% year-over-year. In addition, its revenue was up 192% YoY to $6.94 million.
Are EV Infrastructure Stocks a Good Investment?
Using the typical indicators of a good investment (especially profitability), it may not seem like these are the best EV infrastructure stocks. Most of these companies are in the red in that area as it stands now. However, we should remember that the electric vehicle market more broadly is quite new; it only started to come to life in 2010. And these companies began to scale up in the years since.
Thus, EV infrastructure companies are still in the growth phase, and many of them are posting year-over-year gains in revenue and profit margin (even if their profit margin is still negative). As the market matures, we can look to those that are already dominating, such as ChargePoint, to see continued success. And perhaps one or two other charging providers will emerge as market contenders.
Of course, there is an inherent risk in this market. All of these companies are relatively new and don't have long track records of profitability. While EV charging more generally isn't going anywhere, the market is still evolving, and we don't yet know who the equivalents of Exxon, BP and Shell will be yet in the charging infrastructure world.
If you're looking for the most up-to-date opportunities on the best EV stocks, sign up for the Profit Trends e-letter below. You'll hear directly from energy and trend investing experts. Sign up today!
Thus, while EV infrastructure should be a dependable investment going forward, we are still watching to see who the real household names will be. Until then, the best we can do is invest in those that are already dominating, such as ChargePoint, as the market continues to mature.
---
Bob Haegele is a personal finance writer who specializes in investing and planning for retirement. His hefty student loan burden inspired him to pay off his loans, and now he's helping others get their finances in order. When he's not writing, he enjoys travel and live music.