EV stocks have been some of the most popular for the past several years, a trend that should only continue for the foreseeable future. And many investors are currently looking to invest in the best EV stocks under $10. According to the World Resources Institute, the share of electric passenger vehicles has increased by 50% per year since 2015.
China, the world's largest auto market, is already going all-in on EVs, with numerous affordable options available for consumers. And now, several American automakers, such as Ford and GM, are introducing many new EV models, including trucks and SUVs.
Although it can feel a bit slow-moving at times, it's clear the EV revolution is in full swing. Investing in them is a great idea, but EV stocks such as Tesla are well out of the price range of the average investor. Hence, I wanted to cover the best EV stocks under $10.
Here are my top picks:
Hyzon Motors Inc.

(Nasdaq: HYZN)

Workhorse Group, Inc.

(Nasdaq: WKHS)

Electric Last Mile Solutions, Inc.

(Nasdaq: ELMS)

ElectraMeccanica Vehicles Corp.

(Nasdaq: SOLO)

Ideanomics Inc.

(Nasdaq: IDEX)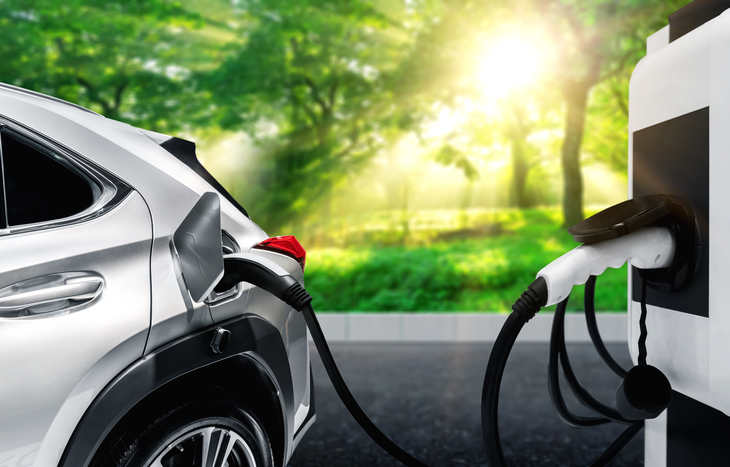 Best EV Stocks Under $10
Some of these stocks won't be under $10 for long. Let's take a look at why they're trending upward.
No. 5 Hyzon Motors Inc.
Hyzon Motors is also a top pick for fuel cell stocks as it's engaged in the production of fuel-cell-powered vehicles. It produces several types but mainly focuses on commercial vehicles such as heavy-duty trucks, buses and coaches. The company was founded recently, in 2020, and is based in Mendon, New York. Its trucks are an attractive option for long-haul trucking because they have a range of 400 miles on a full tank.
As far as its stock, HYZN has a market cap of over $1 billion. Shares of HYZN are actually trading lower as of late; it peaked at over $16 in early 2021 and has since fallen to below $5. Depending on your perspective, that is either a bad omen or means the stock is trading at a discount. Either way, analysts expect the stock to more than double over the next 12 months, which is why they are adding it to their list of best EV stocks under $10. 
For what it's worth, the company has only just begun delivering its vehicles; it delivered 87 of them in 2021.
No. 4 Workhorse Group, Inc.
Workhorse Group casts a wider net than other EV manufacturers, producing electric delivery vans, delivery drones and maintaining its own telematics system. Its delivery vans are suited to last-mile delivery as they have a 100-mile range. The company was founded in 2007 and is based in Loveland, Ohio.
WKHS has a market cap of around $450 million at the moment. Its P/E ratio is 28.50 and its earnings per share (EPS) is 0.13. Shares are trading around the $3 mark, well below an early 2021 high of about $40. It posted a net income of negative $81 million in Q3 2021, though it did post a positive net income of $280 million in Q4 2020.
Right now, recommendations around the stock are either hold or moderate buy. The sentiment is weak around it, so this isn't a big surprise. Still, analysts expect the stock to at least double in the next year, so it could be a solid moonshot option.
Keep reading for more info on best EV stocks under $10. 
No. 3 Electric Last Mile Solutions, Inc.
As its name suggests, ELMS develops all-electric solutions for last-mile deliveries. In fact, The Urban Delivery, the company's electric delivery van, has an affordable starting price of $28,000. The van is available now and has a range of 110 miles. It has a payload of 2,100 pounds and cargo space of 157 cubic feet. It also has an upcoming utility truck with a range of 115-135 miles and a 5,802-pound payload.
ELMS is trading lower than its high. The $582 million company once traded for $14 per share, but now trades at under $5. So far, earnings are minimal for the company, tallying just $136,000 in revenue in Q3 2021. However, it has already secured deliveries for more than 6,000 units, so we can expect revenue numbers to increase. Analysts consider this EV stock under $10 a strong buy and a tripling of its share price over the next year.
No. 2 ElectraMeccanica Vehicles Corp.
ElectraMeccanica is an EV startup with a few current and upcoming EV models, including the Solo. The Solo was the company's first production model, which is why it trades under the stock ticket SOLO. Another vehicle, the eRoadster, which is available for reserve, is made to look like the classic Porsche 356 convertible. In late 2021, the company began deliveries of the Solo EV to an early group of reservation holders, for a total of 21 deliveries. So, we're still in early days here.
Currently, shares of SOLO are trading at less than $2, and the company has a market cap of over $200 million. The company reported cash, cash equivalents and short-term deposits of $228.8 million compared to $129.5 million in December 2020. It had an operating loss of $17.2 million in Q3 2021. However, ElectraMeccanica said back in 2018 that it had 41,000 orders for the upcoming Tofino roadster and 23,000 for the Solo EV.  Given the low share price, analysts expect this EV stock under $10 to increase by more than five times in the next year.
EV Stocks Under $10: No. 1 Ideanomics Inc.
Unlike other companies on this list of best EV stocks under $10, Ideanomics doesn't produce EVs of its own. Instead, the New York-based company provides turn-key finance, leasing, and energy management services for commercial fleet operators. Its focus is on EV adoption more than manufacturing. However, its subsidiaries, such as VIA Motors, produce electric vehicles such as electric delivery vans. Ideanomics has been around since 2004.
At the moment, Ideanomics (IDEX) trades for less than $1. Despite this, the company is worth over $450 million and was profitable in Q3 2021. Indeed, it posted a gross profit of $4.5 million to go along with $27 million in revenue. It also had more than $256 million in cash on hand. While analysts see the stock as having a significant upside and recommend a buy, it's also seen as highly risky and, thus, probably not for the faint of heart.
---