EV stocks have been hot for some time now, and many investors are looking for names to add to their EV stocks list. EV sales still make up just a small percentage of new car sales globally.Claiming about 7.2% of total sales in the first half of 2021. However, that compares to 4.3% in 2020 and 2.6% in 2019. In other words, the market share for EVs have increased by more than 60% in 2020 and in the first half of 2021. One analysis projected a CAGR of 86% by the end of 2021 for electric passenger cars.
And more and more automakers are still only beginning to roll out new, flagship electrics. In the U.S., where EV sales have lagged, models such as the F-150 Lightning and Hummer EV will bring EV options to America's truck and SUV-hungry market. Perhaps more important is the fact that both of these models come from legacy American automakers that have been focused on gas-powered vehicles for decades.
In China, things are accelerating even more quickly for EVs. In the first half of 2021, 1.1 million electric vehicles sold, accounting for 12% of sales. A number of very affordable EVs are already available in China, such as the Wuling Mini EV. With so many options, buyers are finally seeing the benefits of EVs, and that is leading to mass adoption.
Here is an EV stocks list to consider adding to your portfolio:
Rivian Automotive, Inc.

(Nasdaq: RIVN)

Lucid Group, Inc.

(Nasdaq: LCID)

Tesla Motors, Inc.

(NYSE: TSLA)

Li Auto Inc.

(Nasdaq: LI)

XPeng Inc.

(NYSE: XPEV)

NIO Inc.

(NYSE: XPEV)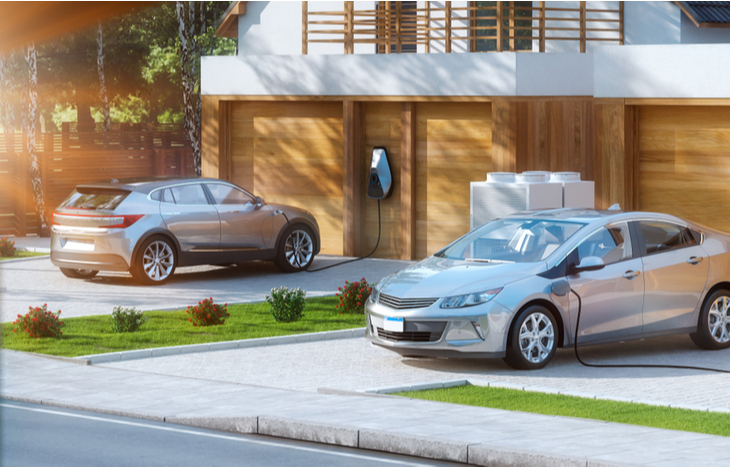 List of EV Stocks
We have included some of the best EV stocks for both the U.S. and China. Let's take a look at each market and its best EV stocks.
U.S. EV Stocks List
No. 6 Rivian Automotive
Rivian has been one of the most anticipated EV startups for the American market. That's because its R1T and R1S are beautiful both inside and out, with specs just as great as the vehicles' stellar aesthetic. The new date for the start of deliveries is March 2022, and Rivian already has at least 71,000 reservations.
Rivian shares (RIVN) have mostly been flat over the past year. And the stock is seen as overvalued. Nevertheless, it could rise in value over the next year, making it a great addition to your EV stocks list.
No. 5 Lucid Group
Lucid is another EV startup that has been hyped quite a bit in the U.S. While it only has one vehicle so far, the luxury Lucid Air, the vehicle is gorgeous. And it's the first to have an EPA range of over 500 miles. And Lucid has already begun deliveries of the Air, a great sign for investors. However, the vehicle's price tag is too high for the average buyer as it starts at $77,400.
Recently, Lucid Group stock (LCID) has been on the rise, so it's no wonder why investors are adding it to their EV stocks list. Look for it to continue to increase in value over the next year.
No. 4 Tesla
Tesla has been one of the most divisive automakers in the U.S. since the Model S was introduced in 2012. Whether it's CEO Elon Musk or, for investors, the stock's incredibly high P/E ratio, many people don't know how to feel about Tesla. By traditional measures, its stock is certainly overvalued. But other automakers, including Ford and GM, are still years behind Tesla in terms of EV production and capability.
Unsurprisingly, Tesla (TSLA) is seen as overvalued, and analyst predictions generally show a decline over the next 12 months.
China EV Stocks List
No. 3 Li Auto
Named for the company's founder, Li Xiang, Li Auto is a Chinese EV startup. As a relatively new startup, it has just one vehicle so far. The Li Xiang ONE, also referred to as simply Li ONE. On its website, the Li ONE is described as a luxury six-seater smart electric SUV. The ONE starts at 338,000 Yuan, which at the time of writing is about $53,000. The SUV has a range of 188 kilometers and deliveries have already begun, with over 72,000 as of July 2021.
Price targets for Li Auto stock (LI) show an increase of at least 40% over its current price. The stock is currently overvalued, however.
Keep reading for more info on names to add to your EV stocks list.
EV Stocks List No. 2 XPeng
XPeng Motors founded in 2014, already has two vehicles available for purchase in China, the G3 and P7. The G3 is described as a "super long range smart SUV," while the P7 is an "intelligent electric sedan with internet DNA." Xpeng has scaled up production quickly, delivering over 98,000 vehicles in 2021. That was good for a 263% increase over 2020. The G3 starts at about $23,000, and the P7 starts at about $33,000.
XPeng stock (XPEV) has been relatively flat over the past year, but analysts expect it to increase in price over the next 12 months. XPeng also has a new sedan, the P5, which launched in September 2021. It starts at 157,900 Yuan, or just under $25,000.
EV Stocks List No. 1 NIO
NIO also founded in 2014, has wasted no time in churning out new vehicles. It already has four current models: ES6, ES8, EC6 and EP9. Granted, with a price tag of over $1 million, the EP9 isn't your everyday sedan. Its other three vehicles are more in the realm of affordability. And all of them are SUVs. The most expensive of the three, the ES8, starts at around $59,000.
Shares of NIO are down recently. But are projected to increase significantly over the next 12 months, and it's definitely a name you may want to add to your EV stocks list. 
---