When it comes to Ford stock vs. Tesla stock, both are trending on positive news of increasing demand. Although both companies are aggressively targeting growing their fleets, the stocks are two very different investments.
On the one hand, you have Tesla (Nasdaq: TSLA), the world's most valuable automaker that's leading the charge into electric vehicles. On the other hand, Ford (NYSE: F) has been producing cars for over 100 years.
Ford stock is hitting new all-time highs as we speak with the company planning to produce 150,000 electric Ford 150 Lightning models annually. Meanwhile, Tesla stock is up after announcing record deliveries in 2021.
In a battle for EV market control, both Tesla and Ford are stepping up to the plate. With electric vehicles expecting to make up 48% of all new car sales by 2030, both companies are aggressively targeting the market.
While investing in Ford stock offers investors a value option, Tesla is the complete opposite with unmatched growth over the past few years.
So, with this in mind, which is the better long-term EV play, Ford stock vs. Tesla stock? Let's find out.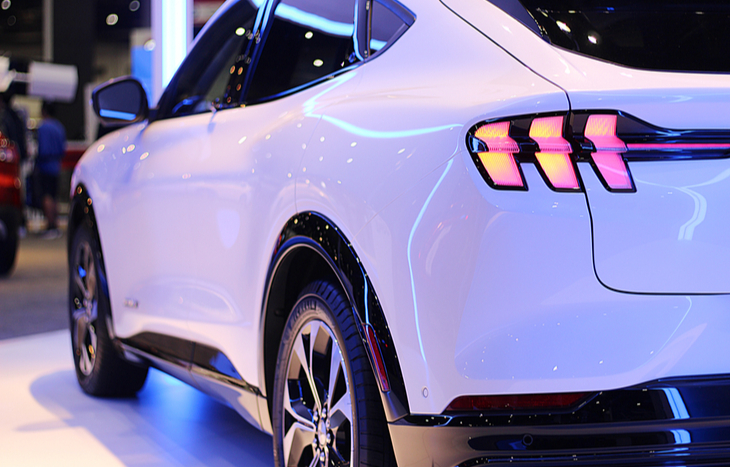 Ford Stock vs. Tesla Stock: A Snapshot
EV stocks are getting a lot of attention from Wall St, with the industry expecting significant growth in the next few years. But, two stocks are standing above the rest right now while crushing expectations.
Ford is a traditional automaker aggressively entering the EV market with growing demand. Having said that, much of the company's revenue is still coming from ICE vehicles with the company's all-new Bronco. Yet Ford is planning for the future with the vehicle makers' latest $30 billion EV investment.
Despite Ford stock exploding over 390% since the pandemic in 2020, investors have been let down for several years before. Although this may be true, Ford was known for being a value stock with an attractive dividend.
Continuing our Ford stock vs. Tesla stock analysis, contrarily, Tesla entered the market as a newcomer with a slim chance of making it. As the first premium EV sedan company built from the ground up, Wall St doubted CEO Elon's ability.
To be fair, Elon said in a tweet the EV maker was "about a month" away from going bankrupt while the Model 3 ramped up. However, things are different now, with the company reporting record vehicle production in 2021.
As demand for EVs heats up, Tesla leads the market with over 936,000 vehicles delivered last year. Not only that, but Tesla is breaking the low margin trend in the auto industry with an operating margin of +14%.
Both companies are looking to lead the autonomous vehicle market with forecasts predicting the industry to reach $64 billion by 2026.
Comparing Tesla and Ford's Market
Ford is focusing on SUVs and trucks except for the electric Mustang MACH-E. On the other hand, Tesla is synonymous with EVs with a lineup now including:
Model 3
Model Y
Model X
Model S
Tesla is also planning to release its Cybertruck and Semi later this year. Furthermore, the company is growing its under-the-radar energy business which generated $806 million in Q3, an almost 40% increase from last year.
Despite losing some of its control over the EV market with incoming competition, Tesla still holds around a third of it.
In contrast, Ford is transitioning to an all-electric fleet. In the process, the automaker is carrying over some of its popular brand names like mustang and f-150. So far, Ford is seeing promising results, which is why Ford stock is up over 185% in the past year.
Another key point to consider regarding Ford stock vs. Tesla stock is the changing automobile landscape. Not only is the market transitioning to EV's, but it's also shifting in favor of SUV's and light trucks.
Ford vs. Tesla Fundamentals
Even though from the outside these two automakers may look similar, fundamentally, they are very different.
The first thing to consider is Ford is a legacy automaker with established profits. The company expects revenue to rebound for 2021 after slipping in 2019 and 2020, with demand increasing. But, even with a boost in demand in the next few years, Ford's growth is likely to slow.
In comparison, Tesla's revenue is growing steadily, with double-digit growth in six of the last seven quarters.
Secondly, Tesla is much higher valued than Ford. Tesla is currently sitting at a 1.1 billion market cap while Ford is at 97.1 million. When you factor in earnings, Ford is still far cheaper with a PE ratio of 34.11 compared to Tesla's PE of 374.
No matter how you look at it, when analyzing Ford vs. Tesla stock, Tesla is the more expensive investment. At the same time, it's the growth investors are looking for in Tesla. For this reason, to invest in EV company, you will pay a premium.
Ford stock offers a cheaper option for investors to capture a piece of the EV movement. In fact, Ford reinstated its dividend for the 4th quarter to make it an even more attractive option.
Ford Stock vs. Tesla Stock: Long-Term Outlook
All things considered, when it comes to Ford stock vs. Tesla stock, it depends on the investor you are and how much risk you are willing to take on. Ford is great for those looking for more value. Tesla is proving itself as a top growth stock.
Altogether, the EV market is expected to grow at a CAGR of 21.6% to reach over $800 billion by 2028. And both Ford and Tesla are blazing their own path to grow along with it.
It's clear EV stocks are running up, with investors expecting electric to take over in the coming years. After all, President Biden is putting the U.S on a clean energy track with his ambitious goal of 50% EV market share by 2030. To make this happen, he is investing $5 billion for states to build an EV charging network. In addition, the plan proposes another $17 billion in loans to support domestic battery production.
Not only that, but with over one-fifth of the world's largest businesses committing to net-zero emissions, EV will play a major role. To achieve this, companies like Amazon (Nasdaq: AMZN) are adopting an EV-friendly policy.
Tesla helped spark interest in the industry, while Ford is bringing its heavy-duty EV lineup to market. In the long run, Tesla has more room for growth, but Ford looks like the better value with huge upside potential.
---