Ford stock has been one of the big surprises of the past year. Its stock price essentially doubled between January 2021 and January 2022. Only once in the past 40 years has its value been higher, and that happened around Y2K. If you're thinking you haven't heard "Y2K" in a while, that's kind of the point.
To some analysts, this isn't a big surprise. Some saw the writing on the walls in early 2021 and predicted a precipitous rise for Ford (NYSE: F) stock. However, not everyone believes the company that pioneered the mass-produced internal combustion engine vehicle will embrace electric vehicles, which are finally seen as the way forward.
However, it appears Ford is finally getting on board, not only with its Mach-E, F-150 Lightning and other EVs, but also with its major stake in Rivian.
At this point, we can clearly say that Ford is in the midst of a renaissance. But does this make Ford stock a good buy? We'll address that question here and find out if the stock is worth buying.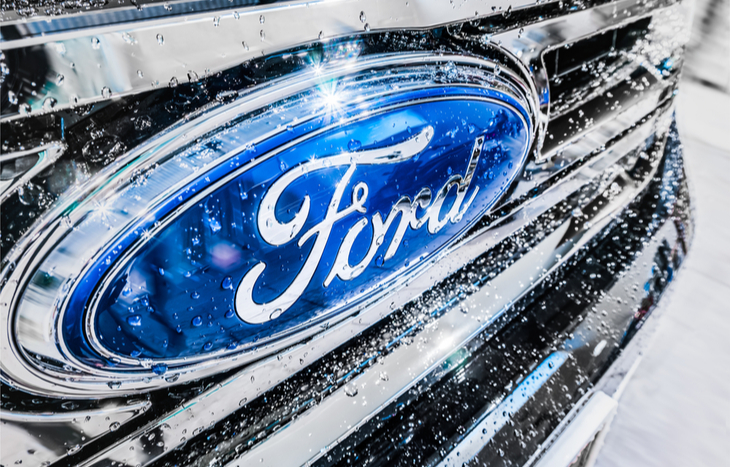 Electrification
Ford stock is finally electrifying its fleet. It has some models already released and several more on the way. It kicked things off with its Mach-E crossover SUV, as crossovers are an in-demand segment. However, the monumental release for Ford is the F-150 Lightning, which is an all-electric version of its most popular truck.
The Lightning has up to 563 horsepower and can tow up to 10,000 pounds. The truck is already available to configure on Ford's website and has a range of either 230 or 300 miles.
While Ford hasn't gone as far as GM, which has explicitly stated it will go all-electric by 2035, it's clear that the automaker understands electric vehicles are indeed the future. The F-150 Lightning is a huge development, but it isn't exactly cheap. At the very lowest end, the base price is $39,974. However, it will offer lower-cost options, such as the Maverick, a hybrid pickup with a lower price tag.
Quarterly Earnings
Ford's earnings have been a bit of a roller coaster, and they probably aren't going to turn any heads. Q4 2021 earnings will be released February third, so the most recent numbers we have are for Q3 2021 at the moment. On that earnings report, we can see a modest profit of 5.13% to go with $35.68 billion of revenue. Earnings per share (EPS) was a positive 0.45. Net income in Q3 2021 was $1.83 billion and its net change in cash was a positive $4.46 billion.
While these numbers are all positive, its year-over-year figures are less encouraging. For instance, in Q3, its operating income was down nearly 44% year-over-year, and its net income was down by 23% year-over-year (YOY). Still, Q3 2021 was much better than Q4 2020. To close out 2020, Ford stock had a net income of -$2.79 billion an a net profit margin of -7.75%. Its EPS was also negative at -0.7.
Ford's Debt Burden
One thing that is important to know for investors is that the company has a debt problem. While there has been talk of Ford's improving balance sheet, it does carry quite a bit of debt. It did lower its debt slightly, from nearly $180 billion in 2020 to under $160 billion in late 2021.
Plus, it has nearly $35 billion in cash on hand, and it is working to improve its balance sheet.
Still, the automaker has net debt of $113 billion, not to mention $89 billion in liabilities in the next 12 months. This doesn't mean the company is at risk of going under completely, but it does present a risk for investors looking to capitalize on Ford's electrification movement.
Keep reading for more info on Ford stock.
Ford Stock Forecast
Although Ford stock is performing exceptionally well, most analysts give it only a modest upside for the next 12 months. An analyst at Jeffries, for instance, said the stock has "limited scope for positive surprises." It's also worth noting that the stock is considered overvalued and its sentiment is mostly bearish at the moment, including a bearish short-term outlook.
So, what can we expect from Ford stock? There are still many unknowns; most notably, we don't quite know how supply chain issues will play out in the year ahead. Some believe issues will be resolved, but COVID-19 continues to cause staffing shortages. To add to that, early demand for the F-150 Lightning far outpaces supply. Hence, whether Ford can adequately meet demand over the next year will have a strong bearing on how people (and investors) feel about the company.
With that being said, analysts generally expect a single-digit increase in Ford stock over the next 12 months. While there are a few exceptions, most predict a modest increase in its price.
Is Ford Stock A Good Buy?
Right now, Ford stock is typically considered a moderate buy or may have a "hold" rating in some cases. Many analysts like the stock, and it's encouraging to see Ford moving forward with electrification. However, its earnings are down as of late, and it hasn't yet proven it can meet the rapidly growing demand for electric vehicles.
Whether Ford stock is a moderate buy or a hold is more or less a coin flip at the moment. It certainly isn't a strong buy, but investors shouldn't be scrambling to sell, either. Hence, if you aren't currently invested, it isn't a terrible idea to wait and see how well the automaker can scale up production of the F-150. If all goes well there, Ford stock can very well become a strong buy.
---