This year, gene editing stocks are falling out of favor with investors as the sector slips another 30-40% in 2022. Even though the industry is making significant breakthroughs this year, the high-risk nature makes investors think twice.
At the 40th annual JP Morgan Healthcare Conference, gene editing was a central theme with big expectations this year. Until now, much of the hype around the industry was based on future promises.
As a result, gene editing stocks saw their valuations soar, with some extending returns over 1,000% from their pandemic lows. But the growth stock selloff hit the group especially hard with wide losses across the industry.
With several critical trials on deck this year, is now the time to invest in the advanced technology? Keep reading to discover the top gene editing stocks and how they plan to play a major role in healthcare.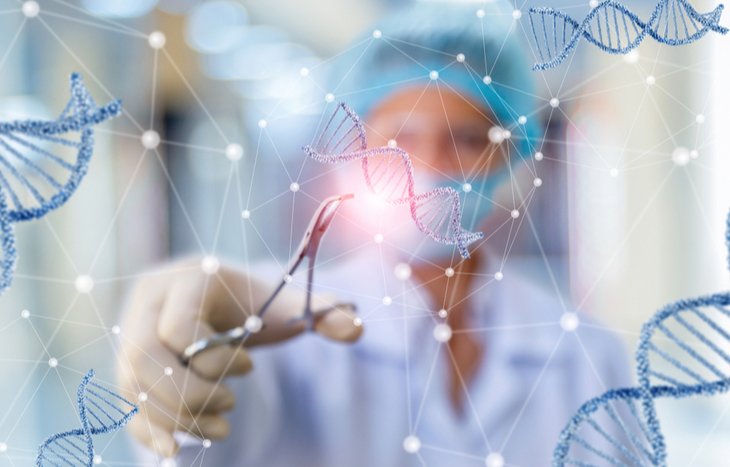 The Top 5 Gene Editing Stocks List
Gene editing allows the ability to change the DNA of living organisms. Although the science is best known in the medical field, you can also use it for industries like agriculture.
With this in mind, being able to insert, delete or modify DNA can solve some of the biggest problems facing humanity. For example, the technique can help improve plant health, leading to more food availability.
But, so far, the biggest advances are being made to improve health conditions such as cancer and heart disease, the two leading causes of death in the U.S. That said, here are the top gene editing stocks leading the way.
No. 5 Verve Therapeutics (Nasdaq: VERV)
Market Cap: $1.33B
YTD Return: (-29%)
Focus: Cardiovascular Disease
Verve Therapeutics is another top gene editing stock focusing on "protecting the world from heart disease." The biotech firm uses gene editing to develop a new approach to treating cardiovascular disease.
The company has two programs thus far, VERVE-101 and ANGPTL3. The former uses base editing to help liver function. And the latter is in research for maintaining cholesterol levels.
With heart disease being the number one cause of death in the U.S., costing over $363 billion each year, Verve has the market potential. However, still being in pre-clinical studies, it could be some time before we see results materialize.
No. 4 Beam Therapeutics (Nasdaq: BEAM)
Market Cap: $4.57B
YTD Return: (-19%)
Focus: Rare Genetic Disease (Liver, Muscles, CNS)
Beam is developing a next-generation gene editing method called base editing. The technique allows for more precise targeting with single-base changes.
That being said, the new tech is gaining the attention of Wall Street's elite. Biotech giant Pfizer (NYSE: PFE) is teaming up with Beam to advance in Vivo delivery technology. Or in other words, rather than performing tests in "in glass," they will eventually work on actual patients.
The partnership is huge news for Beam, who gains a proven partner in Pfizer. On top of this, the company will receive an upfront payment of $300 million, with the total potentially reaching $1.35 billion.
No. 3 Editas Medicine (Nasdaq: EDIT)
Market Cap: $1.02B
YTD Return: (-46%)
Focus: Serious Disease (Cancer, Sickle Cell, Eye Disease)
Following a year filled with executive turnover, Editas is looking to turn things around. Despite being one of the first gene editing companies to use CRISPR medicine in the human body, EDIT stock is leading the downfall.
Editas fired its Chief Medical Officer Lisa Michaels after only serving 15 months in a strange turn of events.
At the same time, the company shows promise with its strong pipeline of products. So far, Edita's lead candidate, EDIT-101, is showing success with restoring cells in eye disease. Furthermore, the company is partnering with Bristol Myers Squibb (NYSE: BMY) to treat tumors.
Keep reading to discover the top gene editing stocks leading the industry to new heights.
No. 2 Intellia Therapeutics (Nasdaq: NTLA)
Market Cap: $6.32B
YTD Return: (-31%)
Focus: Genetic, Immune Disease & Cancer
One of the most accomplished gene editing stocks, Intellia is moving swiftly through early-stage clinical trials. Despite NTLA slipping over 57% from its highs, the company made several big moves in 2021.
Intellia and partner Regeneron Pharmaceuticals (Nasdaq: REGN) announced breakthrough data in June. The early results show safety and efficiency in human gene editing. In addition, the company uses its advanced tech for the potential treatment of several rare diseases.
For instance, its lead candidate, NTLA-2001, is designed to target certain liver cells, preventing the harmful buildup of protein.
Gene Editing Stocks No. 1 CRISPR Therapeutics AG (Nasdaq: CRSP)
Market Cap: $4.37B
YTD Return: (-28%)
Focus: Serious Disease (Sickle Cell, Diabetes, Other Blood Disease)
The most well-known gene editing stock is most likely CRISPR Therapeutics. The Switzerland-based company is well accomplished with numerous clinical studies in progress.
In fact, CRISPR's scientific founder, Dr. Emmanuelle Charpentier, is a co-inventor of CRISPR gene editing. That said, the method involves cutting DNA and allowing it to repair with a guide RNA naturally.
So far, the company has six programs in clinical trials with promising early results. Most important, CRISPR has several big partnerships with Vertex (Nasdaq: VRTX) and Bayer (OTC: BAYRY) that can help expand its capabilities.
Investing in the Top Gene Editing Stocks: What to Know
Following an explosive run in 2020, many gene editing stocks are losing over a third of their value. Although the industry is still in its early stages, it shows a ton of promise with several noteworthy clinical trials this year.
At the same time, as the industry develops, companies will continue seeing their valuations fluctuate. In particular, as new data is available, it can completely change the worth of a company.
This year, investors will be watching closely to see which gene editing stocks continue building on their momentum. With this in mind, the global market is expecting to grow 18% annually, reaching over $11 billion in the next four years.
If the tech has the potential to cure rare diseases as they claim, they will have a huge market opportunity. In 2020, global spending on cancer totaled $167 billion, and in the U.S. alone, $363 billion is spent each year on heart disease.
The revolutionary science can save not only money, but also lives. In the long run, one of these companies could turn out to be the next biggest healthcare company.
---