Tech Stocks
Gilead Sciences Stock Pops in the After Hours
Gilead Sciences stock (Nasdaq: GILD) popped in after-hours trading on the strength of some good coronavirus news. The stock popped about 13%. The price increase was based on reports of a possible effective drug therapy for COVID-19.
The news came in the form of a video reported by STAT News. The video outlines a clinical study in which sick participants have responded positively to the drug remdesivir. The question is, how will this affect Gilead Sciences stock in the coming days?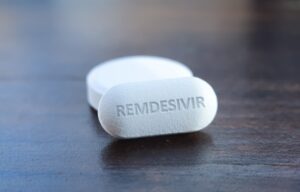 A Potential COVID-19 Treatment?
The clinical study reported by STAT News involves 150 patients sick from the coronavirus. All of these patients were dealing with severe respiratory symptoms, along with fever.
The patients took a drug called remdesivir. Gilead Sciences originally developed remdesivir as an antiviral drug to treat Ebola and Marburg virus.
The great news is that many of the patients given the drug responded positively. And most of them were able to go home within a few days of hospitalization after receiving Gilead Sciences' antiviral drug.
Only two of the patients in the 150-person study died.
The clinical trial is being administered by Dr. Kathleen Mullane, an infectious disease specialist at the University of Chicago. The reported video quotes Dr. Mullane outlining the details of the success.
However, it is important to note a limitation of the clinical study: There is no control group. The control group would be composed of patients who were not administered the drug. As a result, it is hard to say just how successful the treatment really is for coronavirus patients.
Summary of the @UChicagoMed remdesivir experience in 125 patients ("113 with severe disease") https://t.co/hC3qmV1bAR
If it works @GileadSciences vows to make 1.5 M doses freehttps://t.co/0ncr7s26PD @JohnCendpts
new: https://t.co/4tqnL9FuEh @Dereklowe https://t.co/Bt8Ju1Z5ct pic.twitter.com/6tLxhjqo6z

— Eric Topol (@EricTopol) April 16, 2020
The Potential Effect on Gilead Sciences Stock
Despite the movement in its stock price, Gilead Sciences is not yet ready to announce the success of the clinical trial involving remdesivir. It will wait until official results of the study are available. But the company does not expect results before the end of the month.
Nevertheless, this is positive news for Gilead Sciences and its shareholders. A successful treatment for COVID-19 could generate a major windfall for the biotech firm.
As a result, the stock saw a strong increase in after-hours trading. How the stock will perform today after the opening of the stock market remains to be seen.
Gilead Sciences Inc. is a biotechnology company that mainly creates antiviral drugs. Healthcare professionals use the drugs in patients afflicted with HIV, hepatitis B, hepatitis C, the flu and more.
The company's headquarters is in Foster City, California. Gilead Sciences was founded in 1987 by Michael L. Riordan. And its current CEO is Daniel O'Day.
How Has the Stock Been Doing?
Gilead Sciences stock has performed well on the year. Despite a terrible market, it has significant positive returns year to date. It has climbed from $65.23 on January 2 to $76.54 at close yesterday. So the stock grew 17.34% on the year.
Compare this with the S&P 500. The S&P 500 is down 13.35% year to date. As a result, investors in Gilead Sciences saw the biotechnology company perform comparatively well.
Gilead Sciences had a successful year in 2019. The company generated $5.3 billion in earnings on revenues of $22.4 billion. This yielded a diluted earnings per share (EPS) of $4.22.
Will Gilead Sciences Stock Continue to Grow?
As of this writing, Gilead Sciences stock had climbed after hours from $76.54 at close to around $86.50 at about 5:38 a.m. Will the stock continue to rally throughout the day?
It's certainly possible that the stock will continue to climb. And investors are looking for any positive news regarding the COVID-19 crisis. So that optimism could help drive the stock price even higher.
Meanwhile, Dow futures climbed 607 points as of this writing. That is largely on the strength of Gilead Sciences stock, as well as good news about production at Boeing.
A future letdown regarding this clinical trial would almost certainly lower the price of the stock. But if encouraging signs continue, Gilead Sciences Inc. could see its share prices soar.
For continued updates on Gilead Sciences stock and other biotechnology stocks in the wake of COVID-19, make sure to sign up for Investment U's free daily e-letter. Each day our latest stock market insights will be delivered right to your inbox.
---
Brian M. Reiser has a Bachelor of Science degree in Management with a concentration in finance from the School of Management at Binghamton University.
He also holds a B.A. in philosophy from Columbia University and an M.A. in philosophy from the University of South Florida.
His primary interests at Investment U include personal finance, debt, tech stocks and more.