The pandemic created a period of time where people found themselves overwhelmed with a rare commodity: free time. Thanks to mandated quarantines, people were forced to stay home and social distance for months. One surprising industry that benefited from these stay-at-home rules? Golf stocks.
The National Golf Foundation reported that there were 24.8 million total golfers in the U.S. in 2020. This was an increase of 500,00 (+2%) from the previous year. It might now sound like much but this was actually the largest net increase in 17 years. The last time that this many new golfers entered the game was when Tiger Woods won the 1997 Masters.
These numbers are even more impressive when you consider that most courses were closed for COVID-19 in the spring. Now, the big question is whether this was a short-term trend or a long-term one. There are plenty of reasons to believe why this trend might continue.
First, golf clubs are not cheap. Even a pair for beginners can cost over $250. New players most likely spent good money on clubs. This will incentivize them to continue using them.
Second, golf is a very common business sport. 2022 will present the perfect opportunity for new golfers to show off their skills to business partners.
Third, the next few months are slated with massive golf tournaments. Additionally, this includes the PGA Championship and several other major tournaments. This should keep enthusiasm for the sport up.
With that in mind, let's examine a few golf stocks that might be worth adding to your portfolio.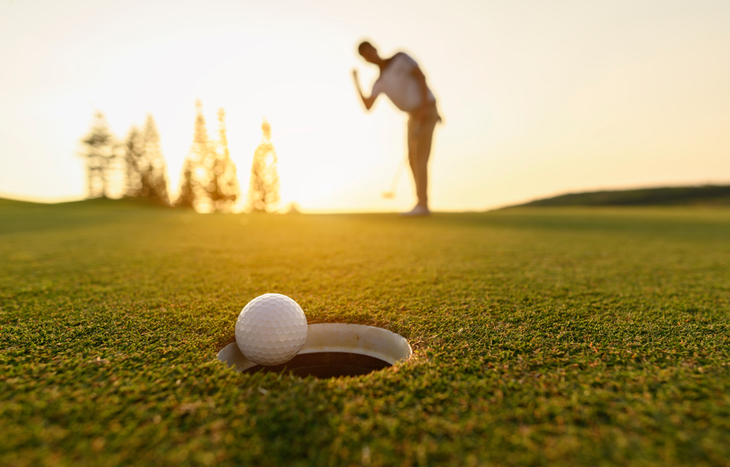 Golf Stocks to Watch
No. 3 Acushnet Holdings Corp (NYSE: GOLF)
As you might've guessed from its ticker, Acushnet is one of the leading suppliers of golf products. It owns the popular brands Titleist, Footjoy, Vokey Design, Scotty Cameron, Pinnacle and KJUS.
Acushnet recently reported Q1 2022 earnings that were on par with 2021. It reported quarterly revenue of $606.09 million, up 4.34% year-over-year (YOY). It also reported a net income of $81.05 million, down 4.61%. These numbers didn't necessarily blow investors out of the park. But they are definitely solid considering the global economic issues. In other words, it's impressive that these results were as good as they were because of supply chain issues and the Russia/Ukraine conflict.
One thing to note is that Acushnet has done a good job of managing its supply chain. In fact, CEO David Maher expects the company's supply-side environment to clear up later in the year. In addition, Acushnet currently trades at a P/E ratio of just 18. With all these factors in mind, this golf stock could be poised for a very strong end of the year.
Acushnet's stock is down 23% so far in 2022 but up 103% over the past five years.
No. 2 Callaway Golf Company (NYSE: ELY)
Along with Acushnet, Callaway Golf Company is the next dominant player in the golf industry. Callaway is a global provider of sports equipment. This includes clubs, balls, bags, gloves and apparel.
Callaway recently reported Q1 earnings per share of $0.36, beating expectations by 50.5%. It also reported a revenue of $1.04 billion, beating expectations by 1.59%. It's also worth noting that Callaway is coming off an incredibly strong 2021. In 2021, Callaway reported annual revenue of $3.13 billion, up 97% YOY. It also reported a net income of $322 million, up 353% YOY.
It is always a good thing to hear strong annual results. But, keep in mind that this could make year-over-year comparisons in 2022 look less impressive for Callaway.
It's also worth noting that Callaway reached a milestone in May 2022. It launched its first-ever women's apparel collection. The brand, Travis Matthew Women's, should grow into a full fashion line by 2023 depending on its early results. If it is successful, this could turn into a big profit driver for Callaway.
Callaway also owns the popular franchise TopGolf. This quarter, TopGolf saw its traffic return to 2019 levels and brought in total revenue of $322 million. This means that TopGolf generates roughly a third of Callaway's revenue. TopGolf revenue should continue to trend upwards as we head into the summer months.
Callaway's stock is down 28% so far in 2022. However, it is still up 53% over the past five years.
Top Golf Stocks No. 1 Dick's Sporting Goods (NYSE: DKS)
You might think it's a little unfair to label Dick's Sporting Goods as one of the top golf stocks. After all, tons of retailers sell golf equipment. What about Walmart or Amazon? However, Dick's Sporting Goods specializes in, well, sporting goods. This makes it one of the first stops that new and experienced golfers visit. This is the same reason that I consider Dick's a top camping stock.
Dick's currently owns 8% of the sporting goods retailer's market, which is up from 7% in 2019. Dick's actually attributed this gain in market share partly to a surge in sales of golf products.
Turning A Con into A Pro
One of the most interesting things about Dick's is that it has turned a weakness into a massive advantage. Over the past few years, almost all retailers have struggled thanks to eCommerce. After all, ordering online is much easier than visiting a store. To compensate, most retailers panicked and tried to mimic Amazon. Not Dick's though.
Dick's has actually gone out of its way to improve its retail locations. In its own words, Dick's is "reimagining the athlete experience." This means building visual presentations, great customer service, and in-store technology for athletes. It basically wants to create "the future of retail" via its enhanced locations (known as House of Sport). Dick's locations will be especially valuable for golfers. This is because Dick's has implemented digital tech to test out clubs before buying them.
On top of this, Dick's has also strengthened its DTC business. Now, it is an omnichannel powerhouse.
I was surprised to see that Dick's only owns 8% of the sporting goods retailer market. I would have thought it was much higher. For this reason, it was good to see that Dick's still views itself as a growth company. It mentioned this several times in its investor presentation. This is great news for long-term investors.
I hope you've found this article on the best golf stocks to buy valuable! Please remember that I'm not a financial advisor and am just offering my own research and commentary. As usual, please base all investment decisions on your own due diligence.
---