It's possible that the world has never been cooped up for as long as we have. For approximately two years, people have barely been able to leave their homes. For this reason, it's not an exaggeration to say that this could be the most active summer in recent history. Over the coming months there will likely be a huge surge in spending on things like traveling, getting desserts and camping. This is just one reason why camping stocks could be poised to have a huge summer.
"Camping" is an interesting investing category. It's still fairly niche but is nestled in between two much larger categories: retail and travel. When campers gear up for a trip, there's a good chance they will visit retailers like Walmart and Amazon. However, Walmart and Amazon are massive conglomerates. It's not exactly accurate to classify these two as camping stocks. Luckily, there are three other companies in particular that have much more exposure to camping. Let's take a look.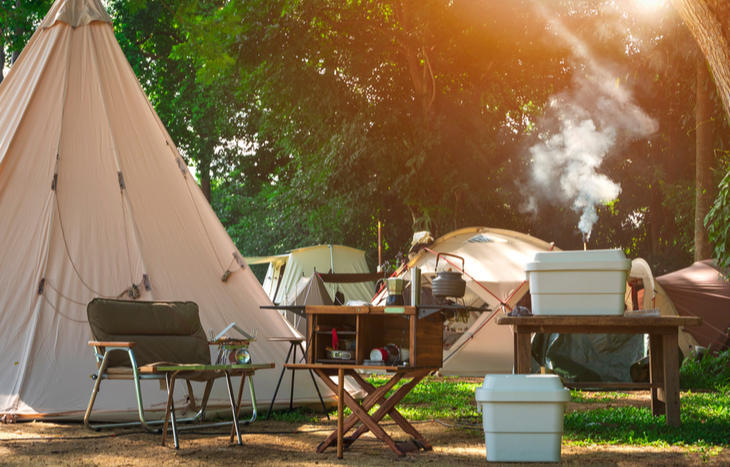 Best Camping Stocks to Invest in
No. 3 Camping World Holdings Inc (NYSE: CWH)
With a name like "Camping World" it's no surprise that this RV dealer is one of the top camping stocks. If you're not familiar, Camping World Holdings is America's largest retailer of RVs. It sells RVs, camping gear that's used in and around RVs and RV maintenance. In total, CWH has over 185 locations in the U.S.
Camping World Holdings went public in 2016 and has reported growing revenue every year since. In 2021, it reported a record annual profit of $278 million as well as revenue of $6.9 billion. This revenue is about double its 2016 number. CHW also recently increased its dividend by 25%, from $2 per year to $2.5 per year. This is another sign that the business is going well.
On top of that, CWH is led by TV personality Marcus Lemonis. Lemonis is well-known for CNBC's "The Profit," where he helps save small businesses.
No. 2 Dick's Sporting Goods (NYSE: DKS)
Outside of Walmart and Amazon, Dick's Sporting Goods is one of the top places for campers to stock up on supplies. What separates Dick's as one of the top camping stocks is that it specializes in sporting apparel and equipment. This gives it more top-of-mind awareness when it comes to stocking up on things like tents, lanterns or new hiking boots.
Dick's has also done an impressive job of surviving the "retail-apocalypse." Over the past decade, an astounding number of retailers have gone out of business. To be specific, 136 retailers have filed for bankruptcy since 2015. Among other factors, this is due to Amazon and the popularity of eCommerce. But, while other retailers are going bankrupt, Dick's stock is up 95% over the past five years. This is partly because Dick's has mastered the omnichannel experience.
Being "omnichannel" means that customers can buy products both in-store and online. Customers can also use the two interchangeably. For example, a customer could buy a product online and then return it to their local store. Or, they could go to a store to try on a product and then order it online. This might sound like a small perk, but it's all about making the buying process as easy as possible for consumers. The easier it is to buy products, the more likely consumers will be to make a purchase.
By offering a great in-store experience, Dick's actually has a slight advantage over Amazon. Dicks reported FY 2022 annual revenue of $12.29 billion, up 28% year-over-year (YOY). It also reported a net income of $1.52 billion, up 186% YOY.
Camping Stocks No. 1 Yeti Holdings (NYSE: YETI)
Rounding up this list of camping stocks is the high-quality cooler company, Yeti. I recently wrote about Yeti as a top under-the-radar stock earlier in the year. My reasoning is that Yeti is actually much more than just a high-quality cooler company. Yeti is evolving into a full-on lifestyle brand.
Yeti's future growth will likely be built off of one thing: its brand. Yeti has done an exceptional job of positioning itself as a market leader for coolers. Even people that don't own a cooler probably still know about Yeti Coolers. Now, Yeti just has to translate this over to other products. In a way, it's not much different than Nike in its early days.
When first starting out, Nike exclusively sold running shoes. But, it had a very strong reputation for quality products. As its business grew, it simply expanded into other categories to become the giant it is today. Nike was able to grow off the strength of its brand.
Yeti is just beginning to expand into other categories and already offers drinkware, backpacks, apparel and more. But, to make this expansion successful, Yeti will need to expand its customer base.
Here's how it's doing that…
Building Communities
To expand, all Nike had to do was create products for different sports. It's a relatively straightforward jump from designing running shoes to designing shoes for basketball, baseball and soccer shoes. Yeti is actually using a similar strategy. But, instead of sports, it's expanding into other outdoor activities.
This camping stock currently has 13 different communities that it targets. These "communities" are things like fishing, hunting, barbecuing, skiing, skateboarding, surfing, hiking, etc. This style of branding is much more targeted than Yeti simply being an "outdoor" brand. To reach these communities, it has an ambassador network of 157 social media influencers.
Granted, its Instagram following is still 4th in the industry behind The North Face, Patagonia and Lululemon. However, so far Yeti appears to be trending in the right direction.
Yeti reported $1.41 billion in FY 2022 annual revenue, up 29% YOY. It also reported a net income of $212.6 million, up 36% YOY. It is also buying back $100 million worth of shares. This is a sign that the business is performing well. For these reasons, Yeti could be one of the top camping stocks to invest in.
I hope that you've found this article on camping stocks to be valuable! Please remember that I'm not a financial advisor and am just offering my own research and commentary. As usual, please base all investment decisions on your own due diligence.
---