High beta stocks are a great fit if you're looking for aggressive investments. And you shouldn't mind a lot of risk. Because that's the definition of a high beta stock- speculative, high risk and high volatility.
What is a High Beta Stock?
Beta refers to a stock's volatility in the form of a measured number. Stocks with high volatility have a beta score above 1. Stocks with low volatility have a beta score of less than 1.
And the benchmark for this volatility is the S&P 500. A score above 1 means it's more volatile than the S&P 500. And a score of less than 1 means it's less volatile than the S&P 500.
Volatility is the term used when a stock easily goes up and down in price. If a stock is volatile, it can make you a lot of money. However, it can also make you lose your investment.
Penny stocks are usually very volatile, and high beta stocks are as well.
Additionally, high beta stocks can be good for your portfolio if you know what to look for. The higher the beta of a stock, the higher the risk. So, you want to make sure you're doing a good job of discovering each company you want to invest in.
For high beta stocks, make sure you analyze the company's core offer. How do they differ from other companies? Are they offering something valuable? Is that needed in the market?
And make sure leadership is good. Do the managers and company leaders have relevant experience?
Another thing that helps me when I'm checking out a possible investment is company news. I'll go to the website and look at what they've been doing for the past couple of years.
Although, this isn't a great way to measure success. Because some companies push out more press than others. Some don't push out any press at all, even if they're doing very well.
But, it is a nice little incite, if the news is available.
How to Find High Beta Stocks
You can type into your search engine: high beta stocks. And you'll likely get a list of good high beta stocks to invest in.
But I like to get down to exact specifications and know which ones are really great. And I often use a stock screener to find great stocks, even the ones I pick for these posts.
Stock screeners are wonderful tools. That's because they make life so much easier.
Unless you're looking for a stock in a speculative or specific niche, you can find almost any type of stock out there.
If I'm looking for some high beta stocks to invest in, I don't want just any high beta stock. I want to make an investment that's going to make me money. Because that's the whole point of investing, right?
I'll go into my stock screener. And the first thing I'll do is, put filters on stocks that I know will make them successful. In particular, high profit margins, industry specs, and maybe a cashflow filter. And other filters that I know are good success indicators.
Then, I'll go in and specify what beta I want.
And sometimes the results I get are too few. Or they aren't in an industry or country I want to invest in. When that happens, I go back to my filters and play with them until I get a happy compromise.
But, the point is, if I tried to go out and manually search for those companies without a screener? It would take a LOT longer. It would take months to find a great stock that lived up to my exact specs.
Now that you know what a high beta stock is, check out the high beta stocks I've picked out for you below.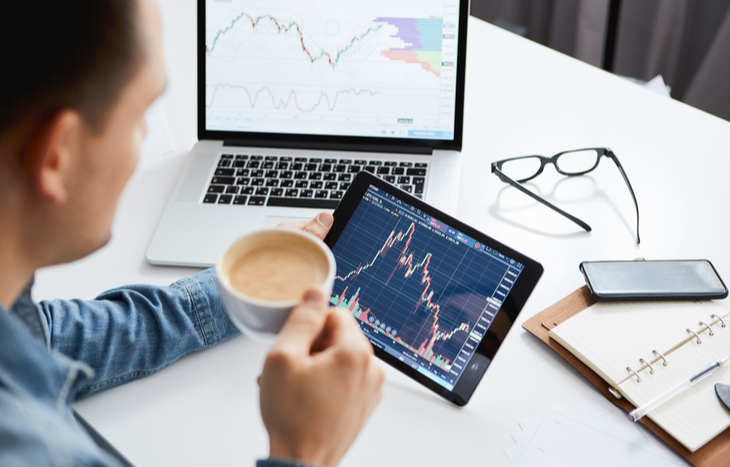 Best High Beta Stocks
APA Corp (Nasdaq: APA)
Canaan Inc. (Nasdaq: CAN)
Matador Resources (NYSE: MTDR)
com Inc. (Nasdaq: OSTK)
Rattler Midstream LP (Nasdaq: RTLR)
High Beta Stocks to Buy
APA Corp
Beta: 4.7
Market Cap: $10 billion
APA is a company who commits to finding clean energy. It holds assets and has subsidiaries in many countries around the world. And these countries include Egypt, the UK, the U.S. and the Dominican Republic.
In recent news, they've discovered black oil in offshore Suriname. And the company has conducted a successful flow test. It's also gotten approval for a "Modernized Production Sharing Contract" with Egypt's Parliament.
APA also has good cash flow.
Canaan
Beta: 4.4
Market Cap: $919 million
Canaan is a Chinese company that produces computer hardware and technologies. In particular, it works with blockchain and AI. And the company creates solutions for crypto mining. In addition, Canaan emphasize social awareness, and bettering the human experience.
This is a great high beta stock if you're looking for an indirect investment in the crypto world.
Matador Resources
Beta: 4.4
Market Cap: $5 billion
Matador is an energy company that's located in the U.S.
Operating out of west Texas and New Mexico, it acquires, explores and produces oil and natural gas resources. Additionally, the company provides natural gas processing and oil transport services.
Overstock.com
Beta: 4.2
Market Cap: $3 billion
Overstock is an ecommerce company that specializes in discounted furniture and housewares. And these products are brand-name and very modern looking. This high beta stock sells products at steep discounts. Because that seems to be what they're known for.
And here's something interesting the company did in Spring of 2020. It gave away its own cryptocurrency to shareholders. Overstock gave them one "coin" for every ten shares of Overstock owned.
Rattler Midstream
Beta: 3.8
Market Cap: $2 billion
Rattler is another energy company. The company works with Diamondback Energy, which is also an energy company. Providing midstream services to Diamondback, Rattler acquires and develops its own natural resources. It finds and acquires assets in Delaware in the Permian Basin.
Leadership is great for this high beta stock. Each person in a management position has great relevant experience. And it has a long history of successfully working together in other companies as well.
---
Vanessa Adelman graduated with an Interdisciplinary degree. She majored in Entrepreneurship, Painting, Music and Film. Shortly after, she received a copywriting mentorship with Mark Morgan Ford. Then, she earned her AWAI Verification. Now, Vanessa freelances in the financial direct response industry. She's been investing since 2016. In her free time, she enjoys books about money and wealth. She loves being with her boyfriend, hunting, fishing and going on outdoor adventures.