Home Depot (NYSE: HD) reported its Q4 earnings in late February, capping off a tremendous fiscal year in 2021. The blue-chip stalwart saw strong figures across the board and beat its earnings projections for both the quarter and the year. Yet, there was caution on the call. Analyst investors acknowledged the company's stellar 2021, but when the time came to discuss forward-looking trends, positive sentiment turned to cautious trepidation. 
Why, after a strong 2021 and a positive Q4 earnings report, is Home Depot's stock down roughly 25% from its recent highs? It all has to do with 2022 projections and the serious economic headwinds that face this home improvement giant. 
Let's take a closer look at where Home Depot stands, and the challenges it faces in the year ahead.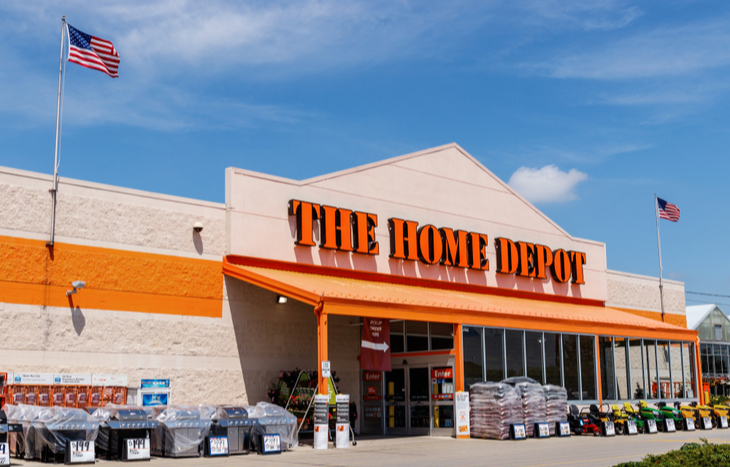 Recapping a Spectacular 2021
Home Depot had plenty of celebrate on its Q4 earnings call. The company reported revenues of $35.72 billion and profit of $3.35 billion, marking increases of 10.72% and 17.33% over Q3, respectively. The stock narrowly beat EPS by 0.87% and beat revenue projections by 2.51%. 
With these figures, Home Depot rounds out the year with an impressive 14.42% increase in revenue over 2020 and $16.42 billion in total income, proving once again why it's a blue-chip leader. In fact, over the past two years, Home Depot has enjoyed a 36% increase in its yearly sales. 
Beyond the numbers, Home Depot executives had plenty to talk about in the way of positive trends. Big-ticket purchases of $1,000 were up 18% in 2021, which coincides with an expansion of the company's Pro Program, which caters to contract and construction professionals (vs. DIY customers). Executives also talked at length about substitutions and their role in increasing ticket prices. Effectively, Home Depot customers are willing to substitute a higher-dollar product rather than leave empty-handed. 
To top it all off, the company announced a hefty 15% increase in its quarterly dividend ($1.90 per share). 
Why is Home Depot Stock Down?
In spite of the largely positive earnings call, Home Depot stock took a hit and continues to recover slowly. Why? It all has to do with the economic trends that could impart a host of problems on Home Depot's business through 2022 and beyond. 
One specific area of focus for analyst investors on the call was the rippling effects of inflation. With inflation cresting 7% earlier in the year, the cost of building materials continues to trend at all-time highs. For Home Depot, inflation led to higher ticket prices… but also skyrocketing inventory costs. Executives specifically cited lumber on the call, which saw price increases upwards of 100% in 2021. 
You can't talk about inflation without circling back to supply chain: another headwind that Home Depot will continue to weather in 2022. Executives fully acknowledged the impact of supply chain disruption and attributed forward-looking sales projections to continued supply chain struggles. Specifically, the company projects flat sales in 2022—part of the reason the stock dove after earnings. 
The company's One Supply Chain initiative is progressing strongly, yet faces some restructuring in 2022 that may push its original timeline back into 2023. With so much of Home Depot's forward-looking initiatives centered on this rollout, there's concern that delays could be contributing to the stagnated projects in 2022. 
Where Does Home Depot Stock go From Here
From a fundamental standpoint, Home Depot is a market stalwart and investors should continue to treat it like one. It not only leads the home improvement segment over competitors like Lowes (NYSE: LOW), it's firmly established as an essential business in terms of its support for the construction industry. 
Most major investment banks have Home Depot as a "buy" right now, and investors may find this recent dip a spectacular opportunity to buy into a company that's well-proven to weather market uncertainties. However, there are some caveats to be aware of, which may keep investors from opening a position. 
Aside from Home Depot's lackluster sales projects for 2022, rising inventory costs are something to pay close attention to. Uncertainties around supply chain and inflation have the power to cause significant disruption for Home Depot, which could impact cash flows as the retailer struggles to keep inventory available and affordable. There's also the prospect of falling ticket prices if supply chains do cooperate in 2022; remember, the company's increased ticket prices are largely the result of substitutions and scarcity. 
Looking past these external factors, Home Depot appears poised to weather the year ahead. The company has a long history of under-promising and over-delivering, which could mean it expects to narrowly beat EPS and revenue targets in the year ahead. In either case, the dividend bump and its market share make Home Depot a good bet. 
Not a Market Beater, But a Safe Long-Term Play
Despite a truly tremendous run over the last two years, Home Depot seems to be settling. Yet, it's important to realize that this isn't a bad thing. While it's behaved like a growth stock over the past two years, Home Depot is actually a portfolio cornerstone. Investors looking for a well-run company that offers a stable dividend and reliable earnings will find it in Home Depot. Trading at its current level, now's the perfect time to invest in Home Depot for a buy-and-hold bellwether that's likely to become a reliable source of ROI for your portfolio over the long-term.
---